Even after several hours of gameplay, I'm not sure what's the objective to Rostlaub's Jool ( iTunes App Store link), though that's not necessarily a bad thing. In fact, I found it very addictive and fun.
You play as a "dopey" bird, running and jumping from left to right from platform to platform, collecting gold triangular Trips, and other items such that have point values. You can also collect power-ups, including the Flip, which, when activated leads to the most unique feature of the game: if you miss a platform at the lowest level and fall, you can use a Flip and physically flip your iOS device 180 degrees. You get to continue running on the platforms, but this time from right to left as your bird's evil alter ego.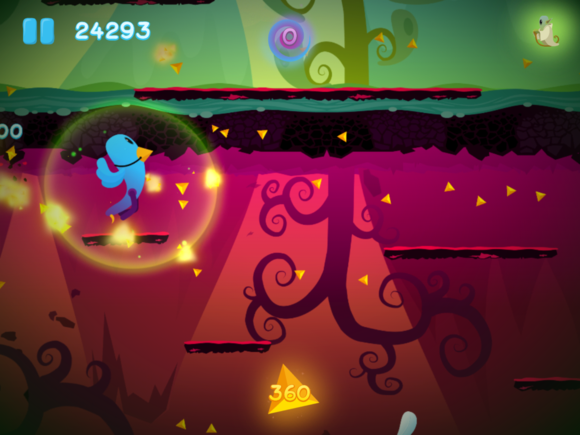 I enjoy a good platform game, but there are times when I just want to run and jump through each level. That's probably why I find Jool so satisfying—its controls are basic (tap once to jump, tap again in mid-jump to jump higher) and there are no puzzles to solve or complicated mazes to navigate. You run and jump and collect as much stuff as possible. Simple and satisfying.
Jool does have goals if you have the need for accomplishment. If you collect enough Trips after each game, you can exchange them for items in the Jool store, but your Trips don't accumulate game after game, and you need a substantial number of Trips (a few thousand) to make even the entry-level trades in the store. Store items and Trips are available for purchase with real money.
Jool's graphics are cartoony and even cute, but the death scenes are very graphic and violent. The game has an application rating of 12+, which means it has content that may not be suitable for kids under 12 years of age.
Jool may not be a complicated game—at times I found myself button mashing, if you can call it that on an iOS device—but it's quirky and fun.