[Disclosure: Q Branch developers John Gruber, Brent Simmons, and Dave Wiskus have written articles for Macworld in the past. Gruber is currently a Macworld senior contributor.]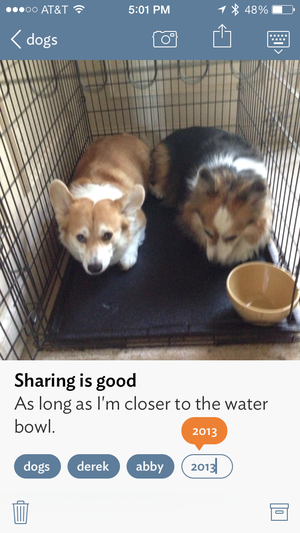 The App Store is chock full of note taking apps and all of them try to distinguish themselves in various ways. Vesper: Elegant Notes by Q Branch is a $5 (it's available for $3 during the holidays) iOS note taking app that singles itself out from the pack in terms of its simplicity and flexibility. Vesper is about as simple an app as you can imagine (note taking or otherwise), and that's a compliment, not a criticism. As a software developer, I constantly strive for simplicity, both of purpose and design. This is not an easy goal to achieve; it's natural for developers to want to say "yes" to adding lots of cool features, but it requires focus and discipline to say "no" to many of those in order to avoid cluttering the app and confusing your users. It's obvious that the developers at Q Branch share these same values.
Because the app's so simple, getting up to speed with Vesper is very easy. When you open the app, you're greeted with a few pre-existing notes tagged as Tutorial, which are just that. After reading those four notes, you should have a good handle on everything the app can do.
A simple tap of the "+" button in the upper-right is all it takes to start a new note. Of course, most notes will likely consist of text, but if you want to insert an image, you can do so with a simple tap of the camera button. This lets you insert an existing photo from your photo library, take a new photo, or quickly insert the most recent photo you've taken, which I think is an especially useful touch. A note can contain exactly one photo, the ultimate in simplicity, but some might like the option of adding multiple photos. I have the feeling that the developers probably considered adding this option, then said "no."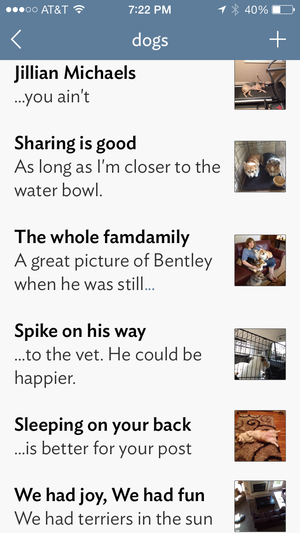 Vesper lets you tag your notes so that you can keep them organized however you choose. At the bottom of each note page is a Tag button that, when tapped, lets you type your own category label, or tag. Tags you've used previously pop-up on screen after you've typed the first couple of matching letters. You can either tap on an existing tag to select it or continue typing to create a new tag.
While viewing your list of notes, a quick right-to-left swipe on any one of them gives you the option to archive it. You can also archive or delete a note via handy options at the bottom of each one. A quick left-to-right swipe takes you to an index page that lists all the tags you've used as well as options for viewing either the notes you've archived, or all notes, regardless of tag. As you might expect, tapping any of those labels displays a list of only the notes that have been assigned that particular tag.
Vesper lets you share your notes via email or SMS, or you can simply copy a note to be pasted within another app. In what could be considered a gutsy move, Facebook and Twitter sharing options are conspicuously absent from the app. I'm guessing that this was a conscious choice, and not an oversight, since those users who want to share to those services can simply use the copy/paste option.
While I can understand leaving out those extra sharing options, Vesper's lack of iCloud or Dropbox syncing is a definite shortcoming. Since Vesper is an iPhone-only app, one could argue that it may be rare for people to share notes among multiple devices, which both iCloud and Dropbox help facilitate. While that may be true to some extent, that's not the only function of those services; they can also provide a useful backup in case one were to lose your iPhone or be forced to do a wipe-and-reset in order to fix a software glitch. Let's hope that Q Branch says "yes" to this feature in a future release.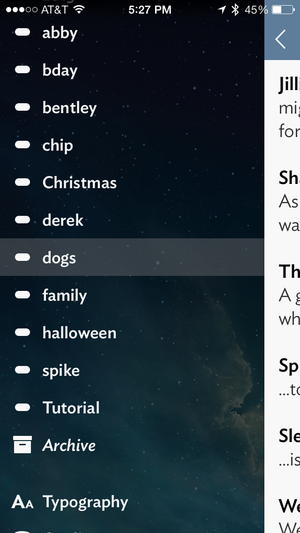 Although Vesper is a useful, simple and flexible note taking app, one might be tempted to argue that it should have more features in order to justify its relatively high $5 price tag. While I can see the logic of that argument, why split hairs over a couple of dollars for a well designed app that does (almost) exactly enough, and no more? That's a model of simplicity and elegance that all app developers should try to follow.
Vesper is currently available only for iPhone and iPod touch and, while it works just fine on the iPad, owners of that device would undoubtedly enjoy a version that's optimized for the larger screen. Here's hoping that Q Branch has an iPad version with iCloud synching in their development pipeline.
Editor's note: Updated at 10:30 p.m. PT with a revision of "wipe-and-reset." The review originally stated "wipe-and-restore," which was incorrect.