Custom photo books are a popular and polished way to show and share images, whether you aim to create an album of photos for a special occasion, a professional portfolio, or anything in between. Since the 2012 Adobe-Blurb partnership, a special Book module has been integrated with Lightroom versions 4 and 5, offering direct printing from Blurb. Books are 20-240 pages (not including covers).
The Book module offers a wealth of options, especially with the new features added in Lightroom 5, but the process is similar if you're still using Lightroom 4. You'll need to set aside a little time for planning, but if you follow the steps below you'll soon have a a basic, but attractive, first book that you'll be proud to print.
Step 1: Getting started
In the Library module, open and select the photos you want to include in the book, preferably in sequential order or in thematic groups. You can always change the order later. Images should be 300 dpi.
Switch to the Book module. Leave Book module preferences (Book > Book Preferences) on default settings to start. Your images will automatically fill the pages.
Click Create Saved Book. Type a name for the book in the dialog box and click okay Also check the box, Include only used photos. You can open the book again from Collections the next time you launch Lightroom. To add other photos to the book, go to the Library module and drag and drop the photo(s) onto the book name under Collections. Double-click the book name to re-open the book.
Step 2: Set book options
In the Book Settings panel, use the drop down menus to choose how to publish your book: I selected Blurb, Small Square, Softcover, and Premium Lustre. The new Standard paper option in Lightroom 5 is less expensive but not as nice as the other papers.
Logo Page: choose On to include the Blurb logo and get a discounted price; choose none to exclude it. Below that, you'll see the estimated price of your book (available in several different currencies), which is automatically adjusted when you make changes to book specifications.
In the Guide panel, check Show Guides and one or more guide options.
Step 3: Customize page layout
Drag and drop pages into the sequential order you prefer. Either use a preset layout (Auto Layout panel > Preset) or customize one or more pages. The latter provides much more creative leeway.
To customize, select a page by single-clicking on the image (shift + click to select multiples). Click the downward pointing arrow on the lower right and choose the page layout you want from the Modify Page dropdown menu.
If you choose a layout that calls for multiple images, drag and drop all images onto the page.
To Remove or Add a page, Control-Click (or right-click) on a page; choose Remove Page or Add Blank Page as needed or Add Page to duplicate the same layout. You can also save your layout as a Custom Page and apply it to other pages in the Page panel.
Click each image on the page. Resize with the zoom slider and reposition with the trackpad or mouse so that images are within the safety zone (indicated by gray lines). You can also use the padding sliders in the Cell panel to further adjust image size and position.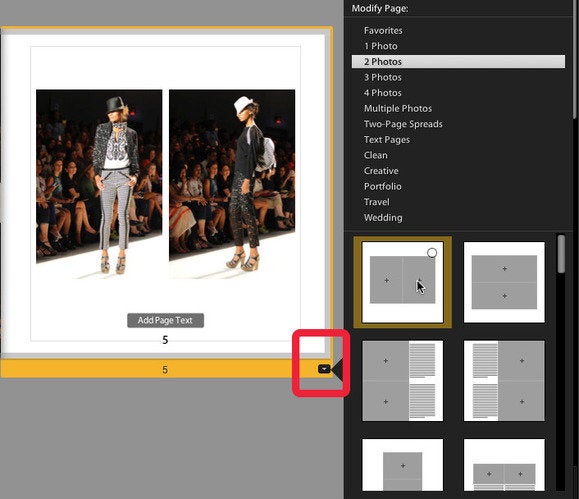 Step 4: Add text
Check Photo Text and Page Text in the Text panel and use the Type panel to customize font face, style, color, and opacity. Type captions and page text directly onto the page in the spaces provided.
Step 5: Add or delete page numbers
In the Page panel, check Page Numbers. Use the drop down menu to choose where to place the numbers.
To hide the page number or to start the page number later in the book, Control- or right-click on the relevant page and choose the option you want.
Step 6: Add background
You can add a solid color or graphic background to individual pages or globally.
In the Background panel, check or uncheck Apply Background Globally. Select individual page or pages, if unchecked.
For a graphic background, drag and drop a photo (or a JPEG graphic you created in another program) onto the Drop Photo Here placeholder window and adjust opacity.
To apply a solid color, check Background Color and choose a color swatch.
Step 7: Cover
There are fewer layout options for covers than individual pages but most of the steps above apply. Click the small arrow on the lower right of the page to choose the cover layout.
If you are creating a hard cover book with or without a dust jacket, you can add text for the spine. Softcover books do not have this option.
Step 8: Output to Blurb
Send Book to Blurb (lower right of screen); you will be prompted to enter your email and password or to register with Blurb. Other options include Export Book to PDF (lower left of screen) or JPEG (Book Settings > Book) but those options are far less satisfying and visually appealing than having your book printed and bound, and ready to send as a gift or to proudly display on your bookshelf.