The classic iOS game Cut the Rope got a long awaited sequel on Thursday with the launch of Cut the Rope 2: Om Nom's Unexpected Adventure. In its first proper sequel since the original hit the App Store in 2010, developer ZeptoLab introduces new challenges to this staple physics-based puzzler.
"With Cut the Rope 2, we've focused on creating a game experience that would feel almost like an interactive cartoon, with the lively and diverse animations, rich sounds, and unexpected gameplay situations," says Semyon Voinov, Creative Director and Co-Founder of ZeptoLab.
Though we've seen Cut the Rope spinoffs—like Cut the Rope: Time Travel and Cut the Rope: Experiments—this is the first with significantly different graphics and new characters. For this special launch, ZeptoLab used some guerrilla marketing techniques both inside and outside the Cut the Rope world. Back in November, Cut the Rope's main character Om Nom went missing from the original Cut the Rope game: Players were instead greeted by spiders—Om Nom's nemesis—when they tried to play a level. "Where's Om Nom?" posters were also seen all around San Francisco's South of Market neighborhood for a few months prior.
Though a little gimmicky, I have to admit that it worked. These techniques generated a bit of buzz for an older iOS game that was past its prime, and I found myself wondering what Om Nom would be up to in the next version, revisiting older levels that I hadn't played in months in the meantime. So far, I've found its continuation to be full of fresh ideas that are bringing this old favorite back to life.
Just feed the little green monster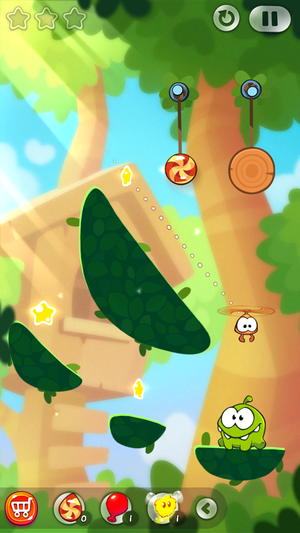 Cut the Rope 2 is a natural expansion of the original. The object remains the same: The game follows Om Nom, a hungry little monster (Alien? Frog? Whatever he is, he's adorable) who just wants to eat candy. To complete a level, drop, float, or push a piece of candy into Om Nom's mouth and collect stars along the way.
Candy and other obstacles are held in place by a series of ropes. Slide your finger across the rope to slice it and set the candy in motion, but be careful—different ropes cause different movements, and levels often take a few tries to complete. Physics principles dictate the motion of the candy, and new physics mechanisms are introduced as the game progresses. One level will have you swinging candy from rope to rope, the next will have you puffing air to push the candy in the right direction.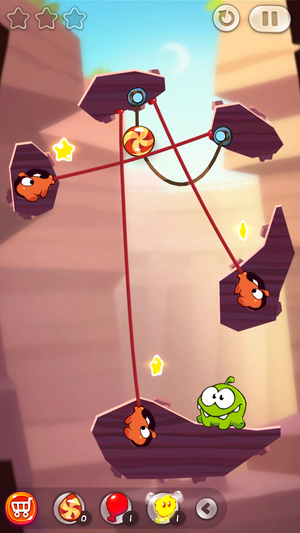 Right away, you'll notice new gameplay mechanics. The first world includes new obstacles, like balloons to pop, blocks of wood that you need to knock over to propel the candy in the right direction (towards Om Nom's mouth, of course), and pulleys. Om Nom sometimes is on slanted ground, so the candy can roll right to him if you get it in the right spot. And some levels require you to move both the candy and Om Nom to complete it—previously, our monster protagonist was stationary.
The animations in Cut the Rope 2 are a big jump from the original. Om Nom used to be limited to bright colored boxes, with themes like Toy Box, Cosmic Box, and Magic Box. Now, he's forced to leave the boxes behind and venture into the real world when his spider nemeses steal his candy. He encounters more complex worlds, like a Forest, a Junkyard, and a City Park. The background graphics are more detailed, yet still subtle as to not distract from the task at hand.
Om Nom made some new friends in this game as well. His buddies, a gang called the Nommies, help Om Nom on his quest for candy domination. Each Nommie has a different skill that you can use to your advantage. For example, in the Forest world we meet Roto, a flying Nommie, who moves objects, candy, or even Om Nom to help you complete the level. We meet a new Nommie in each of the five worlds available at the game's launch.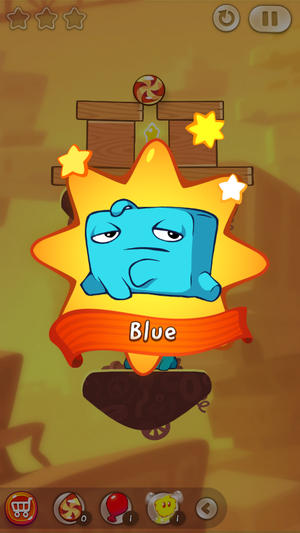 There will be times when you get stuck on a level, and if you absolutely must have the answer without playing the puzzle again, you can use a walk-through to guide you to the solution. Other power-ups include extra balloons to give Om Nom or the candy a lift in case you pop one, and extra candies to ensure you clear the level. You get a few freebies—two solutions and three balloons—but after that you have to buy them. For solutions and candy showers, $2 will get you 6, $4 will get you 12, $7 will get you 25, and $25 will get you infinite. Balloons cost $2 for 20, $4 for 50, $10 for 150, or $20 for infinite.
If you tear through each of Cut the Rope 2's 120 levels, you can go back and replay them again in a different way. Each level has a special challenge, daring you to complete a level without cutting any ropes, for example, or to not use any balloons. Select levels have shamrocks to collect in addition to stars, so you could go back and double-check for shamrocks. Collect enough shamrocks throughout each world to unlock hidden levels and new secrets.
Cut the Rope 2 is a solid follow-up to the original and its special editions. The new characters, animation, and challenges keep this game concept from going stale, and it's a blast to play. The game is available now in the App Store for $1, and will be launching on Android devices in early 2014.