At a Glance
Expert's Rating
Pros
Impressive multi-core performance
Dual workstation-class GPUs
Fast internal storage
Plenty of external-expansion options
Compact, attractive design
Quiet and relatively cool
Many internal components upgradeable
Cons
Single-core performance not substantially better (and sometimes worse) than that of other current Macs
No internal expansion options
Higher-end configurations quickly get expensive
Back in June, when Apple gave us a preview of the new Mac Pro, the company said it would ship "later this year." Here we are, just a few days shy of 2014, and the new Mac Pro has arrived. Apple calls it the Mac Pro (Late 2013); a snarky reviewer might call it the Mac Pro (Almost 2014). Whatever you call it, it's the company's new flagship computer—its halo car, if you will—and we've been putting it through its paces. Does it live up to its name as a professional's Mac?
The short answer is, "It depends." When the new Mac Pro was announced this past summer, the initial reactions were, to put it mildly, polarized. Some people thought the new computer was a brilliant design that embraced current trends in high-end computing. Others thought it was a slap in the face of "real" pro users. Both sides can make a good case: Depending on your particular uses and needs, the new Mac Pro may be exactly what you want (a state-of-the-art, multi-core-processor, workstation-GPU computer that doesn't waste space and resources on expandability you may never use), or nothing like what you need (a workhorse tower with tons of bays and slots for expansion).
I'm not here to tell you which view is right or wrong, because real people with real jobs and real needs hold each. The best I can do is tell you what the new Mac Pro is, what it does, and how well it does those things. You'll have to decide if Apple's new approach is right for you.
Small and Space Gray
If you're reading this, chances are you know all about the new Mac Pro's design, but here's a refresher. Apple has done away with the massive enclosure of the 2012-and-earlier Mac Pro: The new Mac Pro is instead a small cylinder with a beautiful, unibody exterior made from a single block of aluminum. As we noted in our first impressions, while Apple's PR videos and images make the new Mac Pro look like a dark, metallic gray—almost black—it's really closer in color to the new Space Gray finish of Apple's current iPhone and iPad models. It even looks somewhat silvery in bright light.
The cylinder is just 9.9 inches tall and just 6.6 inches in diameter. Apple says the new model is about 1/8 the size of the 2012 Mac Pro, but that number doesn't really hit home until you see the new Mac Pro sitting next to one of its predecessors, or next to something else that gives you some size perspective.
It truly is a tiny computer given its capabilities. Apple achieved this size reduction in part by doing away with many things professional-level computers have traditionally reserved internal space for: multiple bays for hard drives, multiple slots for graphics and expansion cards, and space for an optical-drive (or two). Instead, the 2013 Mac Pro offers most of its expansion options on the outside: Turn the cylinder around, and you'll find a compact panel that hosts a slew of ports and connectors: four USB 3.0 ports, six Thunderbolt 2 ports (two each on three independent controllers), two gigabit ethernet ports, an HDMI 1.4 (audio+video) port, a 1/8-inch analog/optical-digital line-out jack, and a 1/8-inch headphone/headset jack.
But Apple also reduced the Mac Pro's size with some clever engineering. Traditionally, each heat-producing component in a desktop computer—CPU(s), graphics chips, memory, and so on—has had its own heat sink, and sometimes even its own fan. Fitting all these components into a case, and creating good airflows to make sure each can adequately cool, requires a relatively large enclosure. It's also an inefficient use of materials, because each heat sink is only cooling its respective component(s) part of the time.
Of course, not having traditional hard drives, PCI expansion cards, honkin'-big PCI-card GPUs (graphics processing units—a.k.a., "video cards"), and the like inside does wonders for internal temperatures. But the new Mac Pro also incorporates what Apple calls a unified thermal core. This is essentially a large, triangular, extruded-aluminum frame in the middle of the new Mac Pro that acts as both the structure for the computer and a central heat sink. The inside of the triangle looks like a traditional heat sink, with thin slats to increase surface area. Coupled directly to each of the three sides of the triangle are, respectively, the Mac Pro's CPU and each of its two GPUs. The result is a single heat sink that services the entire computer. Apple says the design allows the components to share the core's thermal efficiency, as it pulls heat away from each of those components and distributes it evenly across the core. Even when working hard, the outside of the Mac Pro's aluminum case feels only warm, not hot—it won't heat your office like older models.
The new Mac Pro also contains only a single fan. Located just below the top of the cylinder, this fan sucks air up from vents at the bottom of the computer, and over the thermal core to cool it, and then pushes the now-warm air out the ring at the top of the enclosure. Instead of the wind-tunnel-like noise levels you'd sometimes hear with previous Mac Pro models, the 2013 Mac Pro's fan is generally very quiet. In fact, in normal use, it's nearly silent: If you put your ear next to the vent on the top, you hear only a quiet hum. (Apple told us the computer produces only about 12dB of noise at idle, and roughly 17dB under load.) In my quiet office, I couldn't hear the Mac Pro's fan over the noise of my 2010 iMac, even when live-rendering some effects on 4K video in Final Cut Pro X. That's not to say you'll never hear the fan, but you should expect a much quieter experience than with previous models.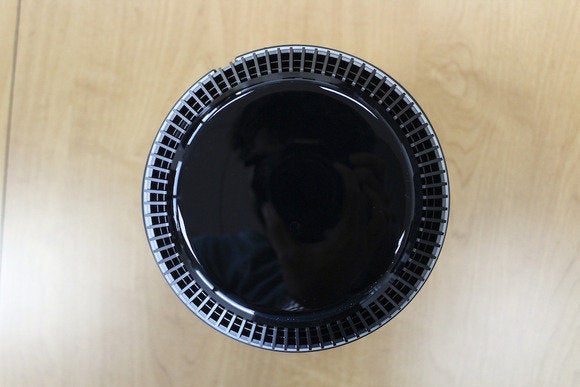 Combine all that technology with the Mac Pro's compact size, and you get a surprisingly dense computer: While it's one-eighth the size of the 2012 Mac Pro, it's over one-fourth the weight. Pick it up by its handle—the rim around the fan exhaust ring on top—and it feels heavy and solid. But thanks to its diminutive profile and attractive design, this is clearly meant to be a computer for your desk, rather than something you hide under your desk.
Pricing and configurations
Apple sells two stock configurations of the 2013 Mac Pro, each running OS X 10.9 Mavericks. One, the $2999 model, uses a 3.7GHz quad-core Intel Xeon E5 processor with 10MB of level 3 cache and includes 12GB of 1866MHz DDR ECC memory (RAM), dual AMD FirePro D300 graphics processors (each with 2GB of GDDR5 video RAM), and 256GB of PCIe-based flash storage. The other, the $3999 model, uses a 3.5GHz six-core Intel Xeon E5 processor with 12MB of level 3 cache, plus 16GB of RAM, dual AMD FirePro D500 graphics processors (each with 3GB of VRAM), and the same 256GB of PCIe-based flash storage. Each model also includes 802.11ac Wi-Fi (compatible with 802.11a/b/g/n), Bluetooth 4.0, and a built-in speaker; you also get copies of iPhoto, iMovie, GarageBand, Pages, Numbers, and Keynote, along with the standard OS X apps.
Apple offers a slew of configure-to-order (CTO) options for each. For starters, you can upgrade the $2999 Mac Pro to match the $3999 model's processor ($500), RAM ($100), or GPUs ($400)—do all three, and you've got the $3999 model. (The $3999 Mac Pro is simply the $2999 model with standard upgrades.) But you can keep going: Another $1500 gets you a 3.0GHz, 8-core CPU with 25MB of L3 cache, and another $1500 beyond that gets you a 2.7GHz, 12-core CPU with 30MB of L3 cache.
On either model, once you get to 16GB of RAM, another $400 bumps you up to 32GB, and an additional $800 takes you to 64GB. A $300 premium gets you 512GB of PCIe-based flash storage; tack on another $500 and you get 1TB. Finally, a $600 premium over the dual AMD FirePro D500 GPUs gets you dual AMD FirePro D700 GPUs (each with 6GB of VRAM). Neither model includes a display, keyboard, or any other input device.
If this all sounds a bit confusing, think of it this way: Apple essentially offers a base Mac Pro model for $2999, along with options for upgrading its processor, GPUs, RAM, and flash storage. (If you're curious, a maxed-out 2013 Mac Pro, complete with a 12-core processor, 64GB of RAM, 1TB of flash storage, and dual FirePro D700 GPUs, will set you back a cool $9599.)
Of course, if you've got an older Mac Pro with lots of PCI cards, hard drives, and other upgrades, you'll need to factor in the price of the various adapters, enclosures, and PCI chassis needed to integrate those components into your new Mac Pro system, or the cost to replace those products—if it's actually necessary—with newer ones that are compatible with the Mac Pro.
The new Mac Pro was available for order in the wee hours of the morning of December 19. Apple told Macworld that the earliest orders were actually shipped out later that day, but by breakfast time here on the West Coast, shoppers were seeing shipping estimates of February 2014.
Multi-core is where it's at
When we review a new Mac, we prefer to review the base model(s), and then we purchase one or more CTO models for benchmarking purposes. However, the Mac Pro Apple loaned us for review was a CTO model with a 3.0GHz, 8-core Xeon E5 processor; 32GB of RAM; dual D700 GPUs; and 512GB of flash storage. (The cost, if configured on Apple's online store, would be $6799.) And because new orders aren't shipping until February, and Apple retail stores don't have Mac Pros in stock, we haven't yet been able to purchase either of the base models. We'll test those models as soon as we can get them.
We published our first benchmarks of our review model, and the results were in some ways surprising: The eight-core 2013 Mac Pro was only 8 percent faster in our Speedmark 9 benchmark suite than a CTO 2013 iMac maxed out with a quad-core 3.5GHz Core i7 processor, a 3TB Fusion Drive, 8GB of RAM, and Nvidia GeForce GTX 780M graphics (a $2699 configuration). In the individual tests that make up our Speedmark benchmark, the iMac actually beat the new Mac Pro in a Finder test, the iMovie test, the iTunes test, the Aperture test, the Parallels test, and the Cinebench OpenGL test. It also beat the Mac Pro in GeekBench 3's single-core benchmark.
Speedmark 9 scores
| Mac model | Speedmark 9 Score |
| --- | --- |
| Mac Pro 8-Core/3.0GHz (Late 2013) | 350 |
| Mac Pro 12-core/2.4GHz (Mid 2012) | 196 |
| Mac Pro quad-core/3.2GHz (Mid 2012) | 171 |
| 27-inch iMac quad-core/3.5GHz CTO (Late 2013) | 326 |
| 15-inch Retina MacBook Pro quad-core/2.3GHz (Late 2013) | 282 |
Results are scores. Higher results are better. Best score in bold. Reference models in italics.—Macworld Lab testing by James Galbraith and Albert Filice
However, the new Mac Pro handily beat the iMac—and every other Mac we've ever tested—in our Final Cut Pro X test, the iPhoto test, the HandBrake test, the Photoshop tests, the Cinebench CPU test, the Mathematica test, and several graphics-engine tests. It also crushed most other Macs in GeekBench 3's multi-core benchmark.
The Mac Pro's Final Cut Pro X performance was especially impressive, as it finished our rendering test in half the time of the next-fastest Mac, and about a quarter of the time it took on two 2012 Mac Pros (a quad-core and a dual six-core). An Apple demonstration to Macworld staff was likewise striking, as it involved Final Cut Pro X displaying 16 different angles of 4K Multicam video simultaneously, while live-rendering 4K video with multiple, complex effects applied. This demo was, of course, designed to show the Mac Pro in the best light, but it's a demo few computers could do at all. Similarly, the user-run Final Cut Pro X site fcp.com published its initial tests based on a Mac Pro similar to ours. In one test, the site put a Red Raw 4K clip in a 4K project and added 18 effects; the clip rendered and played in real time without dropping frames.
The disparate results of our individual tests reflect my real-world experiences with the new Mac Pro. When performing basic computing tasks, such as working in the Finder, surfing the Web, working with iTunes, and the like, the new Mac Pro of course felt a good deal faster than the heavily upgraded 2010 iMac in my office, but not necessarily $4000 and three years faster. But when I started playing with filters on high-res video in Final Cut Pro X, and transcoding video using HandBrake, the new Mac Pro showed just how much more powerful it really is. For example, it took just over 12 minutes for HandBrake to convert a two-hour movie from a ripped .dvdmedia package to an H.264 file, and this was while the computer was downloading and installing about 1.5GB worth of software updates and I was browsing the Web. On my 2.93HGz Core i7 iMac with Fusion Drive, the same conversion took roughly 40 minutes.
We also ran the Blackmagic Disk Speed Test on the Mac Pro to see what kind of I/O performance the PCIe-based flash storage provides. The utility showed write speeds of 952.8 MBps and read speeds of 920.5 MBps—both impressive numbers, though similar to what we've seen on Apple's latest Retina-display MacBook Pro, which also uses PCIe flash storage.
Performance explained
You might find our overall results confusing, but in many ways they confirm what we've found with other Macs in recent years: When it comes to apps and tasks that can take advantage of multiple processor cores, GHz matters, but multi-core matters just as much—or more. For apps and tasks that don't benefit from multiple cores, the processor's clock speed becomes more important. Thus, a 3.5GHz quad-core iMac beats a 3.0GHz eight-core Mac Pro at things like Finder and iTunes tasks; the Mac Pro, on the other hand, easily bests the iMac in Final Cut Pro X, HandBrake, Mathematica, and Photoshop.
Indeed, if you look at Apple's webpage on performance, the company touts the new Mac Pro for video editing, 3-D modeling and animation, photography, design and layout, audio production, and science—all areas of computing where multi-core processors and/or high-end, high-resolution displays are key.
(It's also worth noting that the non-Xeon processors in current and recent MacBook and iMac models incorporate Intel's QuickSync technology, which is specifically designed to accelerate the transcoding of video; the Xeon processors in the Mac Pro lack this feature. iMovie takes advantage of QuickSync, which explains why a maxed-out 2013 iMac bested the Mac Pro in our benchmarks. The iMovie test in turn boosted the iMac's overall Speedmark score relative to the Mac Pro: If the 2013 Mac Pro had scored even identically to the souped-up 2013 iMac in the iMovie test, the Mac Pro's Speedmark score would have jumped from 312 to 342, besting the iMac overall by 54 points, rather than 24.)
Like previous Mac Pro models, the new Mac Pro should also offer performance advantages (compared to Apple's other computers) in an area that our Speedmark scores don't really show: sustained peak performance. Intel's current processors, including the Xeon processors used in the Mac Pro and the i5 and i7 processors used in Apple's other computers, have a feature called Turbo Boost. When more computing performance is needed, Turbo Boost can increase the processor's clock frequency (up to a particular speed that's determined by both the processor itself and its number of cores). However, Turbo Boost is limited: The processor can ramp up its performance only as long as the CPU stays below particular temperature, power-consumption, and current-consumption limits.
In desktop and laptop computers, it's generally the TDP (thermal design power)—the highest amount of heat the processor is allowed to generate before performance is restricted—that's the limiting factor for Turbo Boost. As noted by Marco Arment, the Xeon processors used in the 2013 Mac Pro have a TDP of 130W, while the TDP of the i5 and i7 processors used in Apple's MacBook Air, MacBook Pro, Mac mini, and iMac lines have TDPs ranging from 15W to 84W. In addition, the Mac Pro's unified thermal core provides much more cooling capacity than the tiny heat sinks and small fans found in Apple's other computers. Combine these capabilities, and the Mac Pro can boost its processor cores for much longer periods. The result should be significantly better sustained maximum performance for the Mac Pro, even if, say, a 3.7GHz i7 iMac can best the Mac Pro in short, single-core tasks.
TDP also explains why, when choosing processor options for the Mac Pro, clock speeds go down as the number of cores go up: The 12-core Xeon processor used in the Mac Pro has the same TDP as the 4-core version, so the base clock speed must be lower for the 12-core CPU.
What does this mean for you? A couple of things. First, even if you're shopping for performance, unless you regularly use software that either takes advantage of multiple cores or subjects your Mac's processor to sustained heavy loads (or both), you're probably better off with an iMac or a MacBook Pro. These computers offer competitive single-core performance, often at higher base clock speeds; they're even competitive at particular nonsustained multi-core tasks. Second, even if you do need a high-end, multi-core processor, you'll want to consider how frequently you need the full multi-core capability. Unless you will regularly be tasking all the cores of a 12-core processor, you'll be better off with fewer cores running at a higher base clock speed.
In the weeks and months ahead, we'll be performing additional performance testing, both with this particular Mac Pro configuration and with other Mac Pro models as we get them.
Note: When you purchase something after clicking links in our articles, we may earn a small commission. Read our affiliate link policy for more details.
Dan is former Macworld senior editor. You can find him on the web at
danfrakes.com
.