You spent years collecting your favorite movies on DVD, and now what? If you're like most Americans, those bulky boxes of discs are either sitting in a box in the closet or gathering dust on a shelf. The advent of the digital age has liberated your music collection by making it easy to rip CDs for playback on your smartphone –wouldn't you like to have the same experience with your movies?
Fortunately, turning your DVD-based movies into high-quality digital files that you can play anywhere is now easier than ever. All you need is your Mac, a SuperDrive, and a copy of Aiseesoft Mac Video Converter Ultimate.
Video Converter Ultimate lets you pop in a DVD and rip the contents to a digital file that you can then stream to all your devices. It even lets you snip out clips, edit your videos to add titles and effects, and convert your DVD to 3D for playback on 3D-compatible devices. And it includes hundreds of ready-to-use profiles for almost any kind of device, including game consoles and a lot of specific models of phones and media players.
You can also use Video Converter Ultimate to convert files from one digital format to another, and even convert YouTube videos to other formats for playback on your devices.
To get started, insert a DVD, launch the app, and click 'Load Disc.' Video Converter Ultimate will automatically discover your DVD's contents.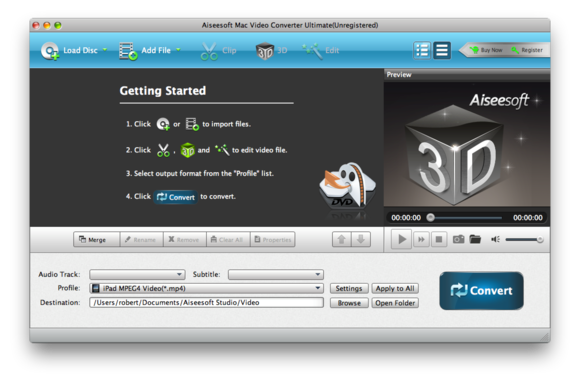 Under the Profile menu, select the type of device you want to view your movie on. If you just want a multipurpose video file, you can just choose HD Video and select HD MPEG-4. However, if you think you'll mostly be watching on your iPad, you can create a smaller file that's optimized for that device by choosing Apple iPad from the menu. If you think you'll be streaming it to your Apple TV, that setting will create a file optimized for bigger screens, but still compressed for streaming over your home Wi-Fi network.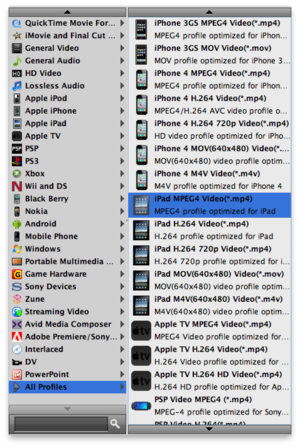 Choosing an output profile that's suited to the device you'll be viewing on — without going overboard — will cut down on conversion time and help avoid taking up too much disk space. But if you really want the maximum video quality, and don't mind the extra time and storage capacity it will take, choose H.264 MPEG-4 from the HD Video options. You can also choose a 3D profile compatible with your 3D TV, if you have one.
Once you've selected your output profile, click Browse and select the folder where you'd like to save the file. When you're ready, click Convert to start the process.
Depending on your settings and your Mac's specs, this can take anywhere from a few minutes to a couple of hours. So if you want to rip an epic to H.264 MPEG-4, it's a good idea to let it do its thing overnight.
Once your video is done converting, you can click Clip to extract a few of your favorite scenes for quick viewing, convert it to 3D, or edit it to add your own enhancements. When you're satisfied, either drag the file into iTunes to share it across your devices or copy it to a thumb drive to take it anywhere, or share your file directly to YouTube. It's that easy. Now just repeat for any DVD you want to convert, and soon those dusty anachronisms can find a new home — out on the curb.
Click here for a special holiday deal on Aiseesoft's Video Converter Ultimate.