I usually lose all enthusiasm for the shiny new habits of the new year by about January 4, giving me the rest of the year to feel like a failure. But I'm much more disciplined in work than in my personal life, so when it comes to my home business, I think I have a better chance for success. If you're considering adopting (or shedding) a habit or two, let my seven resolutions be food for thought.
1. I will keep up the good work
I actually follow most of the advice I give in my books and articles—for example, I have excellent backups, I ditched an email provider (Gmail) that wasn't meeting my needs for one that does, and I run a mostly paperless office. If you have doubts about your backups, are frustrated with your email, or feel overwhelmed with paper, resolving to fix those things in the new year might be a great idea. But even good habits can use a little nudge now and then. For example….
2. I will keep up with my scanning
My "Papers To Be Scanned" tray is perpetually full, as is my "Scanned Papers to Be Filed" tray. And some of the stuff I've already scanned needs to be sorted and named, because I was in too much of a hurry to do so at the time the paper came in. Scanning and filing doesn't take long if I do it on a daily or even weekly basis, but letting papers accumulate for 6 months is another story.
3. I will be more active
Most of my work involves using a computer, so although my fingers get quite a workout, the rest of me does not. I have a sit/stand desk, but out of habit I sit more than I stand. I want to reverse that trend. I'm tempted to go even further and add a treadmill to my desk, but that will be both a financial and geometrical challenge. However, I can probably pull off an elliptical trainer like Anthro's $120 InMotion E1000. Whether I'll be able to concentrate on writing while in motion remains to be seen. I've also heard of this place called "the outside," which sounds fascinating, and if they get Wi-Fi installed there, I might pay it an occasional visit.
4. I will optimize my office and desk layout
For almost a year, I've had my home office arranged in a certain configuration that made a sort of sense at the time, but is far more awkward than it needs to be. Figuring out the most efficient arrangement of furniture, computers, monitors, other gadgets, and cables is a daunting task (more so than the actual rearrangement would be), but the current layout isn't conducive to productivity. It isn't comfortable, either. My office should be a happy, cozy, welcoming place that I love spending time in. So, for the sake of my mental health, I resolve to set aside a solid day in January to create (to the extent feasible) the office of my dreams.
5. I will look for more automation opportunities
Last year I finally got fed up with a certain bookkeeping task that required five minutes of my time every single day. I spent an afternoon automating it with a combination of AppleScript and Keyboard Maestro. I figure I amortized that time in less than two months, and now I'm much happier letting my Mac do the work I used to do manually. My goal for this year is to keep an eye out for more repetitive tasks that I can automate, because in the long run saving a few minutes here and there can really add up. (For more ideas, see Chris Breen's "Automator Workflow of the month" stories.)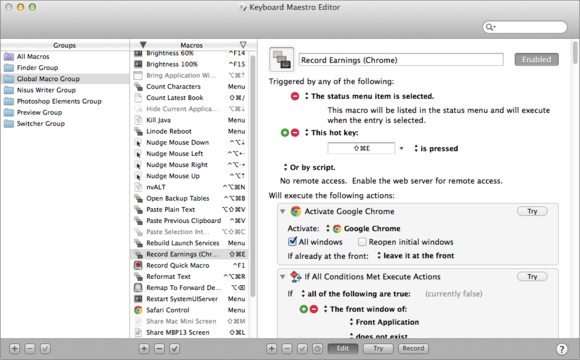 6. I will be less virtual
My coworkers are scattered around North America and Europe, so I communicate with them electronically for the most part, and I see them in person only at conferences or other special events. I tend to have a couple of speaking engagements a month, but other than that, I must make a special effort to have real-life interactions with human beings beyond my family and a handful of close friends. That's just the nature of the work I do, but the limited human contact takes a psychic toll. I plan to counteract it by getting more involved in neighborhood groups, volunteering at my son's preschool, and dropping in on our next-door neighbors (who also work at home) from time to time.
7. I will insist on 20-percent time
Gmail and numerous other Google services were invented during "20-percent time," in which engineers routinely spent up to a day a week working on a pet project outside their normal work scope. Google appears to be phasing out that practice, but other companies still find it highly successful. I have a long list of projects I've wanted to do for ages that aren't directly related to my home business and won't make any money in the short term, but that excite me in ways my ordinary work doesn't. I'm going to try to convince my boss (that would be, um, me) that I should spend a meaningful fraction of every week doing something a bit more speculative in hopes that I'll be more content in my work—and maybe even produce something useful in the process.