It's the holiday season, and many of you may have new Macs, new iOS devices, or new content to add to your iTunes library. This week, I look at questions about poster art for movies, printing a list of albums, and the infamous "Other" content on iOS devices.
Q: I buy movies and download the digital copies into iTunes and normally it runs smoothly. However, I have a couple of movies that don't show the poster in iTunes. I tried right-clicking and downloading artwork but that didn't work. Any ideas on how to fix it?
As far as I know, the Get Album Artwork menu item you're talking about only works with music. For movies, you need to find your own cover art.
I use Google whenever I need artwork for movies. Just do a search for the movie, then click Images to find the right poster art. Make sure to download a file large enough so it displays well on your TV—I generally choose at least 600 pixels wide.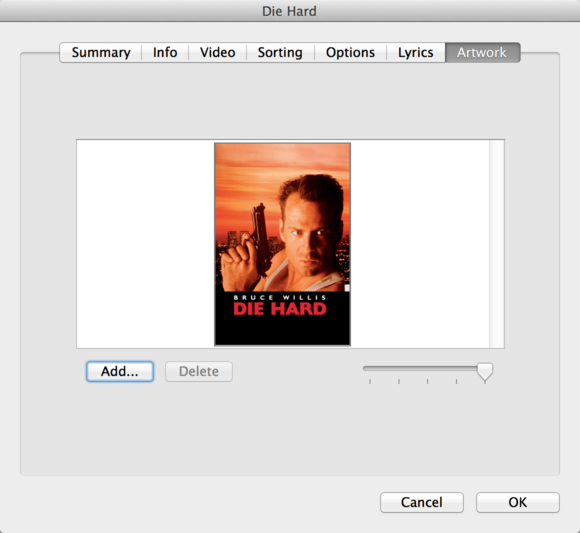 Select the movie, press Command-I, then click the Artwork tab. Drag the file you've downloaded to that tab, then click OK. iTunes will add the artwork to the movie.
Q: As with most Canadians who were champing at the bit back when the iTunes Store was U.S.-only, I used to buy American iTunes gift cards and then purchased some music that way. When the Canadian store came out, I created a second account for Canadian purchases. At the time, having two accounts was no big deal, but now I want to use iTunes Match, and I want to be able to get my whole collection into the system. What is the best way to do this?
It's pretty simple. You need to make sure you have all of the music from your U.S. iTunes Match account on your Mac. Select all the music, right-click, then choose Download and wait until everything is downloaded. Scroll through your library to make sure all the music is there, sign out of the U.S. iTunes Store, then sign in to the Canadian store. Turn on iTunes Match, and let iTunes do it's work while it matches and uploads music.
Your music will stay on iTunes Match in the U.S. store until the subscription runs out.
Q: When I sync my iPhone 5 and new iPad Air, I always have more than 4GB of "Other" in the sync display bar, no matter what I do with both devices. I've restored them, both as new and from backup. I've done most of all the dozens of supposed fixes I've found all over the Interwebs. I surely can't have anywhere near that much in normal catch-all stuff—contacts, text attachments, and so on—so there must be some corrupted data somewhere but I've been unable to fix it. Can you help?
I get this question a lot, and wish I had an answer. Over the years I have also tried some of the many suggestions people offer in Apple's support forums. None of them work reliably, and I think there's a force from another galaxy that's deliberately changing this "Other" amount to confuse us humans.
Apple defines "Other" as: "Everything else, such as contacts, calendars, messages, emails and their attachments, Safari Offline Reading List, settings, and other system resources." It's normal that there be some "Other" space used, but I have no idea why, in some cases, this can be a huge amount of space.

Apple says that "Orphaned files may remain on your iOS device if it's physically disconnected while syncing music, podcasts, videos, or photos. This can prevent iTunes from syncing the iOS device on subsequent sync sessions. When this happens, the Capacity indicator in iTunes may report a large amount of "Other" disk usage for the iOS device." The company offers a suggestion for resolving the problem here, but I've not had success with this. (I just tried it with my iPad, and ended up with slightly more "Other" space used after resyncing.)
The only thing I've ever found that fixes it is restoring an iOS device.
Q: I upgraded my iPhone and the ringtone I had purchased and set on the phone was replaced with a generic one. I can't find that ringtone. When I try to repurchase it, I'm told that it's already purchased, but where is it?
It sounds like you don't have the Tones library displayed in iTunes. Choose iTunes > Preferences, make sure you're in the General Preferences, then check Tones in the Show section.
When you connect the iPhone to iTunes, and click iPhone, you should see a Tones tab at the top of the window. Click this, then make sure you've checked Sync Tones. After you next sync, everything should be back to normal (although you'll probably need to set your preferred ringtone on your iPhone again).
Q: Is there a way to print only a list of your albums on iTunes? I don't want the 18 page listing of all my songs. I want to take the list with me to used bookstores to make sure I don't duplicate my purchases.
iTunes doesn't have a lot of printing features, but luckily what you're asking is among them. In your Music library, choose File > Print. Click Album list, then choose list of albums from the Theme pop-up menu. Click Print, and either print it out, or create a PDF from the PDF menu in the Print dialog.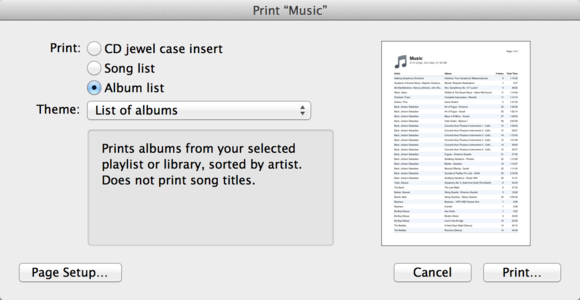 [Ask the iTunes Guy is a regular column in which we answer your questions on everything iTunes related. If there's something you'd like to know, send an email to the iTunes Guy for consideration.]