As the lucky guy who got to review the 2013 Mac Pro, I've spent quite a bit of time with it over the past week. You can read that review for my formal evaluation of Apple's new flagship workstation, but one thing that struck me while testing the Mac Pro is that in addition to radically changing Apple's professional desktop line, it also illustrates the changing face of "power-user" computing for Mac users.
It wasn't very long ago that the performance gap between consumer-level processors, such as those used in the iMac and MacBook lines, and the higher-end processors used by the Mac Pro line was vast. Affordable hard drives couldn't yet provide the massive storage capacities we see today. And the performance of integrated GPUs (and even some consumer-level discrete GPUs) was relatively poor. As a result, if you wanted a really powerful computer, or one with a lot of storage, or one that could handle the latest games, you looked to the Mac Pro line—even if you never planned to work with video, perform 3-D rendering, or do scientific modeling. The Mac Pro, despite its name, was as much a computer for power users (including many performance-hungry home users) as it was for people doing "real" pro work.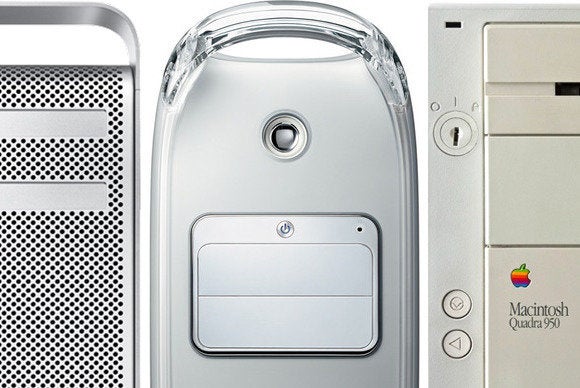 I'm the perfect example: As a power user, rather than a true pro user (these are terms I've made up, as there's no international organization that certifies pro-user-ness), I've never used fiber-channel storage, or required 128GB of RAM, or needed a $1500 video card to render Maya projects. I just need enough memory to keep, say, 30 apps and processes running smoothly; enough speed to handle my crazy workflows; and good-enough graphics capabilities to play the occasional demanding game. In the absence of a capable midrange Mac tower, Apple's "pro" towers were my computers of choice: I went from a Power Mac 8100, to a series of Power Mac G3 and G4 models, to a Power Mac G5, to a Mac Pro.
Power-user progress
But things have changed—some gradually, over the past five or six years, and some relatively recently. Among myriad other shifts in computing, the processors in today's iMacs and MacBooks are very fast; memory is cheap; it's relatively inexpensive to add 2TB, 3TB, or even 4TB of fast external storage to any computer; and even some integrated GPUs can handle relatively demanding games (not to mention that mobile and console gaming have reduced the importance of computer gaming for many people). A lowly Mac mini packs an impressive amount of power these days, while the iMac and MacBook Pro are veritable powerhouses for many tasks. The result is that you no longer need to go Pro to get a Mac that can handle demanding workflows, and if you aren't regularly using pro apps, you may actually find a tricked-out iMac to be faster than the latest Mac Pro.
Indeed, back in 2010, I gave up my Mac Pro for a 2.93GHz Core i7 iMac. I was tired of the power usage, heat, and noise of the Mac Pro line; and I simply didn't need all the expansion slots and high-end (and high-priced) features. I expected to sorely miss the Mac Pro's extra hard-drive bays, but I substituted a few external FireWire 800 enclosures, and the setup has worked out just fine. Unlike with older consumer Macs, I was able to inexpensively upgrade the RAM to 16GB, and with a little elbow grease I swapped out the stock hard drive with a 3TB drive, installed a 256GB SSD, and created a DIY Fusion Drive from the two. The result is a computer that, when running Geekbench 3 benchmarks, is comparable in single-core performance to a 2012 quad-core Mac Pro, and it doesn't lag too far behind that Mac Pro in multi-core performance.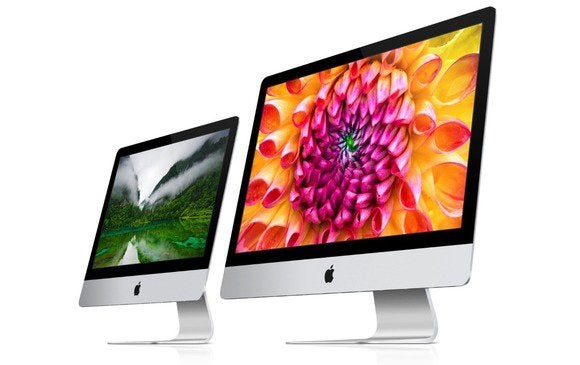 Pro is for pros
While older Mac Pro models were appealing to a broad range of demanding users, the 2013 Mac Pro focuses almost entirely on the things true professional users need: multi-core performance, workstation-class GPUs and GPU computing, fast I/O, and the like. Say what you will about the new Mac Pro's lack of options for internal expansion, but Apple doesn't appear to have spared much expense when it comes to the components it did include. The result is that the new Mac Pro is the first Mac in a long time that's clearly—and almost exclusively—for actual professional users.
It's priced that way, as well, starting at $2999, with the price quickly racing past $5000 as you upgrade components. The model I tested for our review has a configure-to-order price of $6799, and you can build a 2013 Mac Pro—just the computer, without any external peripherals or displays—that costs nearly $10k. To be fair, the prices of the Mac Pro line have been relatively stable over the past three or four years, so this isn't uncharted pricing territory. The difference, however, is that over that same span of time, Apple's iMac line has gotten cheaper (in both nominal and real dollars), and the performance at each price point has increased even faster, for many tasks, than the performance of the Mac Pro line.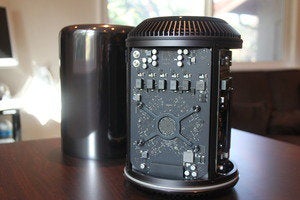 The result is that as impressed as I am with the new Mac Pro, if I put aside my Mac Pro lust and think rationally, it's no longer the ideal computer for me—and, I suspect, for many other "power users." Though I certainly wouldn't refuse a new Mac Pro if Macworld's IT staff placed one on my desk, if I was given $3000 to spend on a desktop Mac, I'd be hard-pressed to pick the entry-level Mac Pro instead of a 27-inch iMac with 3.5GHz quad-core Intel Core i7 processor, 32GB of RAM, a 3TB Fusion Drive, and an Nvidia GeForce GTX 780M GPU. Given my daily computing needs, the iMac would be competitive in performance, would include a great 27-inch display, and would occupy even less space on my desk than a Mac Pro with a separate display.
(A similar case could be made for a MacBook Pro: $2799 gets you a 15-inch MacBook Pro with a 2.6GHz quad-core Intel Core i7 processor, 16GB of RAM, 512GB of flash storage, and dual GPUs. That's a pretty nice machine that offers plenty of power for non-pro apps, and it can run pro apps decently if you need to on occasion.)
This all might sound like I'm disappointed with the new Mac Pro, but that's not the case at all. On the contrary, I'm just especially impressed by the rest of the Mac line. I think it's fantastic that people like me, whose needs are considerably more demanding than those of the typical computer user, but not in the realm of a professional-app user, no longer have to splurge on a Mac Pro. The new Mac Pro is a pretty great computer. It's just no longer the Mac for me.