At a Glance
Expert's Rating
Our Verdict
When Apple released the new Retina MacBook Pro last October, it also marked the debut of Thunderbolt 2 in an Apple product. But with no Thunderbolt 2 peripherals available at the time, we here in the Macworld Lab were left to test these new systems using older device using the original Thunderbolt.
The wait is over. The Pegasus2 R6 from Promise is the first Thunderbolt 2 peripheral to make its way into the Macworld Lab. It's a six-drive, 12TB hardware RAID box available from the Apple Store for $2299. You might remember that Promise was also first out of the Thunderbolt gate with its original Pegasus line of multiple drive RAID boxes.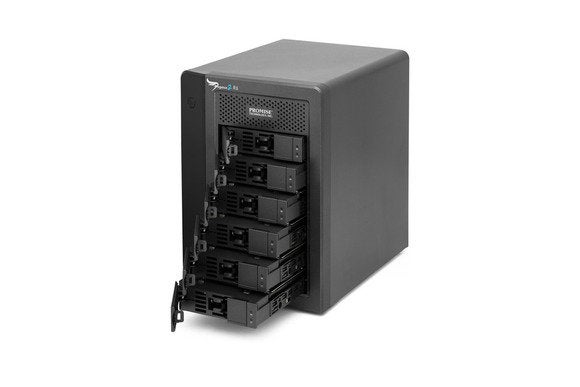 The Pegasus2 R6 model we received has six 7200 RPM hard drives with 2TB of capacity each, the same as the first Pegasus we reviewed. The Pegasus2 is a hardware RAID and can be configured easily to RAID 0, 1, 5, 10 or JBOD.
The new model has two Thunderbolt 2 ports to allow for daisy chaining up to six compatible devices. Some Thunderbolt products have just one port, meaning that it must sit at the end of the chain. Having two ports gives you more flexibility and have two Thunderbolt 2 ports means that you can connect more Thunderbolt 2 devices.
The Pegasus2 has a black aluminum case to better match the design of the just-released Mac Pro.
Our initial performance tests show that a single Pegasus2 R6 with 6 standard rotational hard drives can hit speeds higher than Thunderbolt can support, but does not fully saturate the 20 Gbps bandwidth of Thunderbolt 2.
What is Thunderbolt?
Thunderbolt is an interconnect technology developed by Intel in cooperation with Apple. Thunderbolt combines PCI Express and DisplayPort into a single connection, allowing for a combination of up to six peripherals, like storage devices, and monitors, to be daisy-chained together. Thunderbolt first appeared in the early 2011 MacBook Pro, but is now included on all shipping Macs.
Thunderbolt 2 is an update to the Thunderbolt specification and takes the original's two 10 Gbps bi-directional channels and combines them into a single 20 Gbps bi-directional channel. The amount of data able to move through a Thunderbolt connection hasn't increased, but the throughput of a single channel has been doubled.
As Intel and Apple often point out, 4K video (a new video format that has four times the resolution as 1080p and is gaining popularity with video professionals) requires more bandwidth than today's Thunderbolt or tomorrow's USB can accommodate.
Thunderbolt 2 is backwards compatible with Thunderbolt devices, but those devices will run at the slower 10 Gbps speeds. At the time of this article, only two Macs offer Thunderbolt 2, the late 2013 Retina MacBook Pro with and the new Mac Pro.
How fast is it?
The Pegasus2 comes formatted as a RAID 5 array. In a RAID 5 array, if one of the drives fail, your data can be recovered. It's not as fast as a striped RAID 0 array (which has no data redunancy to help preserve your data in case of a drive failure), but faster than a mirrored RAID 1 array. We tested the Pegasus2 in its RAID 5 configuration with a late 2013 Retina MacBook Pro with a 2.3GHz quad-core Intel Core i7 processor, 512MB of PCIe-connected flash storage, and 16GB of memory.
Using AJA's Disk Test with a 16GB file and video frame size set to 3840 x 2160 10-bit, the Pegasus2 posted a very impressive 902 MBps in AJA Disk Test's Write tests and 913 MBps in the Read test.
We moved the drives into a first-generation Pegasus R6 with Thunderbolt and ran the same tests. The Pegasus2 was 31 percent faster than the Pegasus in the AJA Write test and 21 percent faster in the AJA Read test.
Black Magic Disk Test Write results were similar to the AJA results, with the Pegasus2 moving data at a rate of 851 MBps, 25 percent faster than the Pegasus's 680 MBps result. Blackmagic's read result for the Pegasus2 was 698, 19 percent faster than the result posted by the first Pegasus. Our 6GB large file transfer tests results were throttled by the internal drive in the MacBook Pro, with write tests topping out at 775MBps.
We then reformatted the six 2TB Toshiba DT01ACA200 drives into a faster RAID 0 configuration and we ran the tests again. With striped hard drives, the AJA 4K read test showed the Pegasus2 at 1142 MBps, 41 percent faster than the original Pegasus in RAID 0 mode. AJA read tests came in at 957 MBps, 45 percent faster than the 659 MBps that the first Pegasus posted. Blackmagic Disk tests showed 1145 MBps write speeds vs 756 MBps for the first Pegasus and 695 read speeds, a 24 percent faster than the original Pegasus drive.
We didn't have time to fully test the Pegasus2 with the new Mac Pro. Check back soon for more performance tests using the Mac Pro, Final Cut Pro X, and some competing drives.