I'm late to the Clumsy Ninja bandwagon, but I thought I'd give the iOS game a try during a holiday break from work. I really wanted to like Natural Motion's game, but after a few hours of level grinding with no payoff big or small, the game feels more like a chore than something enjoyable.
There's a lot to like in Clumsy Ninja. The ninja you train is essentially a "virtual pet" and he's super cute and likeable, with his big round head dotted with big round eyes. Amazingly, he moves very naturally, even when he stumbles and bumbles on the training grounds. The physics are even more impressive when you tap and hold on to the ninja and drag him around (or spin him in circles in mid air, which I do frequently to amuse myself)—the animation is smooth and his body movements seem realistic. Add to that the gorgeous renderings of the training areas and the training devices, and Clumsy Ninja is a pleasure to look at.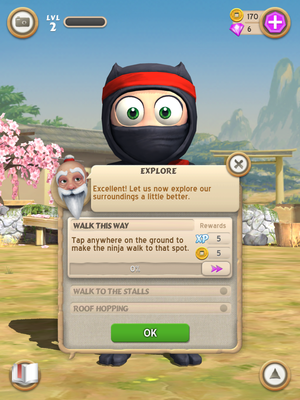 To make your ninja less clumsy and more of a master, you train him with a set of devices: trampolines, punching bags, battle dummies, objects to throw at your ninja, and more. Finishing a training session with each device grants your ninja experience points, and each level requires a certain number of points before you can move up.
The training is where you'll spend a vast majority of the game, and for the first couple of hours, it's fun. But after you're done experimenting with your ninja between training sessions (What happens when I do this? Can I tap that?), the grind starts and you do the same training techniques over and over and over again. You start to feel like the frustrated warrior-in-training that you've seen in many action movies, petulant and antsy—when do I get to see some real action? The game hints at an adventure to find your friend, Kira, but as you continue to level up, there's no start of the adventure in sight.
The training devices needs to be "repaired" after each use, so it becomes unavailable for a lengthy period of time, sometimes hours. You can use gems earned during training to repair items, but then you may not have enough to spend on new training items when they are available. So, of course, you can buy more gems, which is probably what the developer wants you to do in the first place. (Clumsy Ninja is free and the developer needs to make money somehow, so I don't mind buying a few in-game enhancements, but I don't want to spend more than I think is appropriate, either. Clumsy Ninja used to have options to earn gems and coins by patronizing advertisers. But during this review, these options disappeared.)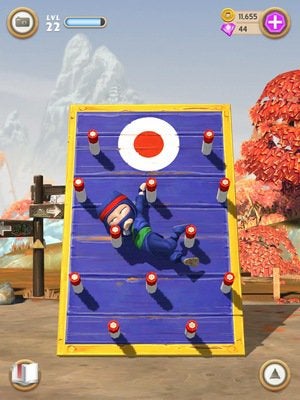 Clumsy Ninja also has an option to watch a video from an advertiser to instantly repair an item, but for a couple of weeks after I downloaded the game, I was only able to do this twice before the videos stop being available at all. Just recently, Natural Motion seem to change its policy on this, and now there seems to be no limit as to how many videos you can watch in a day to repair an item. You can also instantly repair an item by posting a tweet on Twitter saying that you are playing Clumsy Ninja, but tests are limited to one in a 24-hour period.
Before Natural Motion adjusted its repair policy, I'd play the game for 15 minutes, put it away so items can repair, and then play again later for 15 minutes, put it away, and repeat. Now I play for longer periods, but I spend at least half my time watching videos so items can repair. Frustratingly, the only payoff for all the training is a level advancement that allows access to new items that don't introduce anything new to you as the player. Having mini adventures would be good to break up the training monotony, but they don't exist.
Clumsy Ninja has some very cool tech behind it—the motion engine for the characters in the game is impressive, and the graphics are very nice. But more needs to be done about the gameplay to make it more interesting.