Angry Birds Go starts off strong with a familiar character, a basic go kart, and a fun course with polished visuals. Despite the solid start to this racing game, this is one of those free-to-play games that quickly gets bogged down by in-game purchases.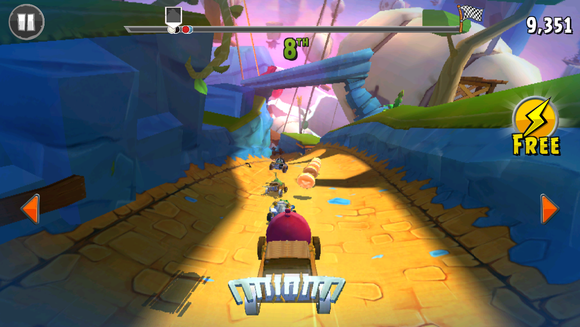 The different racetracks are fun, particularly the ones that involve great leaps and flying, and various types of races are included to spice up the the game. One involves collecting a certain amount of fruit by driving into them, while another requires you to quickly maneuver around ice, rock and wood obstacles before the timer runs out and a bomb explodes.
Unfortunately, purchases and sponsored ads are constantly dangled in front of you, interfering with your enjoyment of the game. This is a case where unless you make the in-game purchases, the the races quickly become tedious.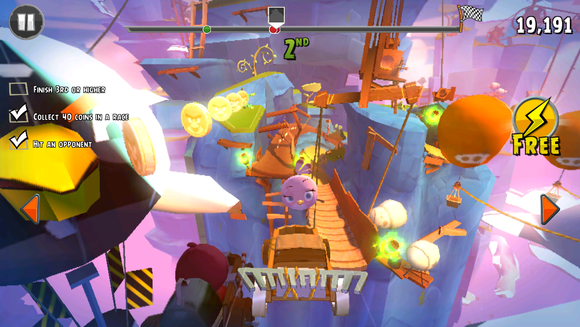 In order to unlock different tracks and characters, you must first pass all the levels of your current racing course. To successfully complete those levels, kart upgrades that cost gold coins are required. These coins must be collected from the track and earned by successfully completing challenges and then repeating races over and over again, unless you pay for them or the upgraded karts themselves.
Purchases range from a few dollars in price to a whopping $50 for the fanciest kart, and while the tracks are lined with coins and the occasional diamond or two, ultimately the game still gets incredibly repetitive and boring unless you are willing to spend the money on additional coins, diamonds, and quicker upgrades.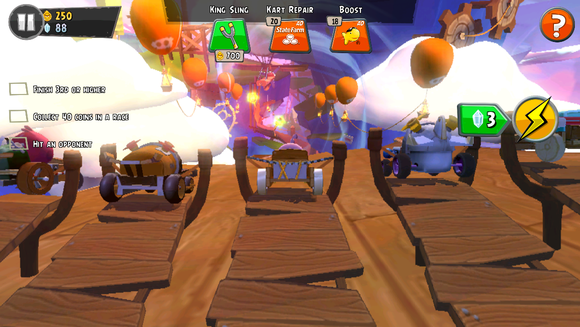 In addition to having to pay for kart upgrades, your racer has an energy bar that runs out after five races. You then have to wait for your player to regain energy, or spend 10 diamonds in order for them to regain full health again. You can earn diamonds while racing because they'll pop up every once in a while with the gold coins on the track, or you could—you guessed it—make an in game purchase to buy more.
Angry Birds Go had a promising start but is ultimately brought down by the fact that is a free-to-play but pay-to-win game.