You're excused for assuming that VIPOrbit is a business-use only, comprehensive customer and contact relationship management tool for Mac and iOS. While it's true that it helps you track your interaction with customers and clients, integrates with a variety of social media tools and Skype, VIPOrbit is designed to help you track of all your relationships, whether they are personal, social or business-related.
VIPOrbit was developed in part by one of the original creators of ACT!, a relationship management tool, once available for the Mac. The VIPOrbit universe consists of a free iPhone app, a $20 iPad app (a limited version is free to download, but you have to pay to use the full iPad version) and a $50 Mac app. These apps are linked using the free VIPsync service that synchronizes changes your make using any of your devices. The Mac app is designed to be the center of the VIPorbit universe, with the iOS apps syncing with a primary data set created on your Mac. Once all your devices are linked and syncing, changes you make using one device are synced across all your connected devices.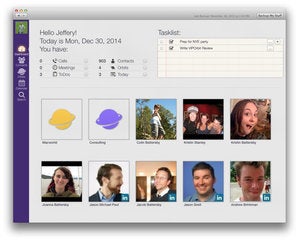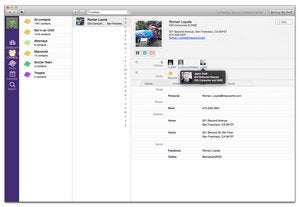 When you first set up the app on your Mac, you have the option of entering your contact data manually or importing it from other data sources. Data can be imported from Apple's Contacts app, Skype, Facebook, Twitter, LinkedIn, and Google. Once imported—assuming that you have contacts duplicated across several of these sources—you can use VIPorbit's merge tool to combine the data from each of these sources. The merge tool compares information from each source and allows you to choose the most appropriate. For example, you may have different photos from the Contacts app, Facebook, and LinkedIn. Before your data is merged you are required to choose the photo you'd like to use for the contact. The merge tool also lets you deselect contacts before you import them, making your initial import as clean as you want it to be. This combination of data import and data merging made it very simple to create a very clean initial contact database in a matter of minutes.
Some features in the app worked inconsistently. For example, manually adding Twitter contacts by typing their @name worked without a hitch, but trying the same thing with Facebook contacts didn't work at all. No matter how I entered the contact info into the designated Facebook contact field I was met with an error stating that the Facebook contact does not exist. Bottom line is that you have to have linked your Mac to your Facebook account.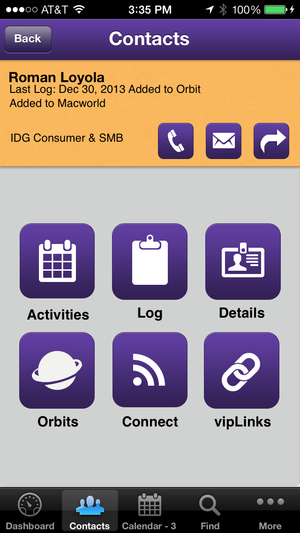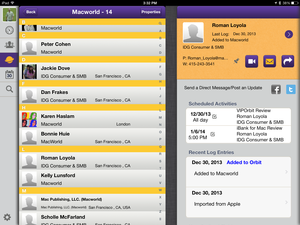 Anything you do with a contact in VIPorbit is logged by the software, whether it's sending an email message, making a phone call, or scheduling a meeting. You can edit or update these log files and they can also contain notes that you create on your own. This allows you to keep a detailed history of anything and everything you've done with the contacts in your database.
Contacts within VIPorbit can be linked to other contacts using a feature called VIPlinks. These links let you create direct links between contacts in an organization, and any contact that has a VIPlink displays those links when you view the contact. It's a useful feature when you find that someone you're calling is out of the office and you want to see who else you can speak with.
VIPorbit also includes another excellent feature for linking contacts called Orbits. Orbits are organized contexts within which you may encounter your contacts and they can be as specific or general as you like. For example, you may have a business contact who also plays on the soccer team you manage. This contact appears in both Orbits and can be emailed or sent a Twitter message about an upcoming soccer game without you accidentally sending the same message to everyone in the contact's business group.
Orbits also have the potential to be a bit more ephemeral. Planning a trip to San Francisco? You can create a temporary Orbit consisting only of people who live in San Francisco, then email all of those contacts to let them know you'll be in town. Once your visit is done you can delete that Orbit until you travel to San Francisco again.
VIPorbit's Calendar tool reads any information you've created in Apple's Calendar app and is updated the moment you add a new event in Apple's Calendar. But it's important to note that no data you create or edit in VIPorbit is synced back to its original sources. The app is designed to work as a standalone application with its own todos, meetings, and contact information. So if you create a calendar event in VIPorbit it will not appear in Apple's calendar.
I did see the kinds of minor issues you can expect from a version 1 application, including occasional crashes during the sync process (syncing was very slow at times) and in one instance an odd display issue that required me to restore data from a VIPorbit backup. In no case did I lose any data, but these may be the kinds of issues that would keep you from using the app until a 2.0 version is released.
Bottom line
VIPorbit is an excellent first-generation relationship management tool that makes it easy to keep your fingers on the things that matter most about your personal and business contacts. While I did experience occasional crashes, overall I found VIPorbit an excellent solution for managing all of my contacts.
Want to find out about more cool Mac apps? Check out our Mac Gems session at Macworld/iWorld in San Francisco March 27-29.