Adobe is cranking up the buzz around Photoshop CC, its flagship imaging app, with the debut of new 3D printing capabilities. Photoshop artists can now easily refine, preview, prepare, and print 3D designs to a 3D printer right from Photoshop CC.
This launch into the 3D printing space is part of a larger round of upgrades to its Creative Cloud designer and photography apps.
To facilitate the printing of 3D content, Adobe announced it has partnered with MakerBot for 3D printers, Shapeways for 3D materials, and Sketchfab for embedded interactive 3D online viewing of models within its Behance website option.
"On the horizon is an inflection point in the 3D market with consumer uptake and usage of 3D printing technologies and consumption of 3D printing devices that people can purchase and install in their homes," said Andy Lauta, Photoshop product manager, in a demo of the new features. "We view 3D printing as a content business and it will be driven by the availability of compelling content, and we are enabling our core user base to create compelling content that will drive consumers to adopt 3D printing."
Also available to subscribers are 20 new features spanning Photoshop, Illustrator, and InDesign, in-program access to more than 800 Typekit fonts, and updates to the Muse Web design program.
All these upgrades are available now and are free for Creative Cloud subscribers. To encourage more people to sign up for subscriptions, the company has extended the 30-day free trial for anyone who has shown interest (dating back to May 2012), but not yet taken the plunge.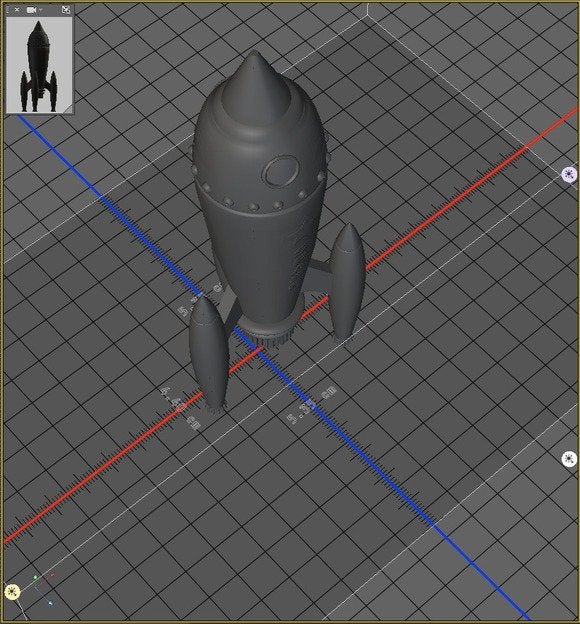 3D printing
While Photoshop has offered a 3D component for years—as part of the Photoshop Extended version of the program, which was eventually folded into the main version—3D has evolved from a rather narrow focus of medical imaging and product packaging to consumer creation of 3D objects and the wider availability and application of 3D to mainstream designers, and even to some consumers.
That coincides with the burgeoning popularity of 3D printing, and the technology is finally starting to emerge as a consumer resource. Adobe aims to bridge what it calls the "3D software gap" between creation of 3D objects and actual production of viable products and services.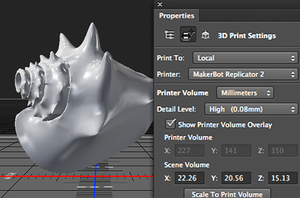 3D printing is challenging because the models used to print are not always up to the task: There may be holes in the mesh, or the object walls can't stand up to the chosen materials, or the structures are not strong enough to support the model. "Overcoming the flaws in a 3D model is a huge burden for people who don't understand the complexity of printers or who are not material scientists, so much time is spent trying to correct errors," Lauta said. Thus Photoshop's 3D utility aims at "single click easy" printing for a range of local printers and online services. "Creatives should focus on creatvity and not spend time on technical issues of materials and printing technologies."
With the new version of Photoshop (14.2, if anyone's counting), artists can design, produce, and finish 3D content such as product prototypes, art objects, toys, jewelry, and animations with true-to-scale 3D previews, one-click printing, and the ability to share interactive 3D models with others.
Photoshop provides built-in support for the following 3D print services and locally connected printers: Shapeways (print service)
, and MakerBot Replicator 1
, Makerbot Replicator 2 and 2X, 3D Systems Cube
, and Zcorp printers. Photoshop currently supports OBJ, STL, 3DS, Collada, and KMZ 3D formats.
In addition, Photoshop offers an open architecture for 3D printer support, allowing users to write their own 3D printer profiles in XML, and Lauta said Adobe will be adding support for more printer profiles in the future.
Photoshop CC users can also share 3D content in their Behance portfolios via Sketchfab, a Web service for publishing, sharing, and embedding real-time interactive 3D models online. This allows users to experience 3D content with a browser rather than viewing static snapshots.
Photoshop 14.2
Apart from 3D, everyone's eyes are focused on what else is new in Photoshop CC, which increasingly seems to do everything but take the picture for you.
This update features two new and powerful components—Perspective Warp and Linked Smart Objects. Perspective Warp allows image editors to correct complex perspective distortion while keeping the original perspective intact, change the vantage point from which an image was shot, convert a telephoto shot into a wide angle shot (or the vice versa), and composite images with different vanishing points.

Linked Smart Objects—references to files on a local system or network—offer another way to reduce file size and to repurpose objects to improve collaboration for creative teams. You can use a linked smart object in multiple documents, and when it changes, every instance also changes.
In this version of Photoshop CC, the 3D editing environment gets an overhaul, including simplified 3D interaction. Clickable areas are highlighted on hover, and areas in the on-canvas 3D cage are now larger, making it easier to interact with 3D elements.
Updates to Photoshop typically feature both major and minor elements, and this version is also accompanied by an assortment of improvements, including smart sharpen via GPU, improved history states for text editing and character and paragraph styles, improved negative number support in curves adjustments, and upgraded font transformations.
Designer updates
Other Creative Cloud updates span associated design software such as Illustrator, InDesign, Muse, and Typekit.
Illustrator is now enhanced with Live Corners that let you modify corner appearance; a revamped Pencil tool that promises to be easier to use than the not always cozy Pen tool; easier reshaping of path segments with the Pen tool; and checkbox-enabled responsive scalable vector graphics (SVG). InDesign now offers simplified hyperlink creation, styling, and verification, the ability to acquire and sync fonts automatically, and enhanced ePub interactivity. Muse gets a new Library panel, social widgets, scroll effects options, and a full screen slideshow. Typekit now offers access to more than 800 desktop fonts for Photoshop, InDesign, and Illustrator which you can access directly within your open application.
Adobe Creative Cloud is available via subscription for $50 per month (based on a year's subscription). Individual apps are available for $20 per month. The Photoshop Photography Program—which includes Lightroom, 20GB of cloud storage, and a Behance website, is still $10 a month, for a limited time. More information is available on Adobe's website.
Use your iPhone or iPad for photography? Get pro tips for taking better images at our photography session at Macworld/iWorld in San Francisco March 27-29.