When we reviewed Simplenote for iOS nearly four years ago, we found it to be a standout note-taking app. But while the company soon added Android and Kindle versions, for the longest time it didn't provide an OS X counterpart—Mac users who wanted to access and edit their notes on their Macs had to turn to Simplenote's Web app. So last fall's release of the free Mac version of Simplenote ( Mac App Store link) was welcome.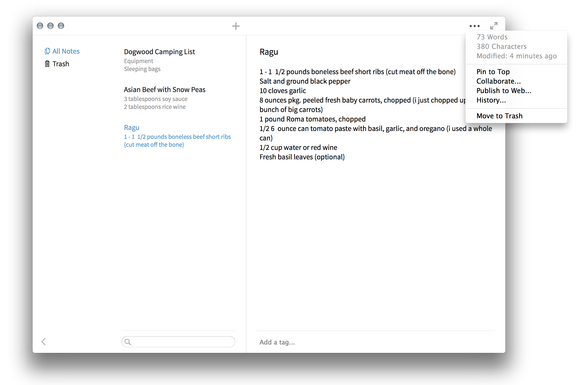 Simplenote for Mac is very much like the iOS version, with a streamlined interface that doesn't fill the screen with lots of icons or buttons. You can apply tags (that you create) to notes, and you can click any tag to display related notes. The app also uses white space well, making your lists of tags and notes easy to browse.
The Mac version takes advantage of the extra space available on your Mac's display. On the iPhone, you have to swipe left and right between your tag list and each list of notes, but on the Mac, it's all in front of you on one screen.
My favorite feature is Collaborate, which allows you to share a note with someone: You just choose Collaborate from Simplenote's menu bar, and then enter the email address of the person you want to share the note with. (That email address also becomes a tag for that note.) The note gets posted on Simplenote's site—with a private URL so no one else can see it—and an email is sent to the recipient, who can then view and edit the note without having to create a Simplenote account. It's a great way to get input on an informal document from a group of people, even if they aren't Simplenote users themselves. A nifty History feature lets you see the previous eight versions of a note, which is an especially helpful option if you frequently use the Collaborate feature.
Your notes sync to Simplenote's servers (there's no option to sync to iCloud, Dropbox, or some other service), and the developer provides a Web interface in case you want to access your notes on a computer or mobile device that doesn't have the Simplenote app. According to Simplenote's security center, your notes are encrypted when data is sent over the Internet during a sync, but your notes on the Simplenote servers are not encrypted. You can't encrypted selected text within a note, either.
Simplenote's Web interface has import/export features you can use to bring in notes from other apps, or to export your Simplenote data to use in a different app. These features are designated as beta (testing) features on Simplenote's site, and the list of supported formats hasn't been updated in over two years, but I was able to import Evernote data without a hitch.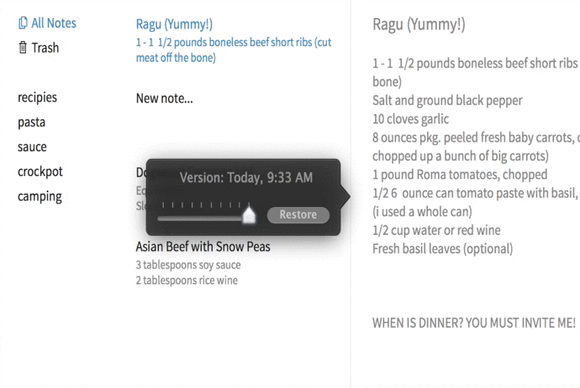 Simplenote doesn't have any formatting features or other organizing tools, so it won't replace a full-featured "notes and everything else" app such as Evernote. But if you don't like OS X's Notes app, you don't mind relying on Simplenote's sync service (and its encryption policy), Simplenote is a good alternative. I prefer Simplenote's interface and features over those of Notes, though I still use Evernote for most of my complex note taking.
Want to find out about more cool Mac apps? Check out our Mac Gems session at Macworld/iWorld in San Francisco March 27-29. Want to stay up to date with the latest Gems? You can follow Mac Gems on Twitter or on App.net. You can also subscribe to the Mac Gems RSS feed.