Every time I read about a new Mac or iOS app in a category I use, I think to myself, "Oh, cool. That could save me some time and effort." I download the app and try it out, but more often than not, I quickly conclude that my previous solution was just as good, and leave the new app sitting unused. From then on, whenever I see the app, I feel a vague, low-level anxiety. But still I accumulate more apps, and the cycle repeats.
Now I'm on a mission to simplify my apps by choosing fewer, better tools; learning them well; and deleting the rest.
Reduce decision-making
Why should it matter that I have so many apps? Sure, the apps take up space, but I could always delete them. And yes, money is a factor, but I could just stop buying new apps and paying for upgrades I don't need. More important to me is the psychological cost.
Every time I go to edit a photo, I think to myself, "Should I finally take the time to figure out if Flying Meat's Acorn (

) or Pixelmator (

), both of which I bought months ago, will do a better job for me, or should I just stick with Adobe Photoshop Elements (

), since I know what I'm doing there already and can get the job done quickly?" I invariably choose the familiar path.
Steve Jobs picked clothes he liked and then wore the same thing every day, thus eliminating the time and mental energy required to make wardrobe decisions and shop for new clothes. Maybe a similar logic can apply to apps: Think hard about what tools serve you best, spend the necessary time learning them, and then just stop thinking about it.
Go deep rather than broad
One app category for which I have perhaps a dozen options is plain text editors for iOS that support Markdown and Dropbox. To name just a few examples, I've purchased omz:software's Editorial, Philip Dhingra's Nebulous Notes, Alexander Blach's Textastic, Prasanna Gopalakrishnan's WriteUp (

), and Quang Anh Do's Writing Kit.
Argue all you want about which of these or many other similar apps is the best, but my experience suggests that constantly bouncing between apps is bad for productivity. The more I use an app, the more I learn about it and the more efficient I become at using it. As soon as I switch to another product, I lose the those benefits of muscle memory and usage habits.
If I had nothing but time, I'd force myself to use a new app for a week or two in order to learn it well, develop new habits, and see if my overall efficiency improves over the previous app. But that process would never end, and I'd waste tons of time experimenting. My feeling is that it's better to make an informed decision based on the available information, learn an app deeply, and then stick with it until you encounter frequent annoyances or missing capabilities you can't do without.
Think hard before investing time in a new app
I'm not suggesting you pick one app in each category and stick with it for life. Software evolves, and it's reasonable to re-evaluate your needs from time to time—say, every year or two, or when you realize the pain-to-benefit ratio of your current solution has become too great. But make it a deliberate choice instead of just jumping at every new, shiny toy that's getting some buzz.
For a long time, I used Microsoft Word (

) for word processing, like most of the rest of the world. I didn't like it much, but it was the only tool that could accomplish certain tasks for me.
At a certain point, Apple's Pages (

) improved to the point where it that it became an even better tool for me, so I invested significant time in learning its ins and outs. A couple of years later, Nisus Software's Nisus Writer Pro (

), an old favorite, acquired some new features that made it superior to Pages for my needs, and I switched again. But I won't kid you: switching a major tool like this can be time-consuming work if you want to learn it well, and it takes a while to pay off in increased productivity.
Make the choice
If you're sold on the idea of simplifying your apps, keep the following tips in mind:
Look for customizability: Extensions, plugins, and macros can make a good app great. For example, even though there are other, more powerful email clients, I use Apple Mail because I haven't yet found an email client that matches what Mail can do when tricked out with the nine third-party extensions I use.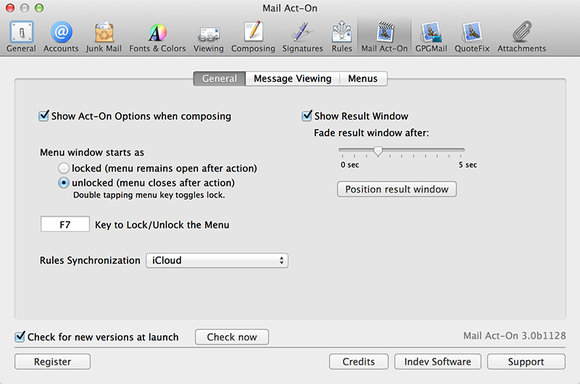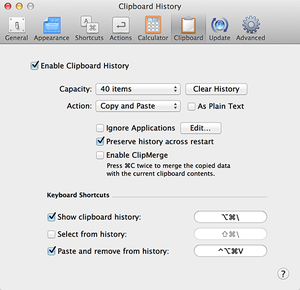 Take advantage of multipurpose apps: The fact that an app does many things doesn't guarantee that it does them all well, but in some cases an app with several capabilities can replace several smaller apps. For instance, BusyMac's BusyCal replaces both Calendar and Reminders for me; and Objective Development's LaunchBar (

) can function as an app launcher, calculator, and Clipboard utility.
Sometimes you really do need two or more apps: Don't toss something that's genuinely useful in favor of something less capable solely because it lets you reduce your app count. Sometimes apps have essential features that justify their use.
Delete the rest: Once you've narrowed your apps down, get rid of the ones you don't want. (See "Stop drowning in apps" for tips.) Now doesn't that feel better?