WerYoo, a free social networking photo app released on Wednesday, advertises itself as a different type of sharing environment. With the hundreds of photo apps out there these days, WerYoo (Were you there?) puts equal emphasis on the where as on the what and encourages international conversations and new contacts.
WerYoo certainly provides a fluid path from phone to public view. There's virtually no filter between shooting and sharing. After you sign in and create a profile, you're a bona fide community denizen among its visually prolific inhabitants.
Edit now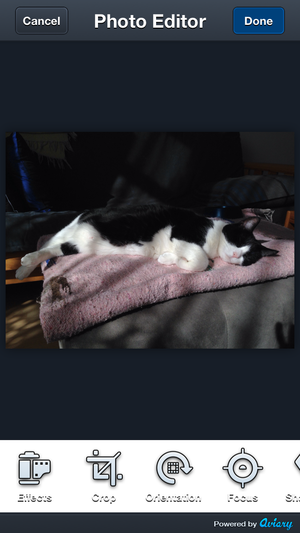 The moment you shoot an image is your best chance to make decisions. You can immediately reshoot the picture, which overwrites the original shot, or you can edit it before showing it to the world.
WerYoo provides only one opportunity to edit your photos, and that's directly after taking them. You can add special effects such as Instagram-like filters, flash, crop, orientation, sharpness, brightness, contrast, saturation, warmth, red-eye, whiten, and flip.
I found the interface of the program agreeably minimal, from the navigation to the editing icon labels, but their tiny size and white color makes them hard to read. Basic fuctions are accomplished via the bottom menu bar (the app functions in portrait orientation only). There you can access Photos, Activity, the camera, Find, and Me. Photos is your intro into the community. There you can see the popular tags as well as nearby and popular images. The app's concept of nearby is relative, however, since one nearby entry was in Australia, clear across the globe from my current location of Northern California. But, hey, it's a small world.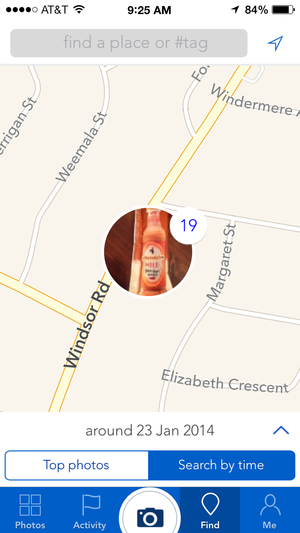 Watch the map
While I'm on the subject of maps, it took quite a bit of careful pinching to make sure I actually could tell where a portrait of Nando's Mild Peri-Peri Sauce was located, and that speaks both well and ill of the mapping feature.
WerYoo's sensitive geo-location capabilities are the strongest part of the app. Even if you shoot at distances of a block or two, the app recognizes that you are in a different location than the last shot you took and places map markers fairly accurately. It's just that the map does not adjust when you tap on the image, so initially you may not be able to tell where a picture was shot.
Easy networking
You can, of course, comment on your own photo, but you can also favorite, follow, and comment on others that are posted and even save other members' images to your camera roll. My photos were immediately tagged (not by me), and I gained four followers during my first hour of shooting. The app also has a facility for private sharing, for those times when you do not want to share photos with the world. And you can highlight certain parts of a photo you're sharing.
You can search for photos by hashtag, location, or date using some clever interface acrobatics. Tapping on a hashtag slows a map where all such tagged photos originate.
There are some aspects of the app I found disappointing and somewhat confusing, but chief among them is the lack of editing flexibility. I was shooting at the San Francisco waterfront near the SF Giants ballpark (AT&T Park) at sunset, and decided to use the available fading light to capture different angles and exposures rather than focus on editing. However, later I found that all my photos had been made public already and that there was no opportunity to edit them in the app later on.
As soon as you resume shooting, the previous photo is online awaiting interaction with other users, unless you designated it as private. Thus, it didn't take a few minutes to have people commenting on my images. Everyone was polite and helpful, which says something about this community.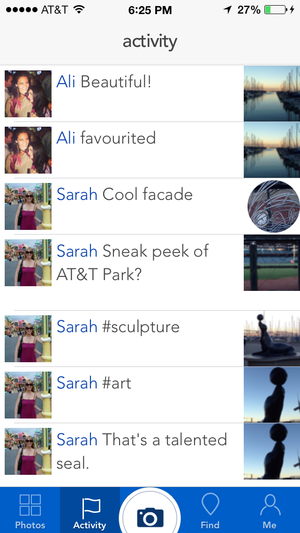 Despite not allowing you a second chance for an edit, the app does automatically deposit your shots in the camera roll, and from there you can use any editor to fix them up and share them in other ways. And you can import an older image from your camera roll for editing and sharing. You can delete a photo via the Sharing button (along with sharing to Facebook, Twitter, and placing it in your Camera Roll.)
Other controls were not immediately intuitive. There's a That's Me button on photos that receive comments from the Activities tab, which I learned you can use to tag yourself in a photo.
Overall, I had fun shooting with WerYoo, and as with each app, I got used it its conventions. It's free, so you have nothing to lose by checking it out.
Use your iPhone or iPad for photography? Get pro tips for taking better images at our photography session at Macworld/iWorld in San Francisco March 27-29.