In this week's column, I look at four interesting questions. One about setting the start and end time for tracks in the cloud, another about shunting some or all iTunes media files to another location, and two about smart playlists.
Q: I bought an iPad Air, and I don't plan on syncing it with my desktop computer because I download all of my iTunes music from the cloud. But there were a number of songs that I have edited to be shortened. Some of them have a minute of banter at the beginning or end from the musician at a live show that I don't want to hear every time (and a couple with "colorful" language banter I don't want my kids to hear when the song comes up on random play). As far as I can tell, I can't edit the track length on the iPad. Where is this simple feature?
What you're talking about is a useful feature that lets you tell iTunes to either start or end any track at a specific time. It's accessible when you select a track, press Command-I, then click the Options tab. As you can see below, you then set a Start Time and/or an End Time, then click OK.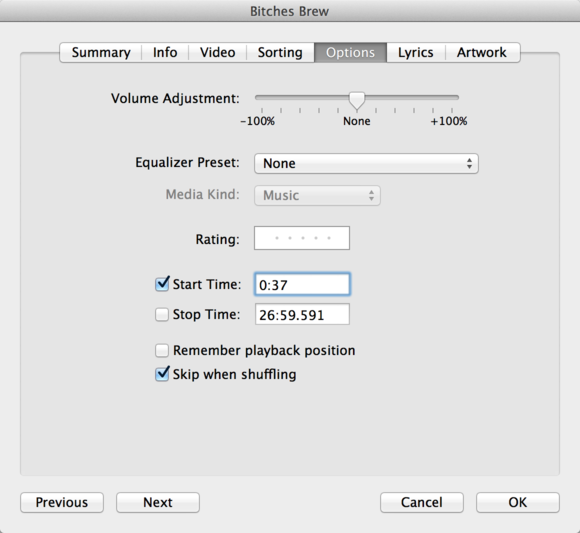 But, as you say, this isn't available on iOS devices.
It's not clear from your question whether you're using iTunes Match, or just downloading music you've purchased from the iTunes Store. In the latter case, you can't make any changes to your music's tracks or other options because the iPad doesn't allow you to edit start and end points.
The trick to doing this is first editing the tracks in iTunes. Once you do that, you can then sync the tracks to the iPad via iTunes or, if you're using iTunes Match, allow iTunes Match to sync with your iTunes library. When you then download that music from iTunes Match to your iPad the edits you made in iTunes will be retained.
Q: I often assign multiple genres to songs, such as, "rock jam instrumental". When I create a smart rock playlist, iTunes only chooses songs where the genre is rock, and excludes any song that contains "rock" and other words. I'd like the rock playlist to include any song with rock in the genre field, regardless of whether additional genres are assigned to the song. What's the best way to do this?
I've long been disappointed that you can't assign multiple genres to music in iTunes. Your solution is a good one—using multiple words as a custom genre—but it's not the best. I would rather that iTunes offer the ability to apply several "real" genres to music. For example, as I write this, I'm listening to Miles Davis' Bitches Brew. Is it jazz? Is it rock? Is it fusion? In many ways, it's all three; and more.
But the solution to your problem is actually quite simple. Just choose genre contains Rock as below. This will find any genre that contains that word.

Q: I have a very large music library that keeps expanding, currently stored on an iMac with 2TB of storage. Is it possible to duplicate my iTunes library, or store it remotely on a different device, yet still access it from the various machines on our home sharing network? It would be great to be able to free up some of the iMac's hard drive!
There are two solutions. The easiest is to move all of your iTunes media files to an external hard disk or to a network volume. I've got my music library on a 2TB hard drive that's connected to my Mac mini. As long as iTunes is running on your Mac, other computers will be able to access the library, no matter where the music is stored. I explained how to do this in an article about 5 years ago, but the procedure hasn't changed. (See the "Move your entire media folder" section of the article.)
The other option is to move part of your iTunes library to another disk, if you don't want to put it all in a different location. You can do this with the $15 TuneSpan. I wrote about TuneSpan for Macworld a couple of years ago.
(Disclaimer: TuneSpan is currently a sponsor on my website.)
Q: I have a playlist organized by how many times I've played songs, from the most to the least. It works in iTunes 11, but on my iOS 7 devices, it now only plays the songs in alphabetical order. Any suggestions on how to fix this?
I have the same kind of playlist. I sort the songs I listen to most by plays, not so much to listen like that, but more out of curiosity to see what I've listened to the most over the years.
When I sync this playlist to my iPhone, it shows the tracks in the correct order. So I can think of two possible solutions to your problem. The first may be that you inadvertently clicked a different column header in iTunes at some point. To display the tracks according to their play counts, the Plays header needs to be clicked, with the arrow pointing down, as below. (If the arrow points up, just click it again to change the direction.)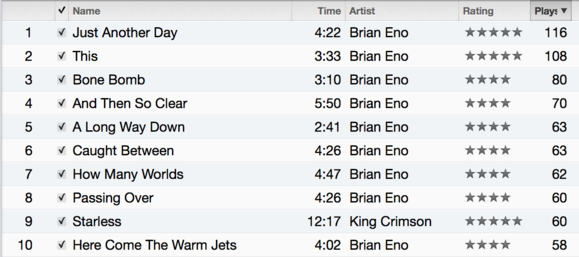 However, I've received lots of emails from people saying that certain playlists don't get synced to their iOS devices in the correct order. One way to fix this is to connect the iOS device to your computer, select it in iTunes, then choose to not sync that playlist. If you only sync Selected playlists, artists, albums, genres on the Music tab, then deselect that playlist, sync the device, re-check it, then sync again.
If you sync your entire music library, the solution may be more radical. The easiest way is to turn off Music syncing, sync the device, and then turn it back on. This will take a while if you have a lot of music, but I've found this repairs some problems with playlists.
Have questions of your own for the iTunes Guy? Send them along for his consideration.