If your inbox is a many-headed beast that you battle every day, Mail Pilot ( Mac App Store link) might just be the enchanted blade that helps you slay that email monster once and for all. This new program's sleek looks conceal a few still-rough edges, and its singular approach to email may not fit with your own. But Mail Pilot nonetheless offers a clean, impressive, often beautiful way to manage unruly email.
Born from a Kickstarter by two Virginia Tech grads, Mail Pilot seems inspired by management guru David Allen's Getting Things Done approach to productivity. In the simplest terms, Allen encourages people to finish tasks they can easily accomplish right away, and put aside thornier jobs until they have time to tackle them properly.
Mail Pilot reshapes your whole email workflow around this concept, turning your inbox into a to-do list. Each message can be checked off when you're done with it and sent to your archive folder; postponed for however many days you specify; added to a list of similar messages for later review; or set aside until you've got time to give it more attention. Clearly labeled keyboard shortcuts at the bottom of the screen carry out each of these tasks, and more shortcuts for replying to or forwarding mail appear at the top of each message. You can easily view messages in each of these categories via buttons at the top of the screen.
Like many current mail clients, Mail Pilot only supports IMAP. Setting up my personal Gmail account was a snap, but an Office365 account from work gave me a little more trouble at first. Checking Mail Pilot's thorough, excellent Help files ultimately revealed the exact settings I'd need to enter.
With those accounts up and running, messages from both appeared in a unified stream on the left-hand side of the screen. You can drill deeper into individual accounts or webmail folders, but by default, that information's hidden until you click the Sources button above the top left message column.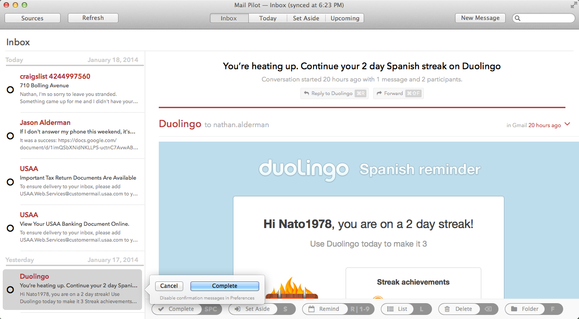 I really liked Mail Pilot's clean, appealing design. It's not Mac standard, but its beautiful font choice and stark black, white, gray, and deep-red color scheme helped me focus on the right information when I needed it. However, Mail Pilot's presentation of threaded messages took a little more adjusting to; at first, I found the tangle of messages hard to follow. While they initially contributed to my confusion, I came to appreciate the multiple ways Mail Pilot can present those threads, which are listed as clickable names at the top of each chain of messages.
Unfortunately, Mail Pilot still lacks a few important features. If you start a new message, you can't save it as a draft and come back to it later. And its search abilities are limited only to senders and subject lines, not the text within a message body. Mindsense says a future update will add both refinements.
The program also seems to assume that you want to use email only in its task-driven way, and you won't be using any other clients except Mail Pilot. Users on the App Store have understandably groused that when you set aside messages or ask Mail Pilot to remind you about them later, that mail gets pulled from your IMAP inbox to folders deep within Mail Pilot's own file system. To its credit, Mindsense shows you how and where to find those messages in other clients in Mail Pilot's online help files. I also wish that Mail Pilot integrated its reminders with Apple's iCloud calendar feature, which might offer more power and flexibility than its own bare-bones approach.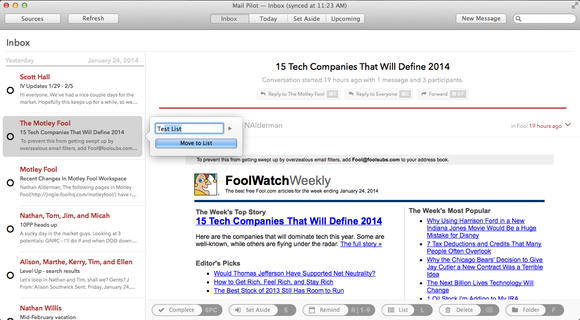 Bottom line
Mail Pilot's all-business approach definitely isn't for everyone. If you treat email as an archive of useful information, photos, and files, you might not appreciate the way Mail Pilot whisks completed messages down the memory hole. But if you're willing to give yourself over to its system—and wait for it to add a few final refinements—you might find Mail Pilot a useful weapon in your quest to conquer your email once and for all.
Want to find out about more cool Mac apps? Check out our Mac Gems session at Macworld/iWorld in San Francisco March 27-29.