Social media such as Twitter and Facebook can serve many worthwhile purposes, both personal and professional. It can also turn into a huge time sink—not only distracting you from more useful pursuits, but also dragging you down psychologically, what with all the snarky remarks, intolerant posts, and general insanity the medium seems to induce.
I'm not suggesting you give up on social media, but I do recommend taking steps to increase its ratio of signal (worthwhile opinions and comments) to noise (anything you consider a waste of time). While you're at it, you might apply similar principles to one-way media such as RSS and Web-based news reading.
Simplify Twitter
I choose the people I follow on Twitter very carefully, and I try to keep the total number small enough that I have time to read everything they write: If I weren't genuinely interested in what they have to say, I shouldn't follow them in the first place. If you follow more than a few hundred people, it's unlikely that you can keep up with all of them, and that seems to me to be missing the point. My advice: seriously consider pruning that list.
Even then, I unfollow people who tweet too frequently about topics I don't care about or who simply tweet a lot (even if the content is great).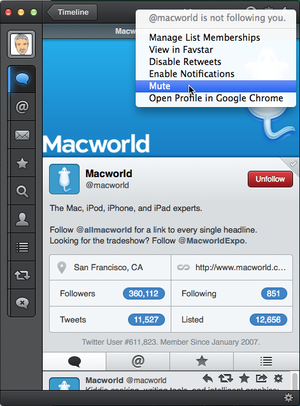 When I unfollow, I do so without prejudice, but sometimes I want to continue following someone—to avoid bruised feelings or as a professional courtesy—without having to see their tweets. (In case you weren't aware, there are tons of websites and apps that can alert people when someone unfollows them on Twitter—for example, Unfollowers.me, fllwrs, and Find Unfollowers on Twitter—and I know numerous people who use such tools obsessively.) One approach is to use lists to filter your tweets (see Tame your Twitter feed, but I prefer to mute instead. Muting (also called muffling) is something you can do only in a Twitter client, not on the Twitter website, and it means you continue to follow the person but don't see their tweets in your timeline. (In Tapbots's $20 Tweetbot for OS X, for example, click a person's icon, choose Mute from the gear pop-up menu, and choose a time period from one day to forever. Other apps, such as The Iconfactory's $10 Twitteriffic, also let you muffle hashtags.)
Simplify Facebook
Facebook is much the same. You can unfriend anyone you don't want to hear from anymore, and I occasionally do so when nearly everything a person posts is negative or inflammatory. But unfriending someone is often considered a slap in the face, and social convention makes it difficult to do so for certain categories of people, such as relatives you don't like much. (As with Twitter, Facebook users aren't automatically informed when you unfriend them, but apps such as Unfriend Finder make it easier than scanning one's list of friends and noticing that someone is missing.)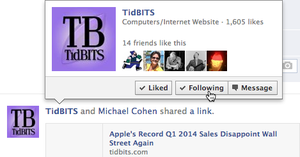 Nevertheless, you can perform the Facebook equivalent of muting by telling Facebook that you want a person to remain on your friend's list but not see any of their posts. To do this, hover over the person's name at the top of a post and click the Following button, which then turns into a Follow button. The other person won't know you've done this, but you won't have to see anything they write.
(And, if there are any Google+ users out there, this Help article explains how to do pretty much the same thing there.)
Simplify news consumption
RSS is long past its heyday, but many people still use it, often via an app such as the free Vienna or Black Pixel's $20 NetNewsWire, to keep up with news sites, blogs, and other regularly updated content. Some sites don't support RSS or do it poorly, so I have a bookmark folder in Safari that I Command-click to open each of its sites in a different tab.
Even though I won't hurt anyone's feelings by unsubscribing from an RSS feed or no longer reading a news site, I kept too many around, for too long, until I eventually realized that all those unread articles every day were making me anxious and inducing a false sense of guilt. So I pared them down to the bare minimums. (Another tip: if you follow someone on Twitter who always tweets links to their blog posts, the RSS feed is redundant and you can unsubscribe from it.)
Although I still keep up with tech news, I've decided it's important for my mental health to avoid following other news (whether on the Web, TV, or other media). If that sounds extreme, consider other examples of people who feel the same way.
I still hear plenty of news second-hand, but I no longer volunteer for a full daily dose of sadness and rage over awful things happening in the world that I can't do anything about. And you know what? I've been much happier ever since.