Reader Steffie L is concerned not about what her iOS devices sees, but rather what it hears. She writes:
With more and more apps listening in at all times on your iOS device (Shazam, etc), short of deleting the app is there any way to control when this happens?
Under iOS 7, yes. One of the features introduced with this version of iOS was the ability to limit apps' access to the device's microphone. When you first launch an app that wants to use the mic, you'll see a dialog box asking if you're willing to let the app do this. Tap on OK and it now has the access it desires.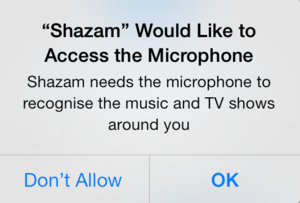 However, you don't need to grant it this privilege forever and a day. It's easily revoked by going to Settings > Privacy > Microphone and then toggling off the switches next to those apps you don't want listening in.
It's important to note, however, that if you disable the device's microphone an app like Shazam will no longer function—after all, it needs to "hear" what's playing around it to work its magic. And, as the app tells you when you first install it, it can't discern your words. It's just listening for musical patterns. I wouldn't worry an ounce about your privacy, but if it still bothers you, you can always quit the app.
As for the broader issue of switching off the mic for any app, this isn't possible with earlier versions of iOS. If you're terribly concerned about this, I suggest carrying a small roll of duct tape with you and placing a piece over the microphone hole (generally found next to the On/Off switch).