Reader John Craven offers up this head-scratcher. He writes:
A short while ago I found a keyboard shortcut to reset Safari. Then recently I was having trouble with Safari and the keyboard shortcut stopped working along with a few other problems. I took my Mac to the Genius Bar and the technician showed me how to delete the plist file. This brought everything back to normal. The problem is I can't remember the keyboard shortcut to reset Safari anymore.
If you remember, please let me know because I've never heard of such a shortcut. Oh sure, you can open Safari's preferences (Command-comma), click the Advanced tab, enable the Show Develop Menu in Menu Bar option, and then press Command-Option-E to empty Safari's caches, but that's not the same thing as resetting the browser.
If you want that kind of power you must choose Safari > Reset Safari, select the options you want to reset (they include Clear History, Reset Top Sites, Reset All Location Warnings, Rest All Website Notification Warnings, Remove All Website Data, Clear the Downloads Window, and Close All Safari Windows) and click on Reset.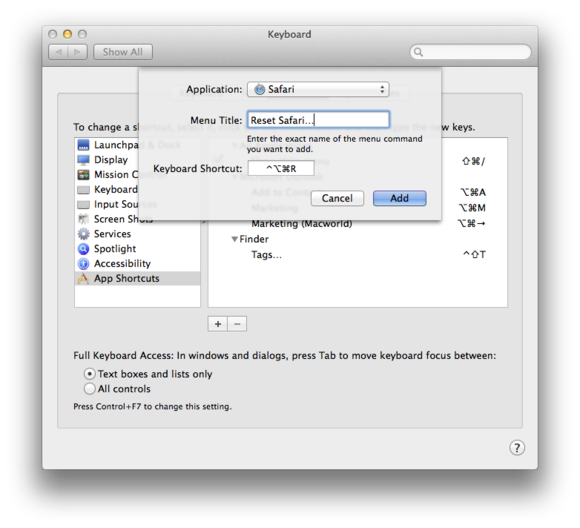 If you'd like to create a keyboard shortcut to invoke that window, it's easily done. Launch System Preferences, click on the Keyboard preference, click the Shortcuts tab, and click the App Shortcuts entry. Now click the plus (+) button that appears below the list of shortcuts, in the sheet that appears choose Safari from the Application pop-up menu, and in the Menu Title field enter Reset Safari… (the elipsis character—created by typing Option-semicolon—is required). Enter the shortcut you'd like to use and then click on the Add button. When you next wish to reveal the Reset Safari window, just press that shortcut.