I spend most of my day working on a Mac (well, yeah, duh, I work for Macworld), and often I need to transfer a snippet of text from my Mac to my iPhone or iPad. As it turns out, that's not really a no-brainer type of task. For example, if I want to transfer a snippet of text, I have to paste it in Evernote or Notes and then sync my devices, or I can email it to myself.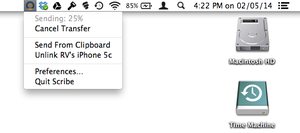 With Scribe 1.1 ( Mac App Store link), I no longer have to figure out which app I want to use to transfer a snippet from my Mac to my iOS device. All I have to do is press Command-Shift-X while Scribe is running on my Mac, and the selected snippet gets transferred over to the Scribe app on my iOS device. (Scribe works only in one direction, from your Mac to your iOS device.)
Scribe requires software on both the Mac and iOS device. The Mac app is $3, while the iOS app is free. Scribe also needs Bluetooth LE, so it won't work on older Macs and iOS devices; a list of compatible devices can be found on the Scribe website.
Scribe can be set to launch at login on your Mac and be always on in the background. When you want to copy something over to you iOS device, you select the item—text or image—and press Command-Shift-X, and the item is saved to Scribe's clipboard and then sent to the Scribe app on iOS. Unfortunately, you can't reconfigure Scribe's keyboard combination, but you can use a Services menu selection that you can access by right clicking on your selected item or through an app's Services.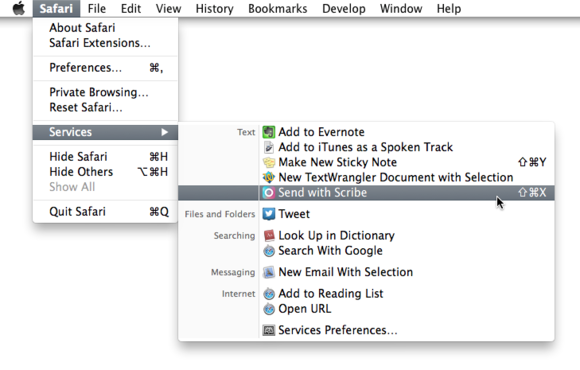 Scribe on the Mac looks for your iOS device via Bluetooth. If you have Bluetooth Sharing off (Settings > Privacy > Bluetooth Settings) on your device, you have to launch the Scribe iOS app in order to establish a connection. If Bluetooth Sharing is on, then the connection and transferring of data can occur in the background without having to launch the Scribe iOS app.
App Routes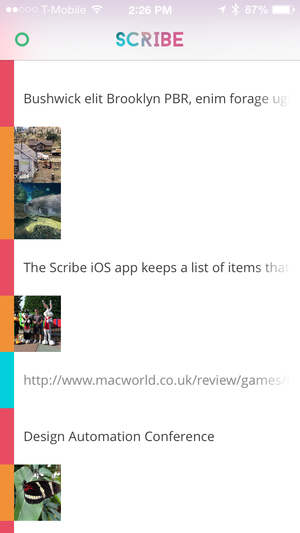 With Scribe 1.0, items that you copied from your Mac appeared in the Scribe iOS app, where you can copy the snippet and then paste it into another iOS app, start an email or send a text message, or you can tap the Share button to use the snippet in a tweet, assign an image to a contact, or print. You can save images to the iOS Photos app, but you have to make sure you've granted Scribe access to Photos (Settings > Privacy > Photos).
Version 1.1 keeps this functionality, but there's also the new App Routes feature. App Routes allow you to determine what app should open for a snippet—but to make it work, you have to have Scribe open on your iOS device. If you want to copy over a URL, you can select it on your Mac, and when you press Command-Shift-X, Scribe displays a panel where you can choose to open the URL in Safari. With the iOS app open, when you copy a snippet, it appears in the Scribe iOS app, and then the app you picked in App Routes opens. If Scribe is closed and you've allowed Scribe to post notifications on your iOS device, you can tap on the Scribe notification of your snippet and then Scribe will launch, which then triggers the launching of the App Routes app.
Unfortunately, the developer currently determines the list of available App Routes apps, and you can't add or remove apps. There's also no imaging apps on the list, so you can't, say, copy over a small image and have it go directly to the Photos app. A Hipo representative said that a future version would have the ability to let users to add and remove apps in the App Routes list. Hipo also provides the option to turn off App Routes if you don't want to use it.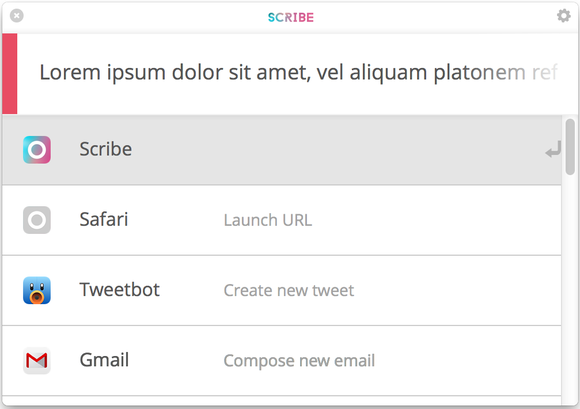 Mac memory
Scribe isn't made for large file transfers. It took nearly 4 minutes to transfer a 170KB image. When I tried to transfer a 2.4MB picture, Scribe posted a warning that the transfer might fail; after 20 minutes, Scribe was only 20 percent done with the copy. I'll still have to use Dropbox or My Photo Stream to transfer large images to my iOS devices, which is fine. (A representative from Hipo said that improvements to file transfers are in the works for a future version.)
With version 1.0, I encountered a memory issue that was confirmed by the developers. When you perform a transfer, the data is stored in your Mac's memory, and with version 1.0, Scribe's memory allocation grew the more you used it, and the memory wasn't released back to the Mac unless you quit the app. When testing Scribe 1.0 after just launching the app, its memory footprint grew from 5.7MB to 7.3MB when I did 20 transfers of 89-character text. In another instance, when I performed a file transfer of a 553KB image—considered too big by Scribe, but I was still able to transfer the file—Scribe's memory allocation grew from 5.7MB to 10.9MB.
The issue still exists in version 1.1. When I performed my test of transferring 89 text characters 20 times, Scribe's memory footprint grew from 6MB to 22MB. During the image file transfer, Scribe grew from 6MB to 19.8MB. A few minutes after each of those transfers completed and I didn't use Scribe at all, the app sometimes reverted back to its starting RAM allocation, and sometimes it didn't.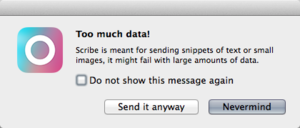 Granted, my tests were done to push Scribe beyond its intended purposes, and if all you're doing is transferring text snippets, an increase in memory allocation of a few megabytes may not be an issue, especially if you have a lot of RAM. But Scribe's memory usage may be a concern if you have a lot of apps open at once, especially with app that use a lot of memory. It's something to be aware of, and you may decide that the way to use Scribe is to launch the app when needed instead of leaving it running all the time.
A few reviewers on Scribe's App Store page made comments about connectivity issues that I also encountered. A Scribe representative said that future updates will address connection stability.
Bottom line
Scribe's basic functionality—copying snippets from your Mac to your iOS device—works, and for me, it fills a need. It does feel a little rough around the edges, and it has some limitations and usability issues to work out.