If there's one thing you learn about any kind of repair, it's this: There's always the right tool for the job—and a better way to go about the repair the next time. The Mac that was just about impossible to open the first time becomes much easier to work on two or three repairs down the road; you'll have a better idea of the sequence to take things apart or put them back together. There are no better teachers than experience and failure.
Using the right tools makes all the difference in the world. Here are some of the advanced tools you might want to invest in for more complicated Mac repairs.
Long-handle drivers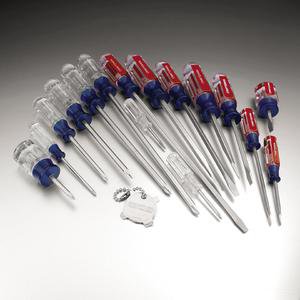 If you've ever worked with a Power Mac G5, iMac, eMac, Mac Pro, or other desktop case, you know that these computers have screws placed at the bottom of assorted deep crevices that'll drive you half insane should you decide to use conventionally sized tools. Also, longer drivers help provide more torque and leverage as you work with hard-to-reach screws.
I recently lucked into a set of Craftsman long-handled screwdrivers while fighting with a 2006 Mac Pro. As I was trying to remove the screws, holding the cooling unit together, and screaming to both the older and newer deities, a friend pointed these out to me and they've become invaluable since. Each screwdriver in the $25 Craftsman 17-piece Screwdriver Set has a good weight to it, and the set has made nightmare take-apart jobs much more manageable.

You'll invariably need Torx drivers, and Sears also sells a good selection of long-handled Torx drivers from various makers. Head over there, see what you like, and the time, frustration and oxygen you save from screaming because you don't have the right tool will make it worth your while.
Magnetizer/Demagnetizer
You're going to drop screws inside the case of any Mac you're working on. It's inevitable. Your pets may come in and bump your leg, someone may break your concentration with a question, or gravity and physics will decide to exact their cruel revenge, and the screw you're working with will take a tumble. Since it's going to happen, you might as well be ready.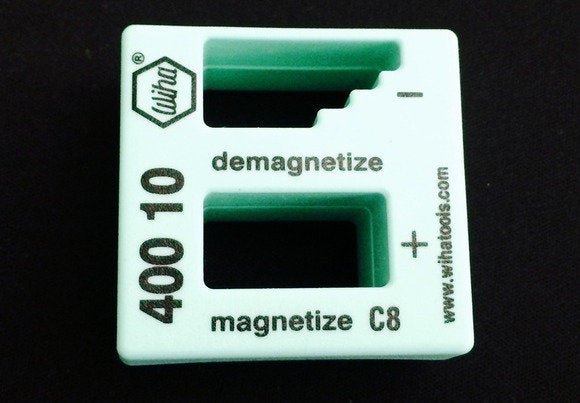 Wiha Tools sells about the coolest magnetizer/demagnetizer currently available on the market. For $4, you get an incredibly useful item that will keep you from slamming your head against the desk after a few hours of bench work. Simply insert your driver bit into either the "magnetize" or "demagnetize" slot on the box, bump the driver around the edges for several seconds and the driver will emerge appropriately magnetized or demagnetized. This also comes in handy for scenarios where you might be reaching into a recessed corner of your Mac's case and know that it'll be hard to keep your screw on the driver prior to pulling it out. The $4 (before shipping) for the tool isn't too much to ask to avoid digging through your Mac's case (or, as many of us have done, picking up your Mac, turning it upside down and shaking it) to find that screw you just dropped.
Suction cups
These have become useful, especially with aluminum iMacs made prior to 2012. When I had to pull the glass off these units for the first time, I wondered what Apple had in mind as a means of getting the glass off without cracking it. After asking around, I learned that Apple was recommending suction cups and sending kits with specialized suction cups around to authorized repair shops.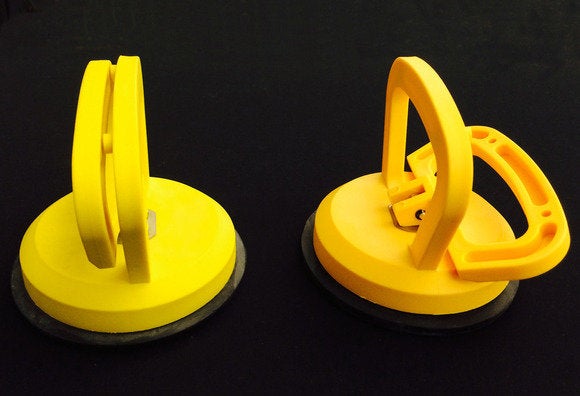 As odd as it may feel to use these, they work well. Sans suction cups, there's almost no way to evenly distribute the amount of force you use to pull the glass from the case, and the cups even it out to help avoid the horrible realization/cracking sound when you've cracked the glass or put pressure on the wrong area.
For $7 per unit at Home Depot, you can find a QEP cup that's a great suction plunger for handling large tile, glass, and computer glass components. Just place the suction cup on the glass, tilt the handle to adjust/activate the airflow, and carefully pull the glass components off as needed.
It's important to note that starting with the 2012 iMac, Apple attaches the front glass to the panel display with tape, so you can't simply stick a suction cup on the glass and lift it off. You need to use a tool to cut the tape, such as iFixit's $8 iMac Opening Tool before you can lift the glass off.
Heat gun
This is about the riskiest tool you can use to pull your Mac's components apart, but it could also allow you access to components you might not be able to get to with any other tool. In the case of the MacBook Pro, a heat gun can help you heat up the 3M double sided tape Apple chooses to hold its glass to the LCD with, softening the tape to the point that the LCD can be lifted with suction cups and cleanly removed from the casing.
Keep in mind that this takes a great deal of expertise and while the cool cats at Small Dog Electronics have a useful instructional video as to how to go about this, do not attempt this unless you have someone who's successfully completed this task on hand to refer to, lest you wind up with a shattered MacBook Pro glass screen and the hours-long task of scraping broken glass into a wastebasket. Still, in cases where you take your time, have an experienced person on hand to guide the process and continuously check your work, a successful heat gun operation can go smoothly and save a lot of time in the long run.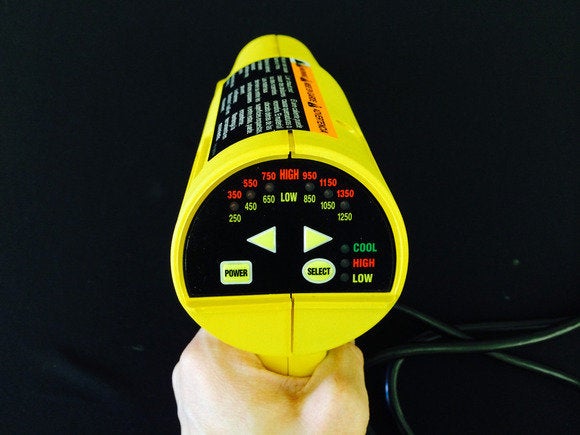 You may know of a better price and model, but I was able to find a useful Wagner Digital Heat Gun for about $40 at Home Depot that offered several temperature settings (including a maximum setting of 1350 Fahrenheit), so the tool can become just that much more handy around the house. Take your time, be careful and you might be able to pull off some terrific Mac fixes with this high temperature tool.
That's it for now and if you guys have any advice or suggestions as to better tools, better prices or killer jury-rigged fixes to try, please let us know in the comments section below. Until then, I'll be trying to perfect my heat gun technique without singing anything too badly or setting anything on fire. It's important to have goals.