A solid calendar is an essential starter app for any smartphone. Sure, your phone comes with a built-in calendar—and it's pretty good—but there's a class of third-party calendar apps that can do so much more than just show you the date and keep an appointment log for you.
Mynd falls into that category of calendar app. It's more of a life-organizer than a strict calendar, but its focus is on appointments and helping you out with task management. It's probably the smartest calendar I've ever used.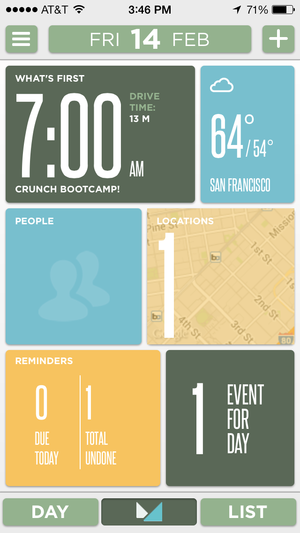 I've come to think of Mynd as my pocket personal assistant. It tells me everything I need to know about my day at a quick glance, with tiles that display what's next on my schedule, what the weather is like, who I'll be meeting up with, and where I'll be traveling to throughout the day.
It's also great for scheduling new events and meetings. You can send an invite to your contacts with proposed meeting times, and Mynd will block those times off in your calendar until you've finalized those plans. This is a very helpful feature: It saves a ton of back-and-forth email and rescheduling for everyone involved.
But the very best part of Mynd is that it is helping me curb one of my worst habits: Lateness. Okay, I'm not super behind schedule—usually only by a paltry 5 to 10 minutes—but Mynd doesn't put up with any of that nonsense. It tells me exactly when I need to leave, not just a generic "your event starts in 10 minutes" kind of nudge. Mynd checks the traffic, checks the weather, figures out how long it will take me to get to where I need to be based on those conditions, and then notifies me: "Leave in 30 minutes to be on time for your lunch with Susie." Tap on that notification to reveal driving directions. Public transit directions are supposedly in the works for a future version of Mynd, and I'm counting down the days.
What happens if you do run late or miss an appointment? Well, you can imagine Mynd's proverbial eyes rolling at you as it sends out another reminder ("Leah, you should have left 10 minutes ago"), but it also suggests the next step to take ("Leah, would you like to call Susie and tell her you'll be late, or would you like to reschedule with her?"). Mynd really doesn't want your friends or coworkers to be annoyed by your lack of punctuality, guys. Mynd cares about your relationships.
It's hard to make a calendar app sound exciting, but Mynd's unique approach to keeping your life on track is well worth checking out. It's a free app, available for iOS devices. Developer Alminder told me they'd like to expand to Android, but it doesn't sound like that's on the near-term schedule for this app.