Way back in the 6th grade, my family couldn't afford a computer, but my teachers started to assign school papers that, ideally, would be typed on a typewriter—or, if that wasn't an option, neatly handwritten. Both were painful processes that led to sheet after sheet of paper weighted down with dried correction fluid.
Then my best friend Ed got a word processor. It wasn't a fully-capable computer—it was just a machine you could use to type documents. And since Ed was my best friend, he let me use that word processor. It had a nine-inch CRT display with green, pixelated text on a black background, and you had to view your text through the (significant) curvature of the screen. It wasn't much compared to today's technology, but at the time, that word processor was heaven sent.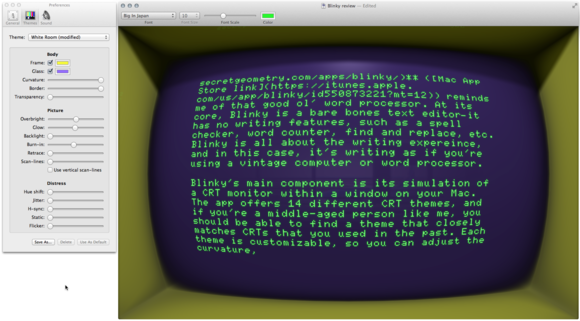 Secret Geometry's $5 Blinky ( Mac App Store link) reminds me of that good ol' word processor. At its core, Blinky is a bare-bones text editor—it has no writing features, such as a spell checker, word counter, find-and-replace, or the like. Rather, Blinky is all about writing as if you're using a vintage computer or word processor.
Blinky's main component, so to speak, is its simulation of a curved CRT screen on your flat display—especially amusing when you use Blinky in full-screen mode on a 27-inch widescreen. The app features 14 different CRT themes, and if you were using computers in the 80s, you should be able to find a theme that closely matches the CRTs that you used in the past. Each theme is also customizable: You can adjust the curvature, glow, backlight, and even the amount of screen flicker and jitter. Blinky also offers several different screen fonts and font colors, and you can change the font size to make the screen easier to read.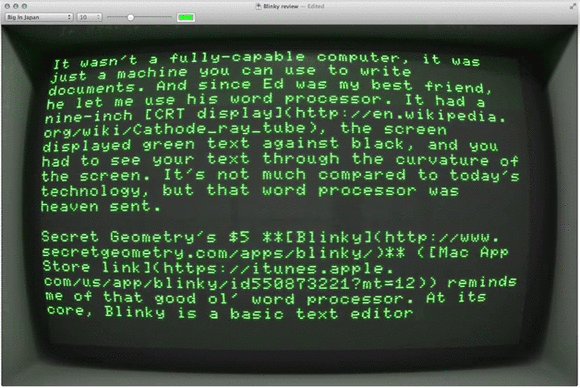 A couple extra features don't necessarily contribute to Blinky's practicality, but they add to its charm. If you choose View > Degauss (or press Command-Shift-D), you activate the Degauss feature: The screen flashes and wobbles, just like CRTs did when you degaussed them. The other feature is at least a little artistic: Blinky can take an image (either one you choose on your drive or a picture snapped using your webcam) and then display a text-art rendering of the image. To save the image, Blinky provides its own screenshot command (File > Save Screen Shot, or Command-Shift-P).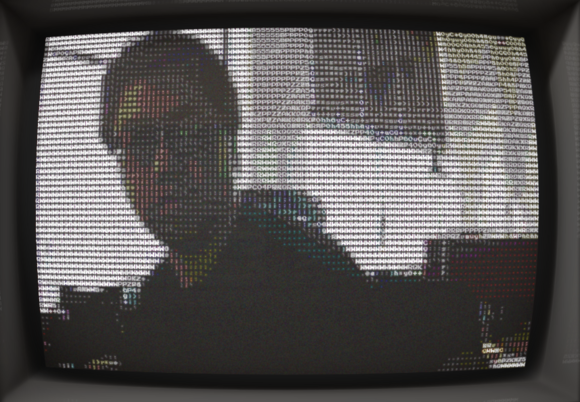 Blinky doesn't have any writing or editing tools, so it's not for serious word-processing sessions. But I do enjoy the sense of nostalgia that Blinky creates (it reminded me of the evenings I spent writing at Ed's house), and I actually find that the lack of tools help me concentrate more on putting my words together properly. Blinky is, for me, a fun app to use.
Want to find out about more cool Mac apps? Check out our Mac Gems session at Macworld/iWorld in San Francisco March 27-29. Want to stay up to date with the latest Gems? You can follow Mac Gems on Twitter or on App.net. You can also subscribe to the Mac Gems RSS feed.