For the eighth year in a row, Apple has released detailed information about its supply chain. The company has put together an extensive section on its website about supplier responsibility, including highlights from its 2014 Supplier Responsibility Progress Report as well as touting the improvements it's made in working with its suppliers.
Apple has come under fire in the past for working conditions at many of the facilities used by its suppliers, such as Foxconn, with reports of unethical behavior such as underage workers, forced labor, and high visibility suicides. Though Apple has been auditing its supplier facilities for the better part of a decade—and has even invited third parties such as the Fair Labor Association to conduct its own investigations—some suppliers have continued to encounter challenges as recently as December of last year.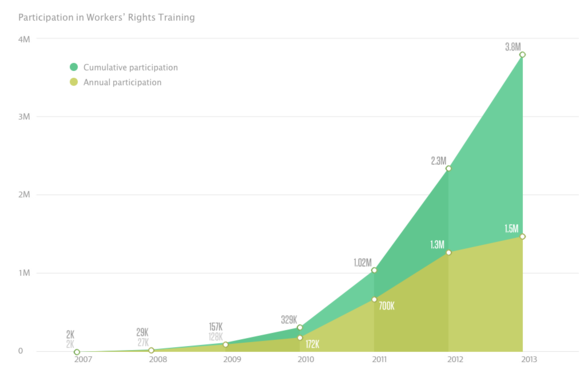 In 2013, Apple conducted 451 audits of its suppliers, 51 percent more than the 298 made in 2012; those audits accounted for 1.5 million workers who make Apple products. (Astute readers might notice that the 298 number differs from the 393 audits cited in last year's report; that's because in 2013 Apple also included two specialized types of audits in—process safety assessment and specialized environmental audits— that are broken out separately this year.)
In its full report, the company breaks down the violations it found at those facilities, including discriminatory practices, failure to protect juvenile workers, and excessive working hours, as well as the moves Apple has asked its suppliers to take to correct the infringements. The company's also cracked down on the practices of underage hiring and involuntary labor; in both cases it requires the supplier to make financial reparations, and for underage workers, companies are required to return them to a school chosen by their family, finance their education, and provide income equivalent to what they received as an employee.
Environmental practices also came under scrutiny in this year's report, with particular focus on conflict minerals. Apple says that it confirmed in January that all smelters of tantalum in its supply chain were established to be conflict-free by third-party auditors. Similar steps are being taken for suppliers of the other conflict minerals in Apple products: tin, tungsten, and gold. And, for the first time, Apple has released a list of the smelters and refiners it uses, along with their verification status; the company says its goal is to increase the accountability of its smelters and provide information for its stakeholders.
That's not the only first in this year's report. Apple has also now released its full Supplier Responsibility Standards, detailing the company's expectations from the companies it works with. Covering everything from environmental strictures to matters of labor and human rights, the 100-page document spells out precisely the standards to which Apple expects its suppliers to adhere. Since 2005, the company has published its Code of Conduct, a high-level summary of the standards for suppliers, but Apple said that it thought it "important to give stakeholders full access to the details."
Other areas of interest in this year's report include Apple's attempt to end excessive working hours: Over the course of 2013, Apple's suppliers averaged 95 percent compliance with the maximum of 60 working hours, up 3 percent from 2012. Apple's also expanded its Supplier Employee Education and Development (SEED) program, doubling the number of facilities in which it provides free education to employees; in 2013, the program saw 280,000 participants, raising the total to 480,000 participants since 2008. The company also launched an 18-month program to train employees in environment, health, and safety matters, to which it welcomed more than 240 participants representing more than 60 facilities; that program is due to expand in 2014.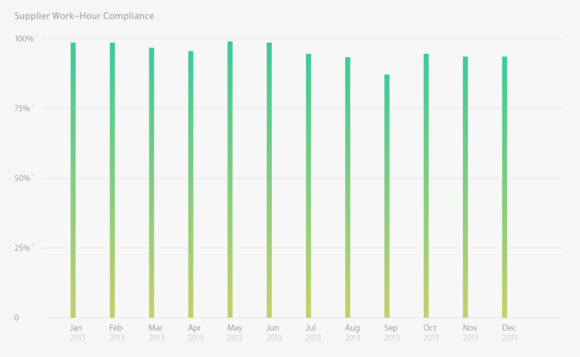 Overall, Apple is proud of the progress it made in 2013, and says its Code of Conduct is stronger than ever. But it acknowledges that there's still a ways to go. "We know audits and followup action plans alone aren't enough to fix systemic issues," the company's report says. "As we go deeper into our supply chain to discover and correct problems, we also tackle root causes through training and specialized programs to bring about real change."
It's not just Apple tooting its own horn, either. In a statement, environmental activism group Greenpeace applauded Apple's progress, saying, "Apple's increased transparency about its suppliers is becoming a hallmark of Tim Cook's leadership at the company. Apple has flexed its muscles in the past to push suppliers to remove hazardous substances from products and provide more renewable energy for data centers, and it is proving the same model can work to reduce the use of conflict minerals. Samsung and other consumer electronics companies should follow Apple's example and map its suppliers, so the industry can exert its collective influence to build devices that are better for people and the planet."
Update: An earlier version of this report said this was the seventh year Apple's produced a supplier responsibility report; it is, in fact, the eighth.