You're a masked lord of Waterdeep.
No, bear with me here. Waterdeep, the legendary city of Dungeons & Dragons's Forgotten Realms, is a bustling metropolis, run by secretive lords with their own agendas, who are more often than not engaged in political machinations against one another.
That's the backdrop for Lords of Waterdeep, developed by Playdek and based on Wizards of the Coast's popular tabletop board game.
And though there's no faster way to make someone's eyes glaze over than to explain that Lords of Waterdeep is a "European-style worker placement game," this isn't Clue or Monopoly. Don't worry if you're not a D&D aficionado—the setting mainly provides flavor; you don't need any special knowledge of the classic role-playing game to play or enjoy Lords of Waterdeep. All you need is some willingness to indulge in some fantastical intrigue and a thirst for victory.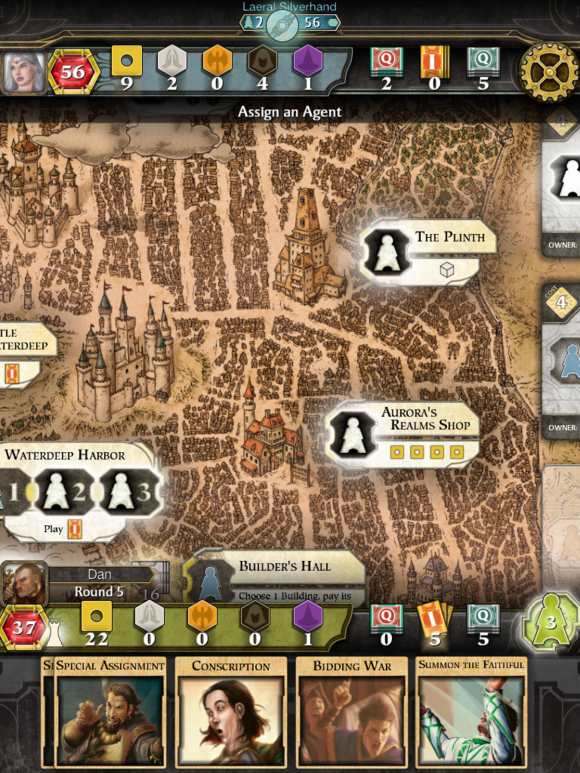 Lords of Waterdeep is structured around quests: You earn points by completing them, plus bonus points if the type of quest is one that the lord you're playing (which is hidden from your opponents) is particularly interested in. Quests are completed by providing some combination of resources, of which there are primarily five, including money and the four classic D&D adventurer types: fighters, wizards, clerics, and rogues. To amass those resources, you dispatch agents each round to various places within Waterdeep. As you progress, you can add more buildings (themselves ways to garner resources) to the city, and play Intrigue cards that often hamper—and sometimes help—your opponents.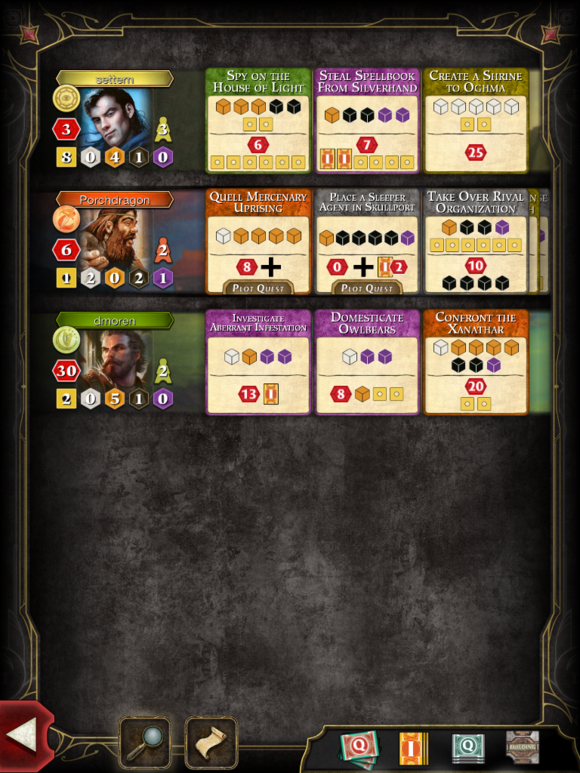 As with many board games that have made the jump to the iPad, the advantages are many: there's no setup or clean up times, and no need to keep track of dozens of cardboard chips or wooden counters. The iPad versions will do all the math for you, too. My favorite feature: Tapping on the point total in the bottom left and then tapping the scroll icon brings up a history of all the moves made in the game thus far—useful for strategizing, or when you missed what your opponent last did. Plus, you can play with friends even if you can't manage to gather them together in your living room.
However, at times the adaptation, which is faithful to the original tabletop game, veers towards the slavish. The game chooses to reproduce the entire board, which—while attractive to look at and handy for experienced players—can require a lot of zooming in and panning around to identify elements, especially on smaller screens like the iPhone or iPad mini. And, like many similarly intensive games, Lords of Waterdeep will sometimes crash on startup on devices that can't allocate enough memory, requiring you to restart your iOS device to get it to launch smoothly. Finally, the online play can be a bit tetchy at times, with a somewhat confusing interface that requires everybody to accept invites before the game gets under way (and despite Game Center integration, you still need a Playdek account, which is a bit annoying).
I'll note that I'd been playing the game for a couple months before I noticed that the figures on the main screen actually move, and boy did it creep me out.
None of that, however, should stop you from forking over the $7 if you're fan of D&D or board games. Lords of Waterdeep is one of the best games I've played in a while, and among the most fun to challenge your friends to. Plus, you can't really go wrong with any game involving wizards.