Two years after announcing itself at Macworld/iWorld, the cloud document-gathering service FileThis has made it out of beta and fully into the real world.
FileThis is a service that's designed to log into your many different accounts (banks, utility companies, and the like) and automatically download all of your statements. Then it takes those documents, in PDF form, and files them in Evernote, Dropbox, Box, Google Drive, or its own cloud storage server.
The service is free for the first six account connections, with higher tiers at $2/month (up to 12 different account connections) and $5/month (up to 30 connections). Once you've set up FileThis, you can walk away—it churns away in the background once a week (every day for the $5/month account level) and saves your documents wherever you want them to go. There's also a Mac uploader so you can have FileThis process any other documents you've got, and a Mac download app if you don't want to store your files in one of the supported cloud services.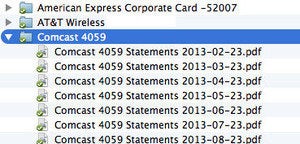 Of course, downloading your account statements and filing them away for posterity is something you can do yourself. What you're paying for with FileThis (that is, if you're paying and not just using its free account level) is convenience. The service tries to intelligently categorize your statements—Evernote users will notice that statements are tagged—and once it's up and running, your filing cabinet will just keep filling up, month after month.
That's easier said than done, of course. To work this magic, FileThis needs to log into your accounts for you. That brings up two challenges: First, the service has to be really sophisticated about navigating every different website (FileThis currently supports more than 300 services), and if a website changes its navigation, FileThis has to change its scripts in order to get to the information it needs. If a service you use isn't covered by FileThis, there's a form you can use to request it be added to the service.
That brings us to the second challenge: security. Since FileThis is logging in as you to these services and downloading your statements, you have to entrust your user name and password to FileThis. Every cloud service brings some security baggage with it, but FileThis users do have to entrust FileThis with the keys to their bank accounts, investment accounts, and any other services they want to connect. Not some sort of authentication token generated by those services: the actual text of the user name and password. FileThis says it's got the data secured eight ways to Sunday, but it was enough of a step to give me pause. If your bank requires you to answer security questions, you have to enter in the answers to those questions, too.
When I met with FileThis CEO Brian Berson, he seemed to take quite seriously the faith that FileThis's users put in his company. And he detailed many of the security systems they've put in place to protect customer data both from hackers and from potentially malicious employees. (It's a ten-person company, but Berson said that every new employee undergoes a background check, and employees only have access to the areas they are specifically working on, and no others.)
In any event, I have to admit loving the convenience of FileThis. I connected up a few services—my cable company and a credit card—and the statements just started tumbling into my Dropbox. From there, I was able to share the FileThis folder with my wife's Dropbox. I could also, for instance, share some key folders with my accountant. And they're all there, accessible (and searchable via Spotlight) on my Mac. There's also an iOS app and a forthcoming Android app.