At a Glance
Expert's Rating
Pros
Can charge Apple laptops
FireWire 800, USB, and ethernet connectivity
Single cable from Mac cuts down clutter
Cons
Reflective screen limits display placement
Few customization options
Stand lacks flexibility
Update: Read our Thunderbolt 2 docks roundup.
Laptops are often used like desktop computers, with external devices such as displays, hard drives, and printers plugged into the ports. When you need to use your laptop as a mobile device, you have to spend time plugging and unplugging those devices—a simple task, but an annoying, time-consuming one.
Laptop docks allow you to plug all your devices into the dock itself. You then connect the laptop to the dock, usually using a cable or two. No more dealing with a bunch of cables you have to unplug, untangle, and plug back in. (These docks can also be used with Thunderbolt-enabled desktop Macs—our testing with desktop Macs went without a hitch. But desktop Macs tend to have the connectivity you need, which makes a dock unnecessary.)
Macworld Lab tested the Thunderbolt docks in this roundup and we're glad to report no anomalies—they all worked as advertised. Even better, we didn't see any performance hits caused by the docks themselves. (If you do have multiple devices on a Thunderbolt daisy chain, there's a good chance your will see an affect on performance.)
What to look for
With the advent of Thunderbolt and its big, fast pipeline of data, docks that use Thunderbolt to connect to your laptop can offer connectivity that may not be found on your computer—FireWire, eSATA, additional USB ports, or additional video connectors. Look for a dock that has the ports you need for your devices. And just because a dock has more ports than another doesn't mean it's a better dock, especially if it has ports you will never use.
The number of Thunderbolt ports on a dock will dictate whether it will be in a daisy chain of devices. We prefer docks with two Thunderbolt ports because it provides more flexibility. Docks with only one Thunderbolt port must be at the end of a Thunderbolt daisy chain.
Most of the docks we reviewed are boxes that sit beside your computer or display; if you're using a laptop, you don't actually insert it into one on these docks. Consider the space on your desk and pick a device that fits.
One major missing feature in these docks: Thunderbolt 2. These docks support the original Thunderbolt specification, so if you have a Thunderbolt 2 device, you won't be able to take full advantage of its speed. Sonnet delayed the release of its Echo 15 Thunderbolt Dock so it can support Thunderbolt 2, but a release date has not been announced.
Top choice: Belkin Thunderbolt Express Dock (F4U055ww)
The Thunderbolt Express Dock (
) costs $200 on Amazon and has two Thunderbolt ports, so you can use the second port to add up to five more Thunderbolt devices to the dock by daisy-chaining them together. This Belkin dock also has three USB 3.0 ports, one FireWire 800 port, a gigabit ethernet port, and audio-in and -out ports. When it's quitting time, you unmount the drives, disconnect the single Thunderbolt cable that connects the dock to the Mac (and the power cable), and you're ready to hit the road.
The Belkin dock offers peripheral connections that are similar to those on the Apple Thunderbolt Display, but for those who don't want Apple's glossy 27-inch monitor and want a dock only, the Thunderbolt Express Dock offers an alternative that costs less than the Apple Thunderbolt Display
Top contenders
CalDigit Thunderbolt Station


The Thunderbolt Station (
) is smaller than Belkin's dock, which is good if your desk is already crowded. Encased in aluminum, the CalDigit dock doesn't have a FireWire port like the Belkin dock, but it does have two Thunderbolt ports, three USB 3.0 ports, a gigabit ethernet jack, and audio-in and -out ports. The CalDigit also has HDMI, which is not found on the Belkin dock. Sells for $199 on Amazon.
StarTech Thunderbolt Docking Station

The size and port layout of the $250 Thunderbolt Docking Station (
) is remarkably similar to CalDigit's dock. Not only does it have the same type and number of ports, but they are in the same location on each dock. The StartTech dock has a plastic and aluminum case, and it also comes with a stand so you can position it vertically on your desk. The extra $50 essentially covers the cost for a Thunderbolt cable, which is included with the StarTech dock.
Rest of the pack
Matrox DS1
The Matrox DS1 (
) provides gigabit ethernet, extra USB ports, and audio-in and -out. It is available with either a DVI (pictured) or HDMI monitor output. However, it has only one Thunderbolt port for attaching peripherals, unfortunate for MacBook Air owners, since that laptop has only one Thunderbolt port. If you have multiple Thunderbolt devices, the DS1 has to be at the end of the daisy chain.
Apple Thunderbolt Display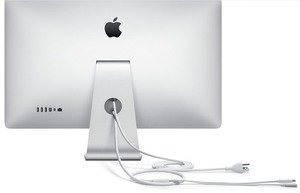 Though you probably wouldn't think to include Apple's Thunderbolt Display (
) in this category, it actually is a very good "dock." It has three USB 2.0 ports, a FireWire 800 port, and a gigabit ethernet port. It has only one Thunderbolt port for connecting other devices; the display's captive Thunderbolt cable connects to your computer. Of course, it also has a good-looking 27-inch TFT LCD with a resolution of 2560 by 1440 pixels. If you want to keep your desk clutter to a minimum, the Thunderbolt Display may be worth its $999 price.
Coming soon
These products aren't available as of this writing, but they are worth investigating.


Sonnet's Echo 15 Thunderbolt Dock is a beefy device that houses an optical drive and a hard drive, in addition to offering two Thunderbolt 2 ports, two eSATA ports, four USB 4.0 ports, a FireWire 800 connector, a gigabit ethernet jack, two audio inputs, and two audio outputs. Prices range from $400 for an Echo 15 with just a DVD burner, to $650 for an Echo 15 with a Blu-ray drive and a 4TB hard drive.


Henge's Horizontal Docking Station is designed more like a traditional dock where you slip your laptop into a chasis. According to a Henge blog post last November, the dock will have two Thunderbolt ports, six USB 3.0 ports, a HDMI port, two audio out jacks, a gigabit ethernet jack, and an SD card reader. Prices start at $249.
Read our Thunderbolt 2 docks roundup.
Bottom line
The Belkin Thunderbolt Express Dock gets the nod, but you really can't go wrong with the other docks in our roundup. Henge's Horizontal Docking Station has an appealing design—we'll have a look at it when it finally comes to market. If you really want a dock with Thunderbolt 2, you'll have to wait.
Editor's note: Updated at 7:30 a.m. PT with a correction regarding the Apple Thunderbolt display's Thunderbolt connectors. Updated on 3/5/14 with a correction that stats that the StarTech dock includes a Thunderbolt cable.
Note: When you purchase something after clicking links in our articles, we may earn a small commission. Read our affiliate link policy for more details.
Roman has covered technology since the early 1990s. His career started at MacUser, and he's worked for MacAddict, Mac|Life, and TechTV.