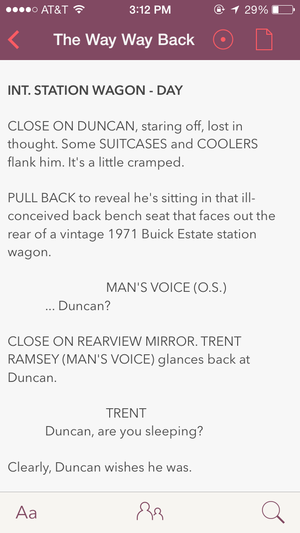 The best reading apps vanish before your very eyes, letting you immerse yourself in a sea of words and stories, forgetting for the moment about beveled edges or highlighted buttons. And though Quote-Unquote Apps's Weekend Read beautifully implements iOS 7's design schema, its true power is how quickly it lets you forget about the interface and how deeply it pulls you into the scripts, screenplays, and other documents hidden within.
At this point, there are plenty of iPhone apps for reading PDFs, Markdown files, and the like. But none of them are great for reading screenplays; doing so involves lots of panning, zooming, and all-around frustration. Weekend Read is special because of the way it handles those files: It reformats documents entirely, presenting you with beautifully-optimized text, iPhone-sized pages, dynamic sizing, and a mode for easier reading in the dark. In Weekend Read, screenplay PDFs look more like the best ebooks: easily readable, with multiple options for those who can't stand Courier fonts or 10-point type.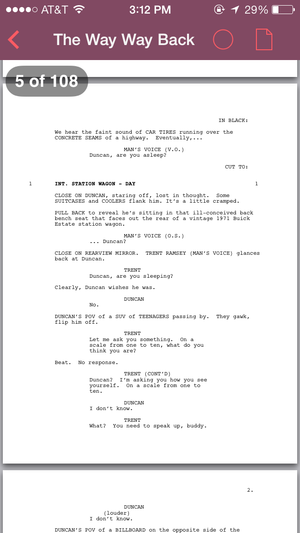 This is Quote-Unquote Apps's second iOS app, and it's a leap forward in both design and quality from FDX Reader. Where that $8 app catered specifically to screenwriters who used Final Draft—a small, but vibrant professional market—Weekend Read provides users with a happy reading space for any and all PDFs, Markdown, or Fountain (the company's Markdown-inspired screenwriting format) files. The app's optimized view is designed specifically for screenplays, but you can import plenty of other files and convert them, or just read them in their natural form.
The free app supports four documents in your library at launch; you can remove that restriction and store an unlimited number of documents with a $10 in-app purchase. "It was important that users have the chance to try Weekend Read with their own scripts," wrote Quote-Unquote Apps co-founder (and screenwriter) John August in an FAQ blog post about the program. "Happy users are likely to keep using Weekend Read, and many will eventually decide it's worth it to pay for the bigger library. But if they don't—if they keep deleting files to stay under the limit—that's okay too."
Weekend Read clearly fills a professional niche for screenwriters, readers, producers, and other film industry pundits. But though I stepped out of that world a long time ago, the app still has something special to offer me: a peek into the world of scripts and screenplays. In addition to its reformatting and presentation skills, Weekend Read also provides a For Your Consideration section packed with screenplays from the recent awards season, Project Gutenberg, and John August's own screenplay collection.
If you've never read a screenplay before, you may wonder why you'd want to. But the best screenplays aren't just the dialogue heard on-screen: They're the written beats and the unseen pictures, the tempo and pacing the writer has hidden in a document to explain a specific vision to cast and crew. (For more explanation on why reading screenplays can be great fun, check out this piece from Vulture last year about screenwriting and Shane Black, who wrote Lethal Weapon, Kiss Kiss Bang Bang, and Iron Man 3, among others.)
In short: Whether you're an industry veteran or just interested in movies, you should give this app a go. You may open it once or twice and never use it again. But it's also possible you may find yourself taken away to a world far from flappy birds and buzzing notifications.