I can do a lot on my iOS devices. I can read and send email, surf the Web, watch videos, play games, write articles—it'd probably be faster to compose a list of the things I can't do. Still, for all of that, I haven't gotten rid of my Macs, and sometimes I need to access my Macs from my iOS devices. That's when I turn to Edovia's Screens.
Screens is, simply put, the best screen sharing app for iOS, and I've used it to do any number of somewhat silly things; for example, when I realize that I forgot to enable a service on one of my Macs or failed to put some critical document into Dropbox. And Screens has handled each and every one of those tasks with aplomb. It's as close as you can get to sitting in front of your Mac while not actually sitting in front of your Mac. (Yes, it even works for Windows and Linux users too.)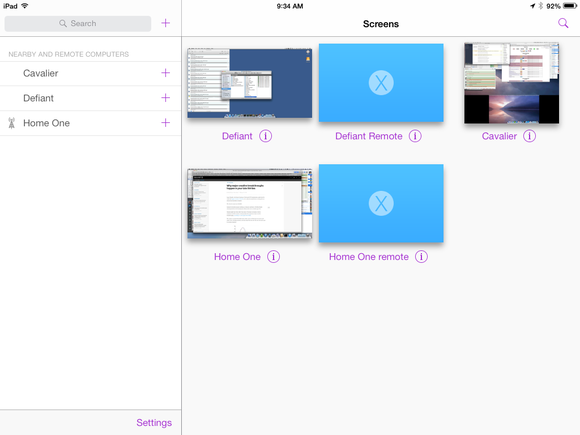 There's plenty to like about Screens, but just to name a few things off the top of my head: It's speedy, its interface gets out of the way when do you don't need it, and it's good looking too—not every app can pull off purple as a primary color. I've got connections to all three of my home Macs stored in the app, and it syncs those via iCloud to both my iPad and my iPhone.
In truth, though, I don't even use most of the advanced features that Screens offers. Some of them I even found out about while writing this. For example, you can use your Bluetooth keyboard paired with your iOS device to control your Mac; Screens even supports a Dvorak layout for your hardware keyboard. There's a trackpad mode where the cursor follows around your finger as it goes, rather than your finger panning the screen around. You can even use AirPlay to display your Mac's screen on an Apple TV. (Okay, I used that a week or two back, and it was pretty darn cool.) They're capabilities that are there if you need them, but don't get in your way if you don't.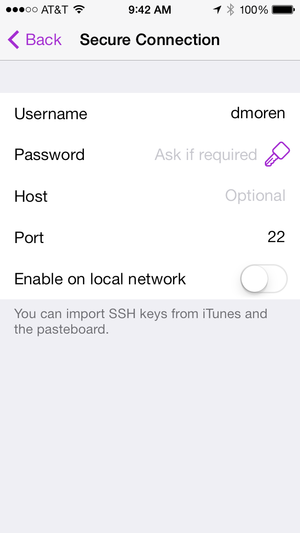 One feature I do rely on, however, is Screens's secure connections. If you've got Remote Login enabled on your Mac, you can have Screens tunnel the screen sharing connection over the SSH protocol, keeping your information from being intercepted. Should you be of a super technical bent, you can even forego the use of password authentication for SSH keys, imported via iTunes or the clipboard. (Did I mention that Screens lets you transfer pasteboards between your iOS and Mac devices?)
Screens's scrollable, customizable keyboard shortcuts are another must-have, letting you easily access modifier keys (command, control, option) as well as other functions that don't appear on iOS's software keyboard (page up/down, home, end, arrow cursors, and so on). There are even quick shortcut keys for actions like Spotlight, minimize window, quit, and log out.
While I, networking nerd that I am, have my router configured for screen sharing when I'm away from my house, Edovia knows that not everybody enjoys spending time mucking with those kinds of settings. So it offers the free Screens Connect app for Windows and Mac, which takes care of all that for you.
One last thing: Screens, at $20, is priced higher than many of the apps you're probably used to buying. But that is because it's frankly packed with value—and, unlike some others, that's a one-time cost; no recurring subscriptions or in-app purchases here. There are other screen sharing apps on the market, to be sure, but I've found none that top Screens.