There are some tasks the Internet and smartphones are just perfect for, no debate necessary. Facebook buying WhatsApp for $19 billion makes it hard to deny that messaging is one of them. But just as big, if not bigger, is sharing pictures.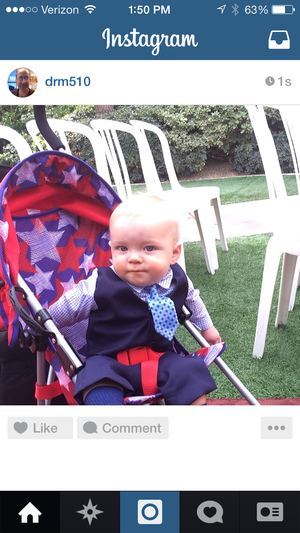 Some of us have been sharing pictures on the Internet for more than a decade now. But back when we first started doing so, there was a lot of friction. When I bought my first digital camera in 2001, just before my daughter was born, to share photos I had to take them, connect the camera to my Mac via USB, download the photos, open them in a photo editor, resize them, and run a script to insert them on a website I built.
These days, you take the picture, press a button, and all your friends (or even everyone on the Internet) can see it. It's easy, fun, and the reason Facebook bought Instagram for $1 billion. Yahoo revived Flickr and made it free to store a terabyte of pictures there. Dropbox has added photo importing and sharing to its feature set. And Google keeps adding photo features to Google+, making it the one aspect of that social network that can't be laughed off as a failure.
The most popular camera
So where's Apple?
The iPhone is the most popular camera on the planet, and Apple's justifiably proud of that. Instagram wouldn't have been worth ten bucks were it not for its wild success on the App Store. And yet, despite all that, it feels like Apple isn't taking photo-sharing on the Web seriously.
Oh, sure, my photos are in the cloud. The Photo Stream feature on my iPhone ensures that every photo I take is copied to Apple's servers and, eventually, imported into my master iPhoto library. But it feels like Apple is keeping photo-sharing at arm's length, and that seems like a strange choice.
The other day, I was sitting at my Mac, and wanted to share a photo I had taken with my family at the beach over the weekend. The 1,000 most recent photos I've taken are in Photo Stream, which means they're in the cloud somewhere. I wondered if I could just log in to iCloud and find the photo I was seeking, and then share it with the world.
This doesn't seem like a strange thing to want to do. We've all been trained into this kind of behavior by the likes of Instagram and Facebook. But look on icloud.com and you'll find no sign of anything photo related. Photo Stream might as well not exist.
This is a missed opportunity for Apple. All my photos are already on its servers. Why shouldn't I be able to share some of those photos publicly, directly from the iCloud servers, at the tap of an app or the click of a mouse? People love sharing photos. Yes, I can re-upload my photo to someone else's service and share it from there—but that seems like an extra bit of work for me.
On the Mac, to access Photo Stream you need to use iPhoto (unless you use a clever workaround, such as the independent MyPhotostream app, or you're committed to Apple's $80 Aperture). While iPhoto is hardly Apple's most elegant bit of software, it does automatically import Photos from Photo Stream. Once I launched iPhoto, it downloaded all the photos my iPhone had uploaded since the last time I opened the app. That done, I was able to select a couple of pictures and click the Share button.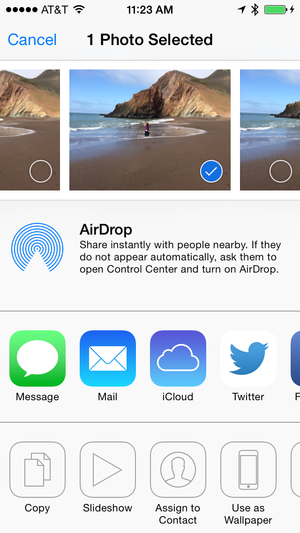 Sharing wasn't any easier. First, iPhoto told me that to share an image, I'd need to open the version that had been imported into my iPhoto library, not the one displayed in my Photo Stream. Once I switched over to my iPhoto Library, I could then post images to Twitter (one image per tweet), or upload them to Flickr or Facebook. I could also share them via email—but only through a weird email form that required me to re-enter all my mail server information before it would send anything, and even then it insisted on sending all the images in the body of the message.
There is a way to share photos to the Web from iPhoto: I'd need to create an entirely new Photo Stream, give it a name, and check the Public Website box. This is overkill for sharing a single photo, but not as bad as an online photo album for many photos, especially if you share it with friends who were at the same event. But it feels like, by focusing on photo albums and shared photo streams, Apple has optimized the workflow for the least common cases and bypassed the basic need to simply show people a picture you took.
Why not a sharing feature that allows me to select any photo I'm syncing with Photo Stream and make it public, at an iCloud Web address? Even better, let me post that link on Facebook and Twitter and stick it in an email to family and friends. Right now, if I just want to share a single picture, iCloud is not something worth using.
Reinventing the wheel
Maybe this is just an example of Apple deciding it doesn't need to reinvent the wheel when Twitter and Instagram and Facebook do photo-sharing so well, natively. I'd almost believe that, if Apple's built-in Photos and Camera apps didn't already ape most of Instagram's photo-styling features, and if Apple hadn't already created shared Photo Streams on the Web.
In so many ways, Apple is at the forefront of the transformation of how we take and share photos. Having a high-quality camera with us wherever we go, connected to the Internet, is truly a wonder. And the App Store has created numerous destinations for those photos.
And yet it somehow feels like Apple just hasn't put all the pieces together. In some places, such as iOS, it feels like Apple is close to doing it. On the Mac, on the other hand, iPhoto still feels like an old digital shoebox like the one I used back in 2001. It would be nice to see Apple finally draw together all of its photography features in one, unified vision, spanning the Mac, iOS, and the web.