Right now, the undisputed king of offbeat mobile messaging apps is Snapchat, the quick-hit photo and video messenger service whose contents self-destruct. It's where the kids hang out, as Facebook seems to be too crowded and not private enough.
But app trends are fickle, as is Snapchat's key demographic, and Branch Media's freshly launched PhoneTag Messenger for iOS seems like a natural next step. It combines photos with quick voice memos, stored as a back-and-forth thread exchange between you and a friend. And I'm not gonna lie: It's pretty fun, even for adults.

PhoneTag Messenger bills itself as an updated walkie-talkie, but with photos thrown into the mix. Its design is really simplistic and cutesy, yet well crafted: Two tin cans connected by string are seen throughout the app to tickle nostalgia.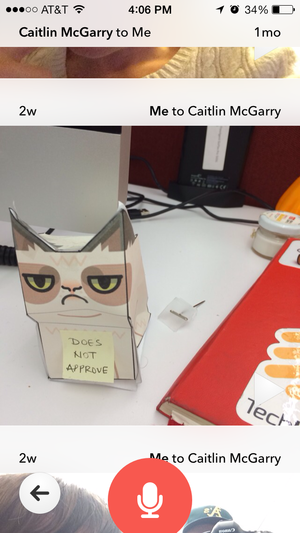 I really love that you don't have to connect to Facebook or Twitter to use PhoneTag, which so many other apps require. All that's needed here is your phone number to activate the account via text message, and some friends to use the app with.
To get started, tap the red record button and record a message. When you're satisfied, snap a photo, and then send. The app can't access your phone's photo stream, unfortunately, but I think that's part of PhoneTag's charm: You capture a moment specifically to accompany the voice memo.
Your conversations with each friend are kept in individual feeds, with a record button on the bottom to add something to the conversation. Messages do not disappear, and can be replayed as often as you'd like.
Like all messaging services, PhoneTag is only as good as how many users it has, as you can only send PhoneTag messages to other users with the app. Even so, it's a unique way to put a personal touch on what could be an otherwise boring note.