When I was a kid, I used to record songs off of the radio using cutting-edge technology called cassette tapes. You see, I wanted to save my favorite songs to listen to later, whenever I wanted, and then share those tracks with friends, and the easiest way to do that was to keep a blank tape locked and loaded in a tape deck and scramble to hit "record" when my jam came on.
DoubleTwist's AirPlay Recorder for Android is kind of like that, minus the tape deck and waiting around by the stereo, naturally. It allows you to record songs that are playing through iTunes Radio and then stream them directly to your Android device, where you can save songs individually for offline listening.
Basically, the app turns your phone into a recognized AirPlay device that can sync with iTunes on a Mac or PC. All you have to do is launch the app and tap the big red "record" button. Then, go back to your computer, click the AirPlay icon in iTunes, and select "dT Recorder" as your AirPlay device. Now you're ready to select a track or iTunes Radio station to stream.
AirPlay Recorder copies what's playing and stores the music files straight to your phone. The app even displays the song's title track and album art as it records, and shows it again during playback. Very legit.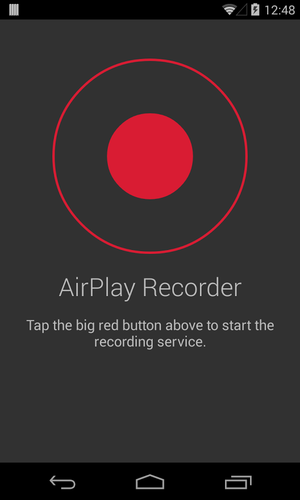 One downside is that the track quality isn't super great—by default, AirPlay Recorder records songs at 32 Kbit per second—but that's what you get for ripping free music, guys. For casual listening, songs sound just fine. However, if you're willing to pay a bit to get high-quality audio, you can upgrade to AAC VBR recording mode through a $5 in-app purchase.
You'll want a good Wi-Fi connection to make the best recording possible, and a power supply couldn't hurt—AirPlay Recorder keeps your phone's screen on the whole time you're recording a song. Another thing to be aware of is that the app only saves songs to your phone if the recording is of complete tracks, and because AirPlay Recorder records in real time, a 3-minute song will take 3 minutes to record. That means you'll have to start all over again if the recording doesn't take: A tricky task if you're trying to capture a specific song.
AirPlay Recorder is your new vessel for making mix tapes, but for the modern age. It requires a bit of patience and preparation before your song comes on, but for the most part it's a simple way to save your tunes for offline listening, which saves you precious data.