Got enough stress in your life? Looking for a nice game to help you relax? Lyne is a puzzle game catering to stressed-out iOS gaming fans.
Lyne is a universal app for both iPhone and iPad, although its bite-sized, one-thumb gameplay makes most sense on the smaller screen. It is naturally suited to the portrait handgrip of the commuter gamer, but unusually, it can be also played in landscape. The only difference is that the triangles rotate to suit the new setting.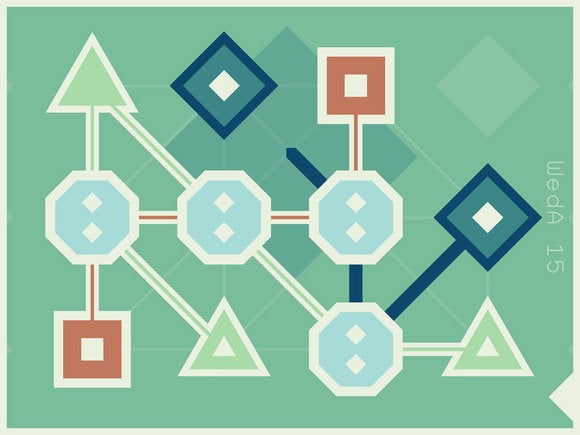 Each level presents a grid of triangles, diamonds, and squares of (initially) various pastel colors, along with a few octagonal junction boxes. By tracing your finger across the screen you must draw a line connecting all of the yellow triangles, starting and ending with the heavier-bordered end blocks. Then you draw another connecting all the red squares, and so on. You can use each connecting line only once and touch each shape only once, and you also have to pass through each junction a set number of times—the number indicated by dots. It sounds absurdly complicated, but it isn't at all; indeed, you'll grasp wthe gameply within a couple of tutorial levels. It all feels wholly natural—you wonder why no one has made the game before.
The experience of playing Lyne is almost transcendentally calming. This is partly the result of the timeless, thoughtful mechanics that don't feel like they're punishing you when you get a level wrong. Dots pulse and lines gently glow to point out the bits that aren't working, and instead of having to start from scratch, the game lets you repair only the erroneous lines, from the mistake onwards. It's also down to the restful color scheme (additional options, such as a Tulip lilac and a Deep Space black, are unlocked as you advance), visual design and typography. But most of all it's the result of the new-age, panpipe-sprinkled soundtrack. It sounds silly but it works.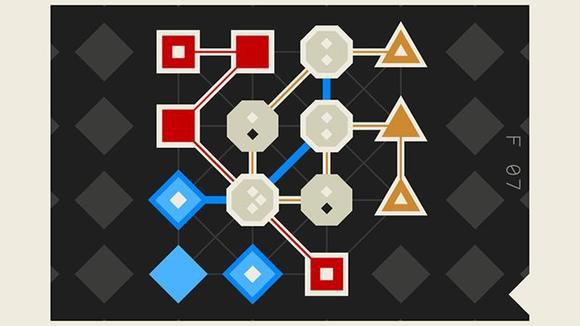 There are a lot of levels to work through (I've so far unlocked nine sets of 25) and these climb gradually in difficulty. It actually started to feel slightly easier after a while, but I'm reasonably sure—or the game was able to convince me—that I got better at the game faster than it got more difficult. Either way, the effect was pleasing: a bell curve of challenge and accomplishment rather than an ever-steeper cliff face. This isn't a game for the ultra-competitive.
In addition to the permanent collection, Lyne gives the option of daily level sets. These present one of the few elements of peril within the game, as you have just one day to complete the 25 levels in a set or you lose the points they are worth.
Bottom line
Achingly elegant, minimalist, soothing, and cleverly designed, Lyne is the sort of iPhone puzzle game that should be enjoyed by a Finnish intellectual sitting in a red, egg-shaped chair, but will probably work for frazzled commuters too. Smart fun, if hardly the most thrilling experience available in 21st-century life.
Note: When you purchase something after clicking links in our articles, we may earn a small commission. Read our affiliate link policy for more details.