Flickr co-founder Caterina Fake brought her latest project to iOS on Thursday: Findery, a social discovery platform that lets you learn about specific places on a map through notes and tidbits curated from other users.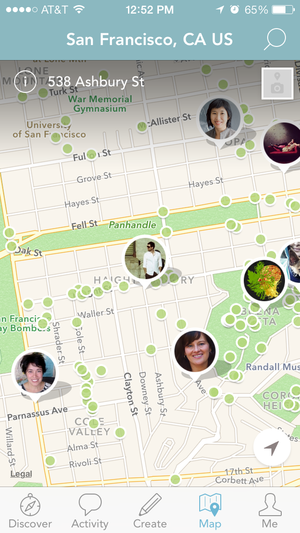 The Web version of Findery has been in a private beta since 2012—originally under the name Pinwheel—but this is Findery's first public jump onto mobile. Considering that Findery is all about exploring locations and learning new things, a mobile app sounds like the perfect platform for a service like this. Although it's difficult to create a location-based exploration app that stands out from the crowd, this one certainly seems to have a competitive edge.
The first thing I noticed upon launching Findery was its dynamic design, expertly optimized for iOS 7 users. The welcome screen's background image of a beach moved and expanded when I tilted my iPhone, which immediately sparked feelings of wanderlust. (I have a feeling that's exactly what Fake and her team had in mind.)
For starters, it's best to allow Findery to access your location, and then explore things in your immediate area. You can launch the map and look at individual notes at random, or look at a specific notemap, which is a collection of notes about a topic, theme, or location. Notes themselves contain a variety of tidbits, from photos to news stories to personal diary entries to activity tips. It's up to the user to decide what kind of note he or she wants to leave behind.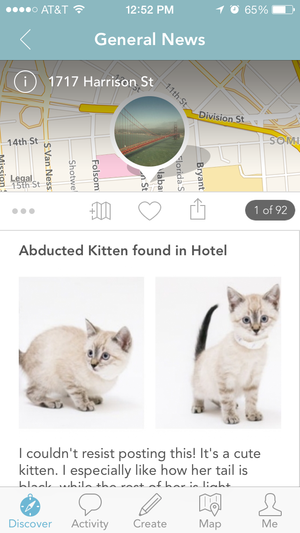 Notemaps are especially helpful for discovery and at-length storytelling. For example, one of my favorite notemaps highlights local news in San Francisco. You can see where these events took place, and tap on a note to read that news story. Other notemaps in San Francisco include owl sightings, walking tours for specific neighborhoods, and notes about Findery written by team members. Of course, these selections should grow as Findery's user base builds.
Apart from notemaps, you can follow specific users to keep tabs on their individual notes. If you connect via Facebook or Twitter, you can see which of your friends are already members; Findery can also peruse through your contacts—if you let it—to find matches.
Creating notes of your own is easy: Just tap the "Create" button to get started. You'll first select the location you want to add a note to, which is much easier if you happen to be nearby at the time. If not, you can type in a city or major landmark, and then dive down more through scrolling to find the exact spot you want. Then you leave your note, associating a picture, message, and any other information you'd like to share. Finally, you mark the desired level of privacy before you publish your note. Notes can be seen by anyone, just you, or just by certain recipients that you select.
Findery is a truly customizable experience with several cool use cases. You could log memories from your latest vacation, explore new things to do in your current city, find activity recommendations, and much more: How the app gets used is entirely up to its users. And with a pretty sizable membership at launch, Findery is well on its way to making waves in the social discovery scene.
Findery is available now for free in the App Store, and is compatible with any iPhone, iPad, or iPod touch running iOS 7.0 or later. There's no Android-specific version yet (though you can access Findery through a mobile browser), but one is reportedly in the works.