Everyone has their favorite (or least favorite, depending on how you look at it) beefs with Apple's iCloud service. But one of my biggest frustrations is that many of iCloud's most-convenient features require you to use Apple's apps—those features simply don't work with third-party programs.
Take iCloud Tabs, the feature that automatically syncs any open Safari tabs across all your OS X and iOS devices. The key word here is Safari—iCloud Tabs doesn't support other browsers. But this is where third-party developers step in to help. Like previous Gem MyPhotostream, Josh Parnham's free CloudyTabs is a simple OS X app that lets you liberate a little bit of iCloud—in this case, that bit is iCloud Tabs.
CloudyTabs, which requires OS X 10.8.2 or later, provides a simple systemwide menu that, at a click, displays all your iCloud Tabs, organized by the device hosting each tab. Each open-tab entry displays the tab's webpage title and favicon. Choosing any item in the menu opens that tab—and here's the kicker for non-Safari users—in your default browser, whichever browser that may be. (It's a little strange that CloudyTabs displays your current Mac's tabs, though I suppose that's one easy way to shuttle tabs between, say, Safari and Chrome on the same machine.)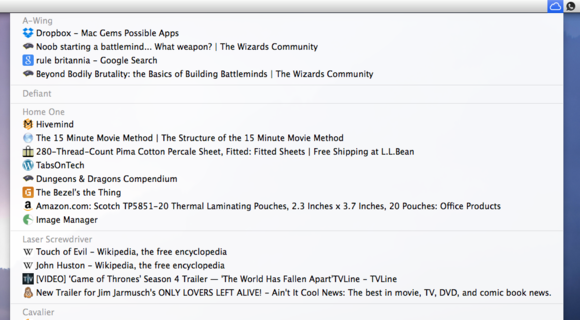 Though it's a simple app, CloudyTabs does offer a few options. You can choose to simultaneously open all tabs from a particular device—for example, all the webpages you've got open on your iPhone. Holding down the Command key when you choose an entry (or hovering the pointer over an item and then pressing Return) opens that tab in the background (i.e., without bringing the browser to the foreground). And you can see when your iCloud Tabs were last synced by hovering the pointer over CloudyTabs's menu-bar icon.
While I appreciate CloudyTabs's simplicity, there are some additional features I'd like to see. For example, it'd be great to be able to choose, on the fly, which browser a tab will open in. (Safari is my default browser, but I often use Chrome for webpages that contain Flash videos, for example.) Also, some web servers—Wikipedia is one—present the mobile version of pages when loaded in iOS Safari; it would be nice if CloudyTabs could detect that and provide the URL for the desktop version on the Mac. And a keyboard shortcut for accessing the CloudyTabs menu would be useful. (Once the menu is displayed, you can type the name of a page in the menu to select it, but you still must still use the pointer first to open the menu.) But these would simply be icing on the cake of the basic features CloudyTabs already provides.
For those who flit between multiple browsers, CloudyTabs can be be a useful tool.
(It's worth noting that Google offers a feature similar to iCloud Tabs, but you have to be using Chrome on both OS X and iOS.)
Want to find out about more cool Mac apps? Check out our Mac Gems session at Macworld/iWorld in San Francisco March 27-29. Want to stay up to date with the latest Gems? You can follow Mac Gems on Twitter or on App.net. You can also subscribe to the Mac Gems RSS feed.