Because there is more than one way to discover the world around you, developers are going to continue launching new apps for exploration. The trouble is finding a niche that helps you stand out of the App Store crowd. Just as Findery was making its high-profile debut last week, another social discovery-based app quietly made its launch into public beta.
The creators of Phigital—the word's a mash-up of physical and digital—aim to get us back to real world discovery with a new platform focused around experiences that happen beyond just your mobile screen. Users embark on step-by-step exploration that jumps to different locations, and then they can create their own tours to share with the rest of the Phigital community.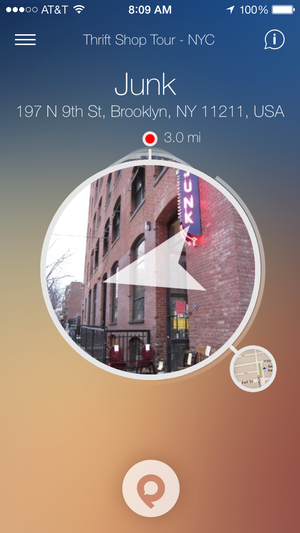 "We wanted to build a social experience that merges the physical and digital realms, while adding gamification to the mix," said Phigital's co-founder and CEO Paul Cheng. "We're answering the question of 'What can I do next?'"
Think of it like a scavenger hunt. Phigital users create "experiences," which include a few different locations, points of interest, or activities based around a theme (or not—users can create whatever experiences they want). When you get to a location on your tour, check in to learn more about that spot, and then work your way on to the next one. Some experiences give you a preview of all of the locations included, while others only reveal the next action once you've checked in to the first spot, ensuring that you only visit locations in a certain order.
It's kind of an abstract concept, but Phigital has some very realistic uses that are fun and entertaining while also showing off just what it can do. Beta testers have created educational guides for museums, foodie-focused restaurant lists, a guide to Walt Disney World, and some killer walking tours for specific neighborhoods to help tourists discover new things.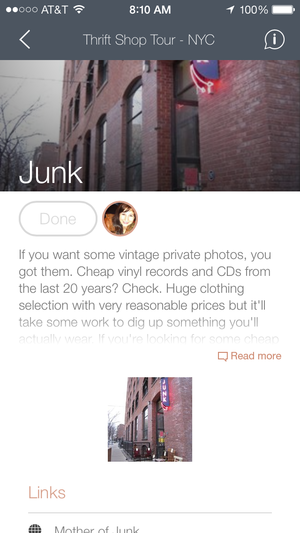 When you launch the app, you'll be prompted to either "Discover" or "Capture." Tap "capture" to create your own experience, or tap Discover to check out a landing page of experiences created by other Phigital users. If you don't see something that interests you there, try searching for a city or topic that you'd like to explore. (Hint: I suggest starting with the "123—Getting Started" experience created by the Phigital staff to help you get comfortable with the app's toolset.) When you find something you like, tap Join.
You'll then see that experience's Event Stream, which displays all of the locations (known as stages) that make up this experience in the proper order. Each stage has its own info card; flick from one card to the next to see the experience's whole progression.
To really get started with an experience, you'll need to physically go to the location of the first stage—within at least 350 feet—and check in, which is powered by Foursquare's engine. You can then read more about that location, with tidbits from the experience's creator and info pulled straight from Wikipedia. You'll also get directions to your next stage, for when you're ready to move on.
Creators can decide if they want participants to perform an action before they advance to the next stop. There are four actions that can be built in to an experience: Go to (a simple check-in), play media (discoverers must watch an embedded video before they can advance), send a message, or scan a code of sorts.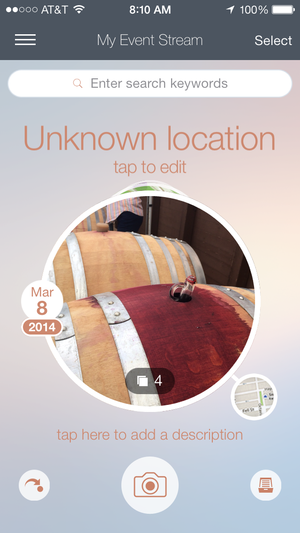 If you're creating an experience, you can do everything from your iOS device except for program an action, which must be done from the Phigital website.
As Phigital is still technically in beta mode, it still has some kinks to work out. Although it offers a pretty neat way to create and follow tours, the experience of using the app itself isn't the most intuitive. It takes some swiping, tapping, reading, and prodding to figure out exactly how to work its controls, especially when creating an experience. The Getting Started experience helps a lot, but the developers can't really bank on every single person viewing it. I wish it was a little more user-friendly.
Any social discovery platform is really only as good as its user base, and Phigital is a prime example of that: The platform is undeniably cool, but there aren't too many experiences available yet. However, its unique approach to discovery makes it one to watch—there's a lot of potential for serious creativity, which I'm sure will be untapped as more people join.
Phigital is now available as a public beta on iOS; it's coming soon to Android. You can download the app via the App Store or visit Phigital's website to create and browse experiences.