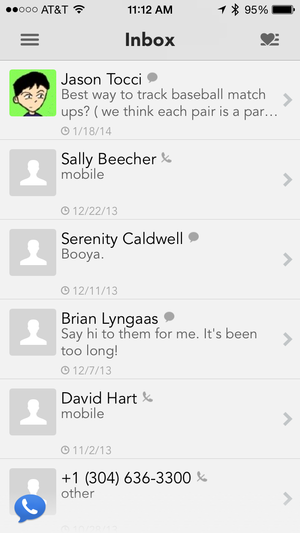 I've had a Google Voice account for several years now; in the pre-iMessage days I found the free texting handy, and I like being able to make calls from my computer as well as have incoming calls routed to multiple places. But even though Google has its own iOS app for managing your Google Voice account, I've long turned to the superior GV Mobile + by Sean Kovacs.
To be upfront, GV Mobile is $3, while Google's own Voice app is free; if low cost is what floats your boat, then off you go to Google's app and no hard feelings. But if you're looking for a more pleasant experience when using Google Voice on your iPhone or iPod touch, GV Mobile is the app for you.
For me, GV Mobile's interface is the major reason to shell over the money. Whereas Google Voice's design seemingly hasn't been updated since its release, GV Mobile actually looks like a nice, modern app, especially under iOS 7.
But it's not just about looks. GV Mobile is a fully-featured client for Google Voice, with the ability to send and receive text messages as well as listen to voicemails. It also provides a quick interface for dealing with all those items, whether it be archiving them, deleting, starring, marking as spam, or more.
Unlike the Google Voice app, GV Mobile also works as an actual VoIP client, letting you making voice calls over the Internet right from your iPhone o iPod touch. This does come with a big caveat, though: Google is preparing to discontinue support for the framework that makes that possible in May of this year. You'll still be able to make calls over the traditional phone network with GV Mobile following that shutdown; you just won't be able to take advantage of VoIP. (Note that Google has sort of merged its Voice service with Hangouts, so if all you want is to make VoIP calls, Google's Hangouts app is probably a better bet—however, it doesn't handle text messaging to phone numbers, only to Google+ contacts.)
Among GV Mobile's other features are support for multiple accounts, the ability to check your voicemail messages, and the ability to receive notifications. The latter takes a bit of work to set up—you'll need to configure email forwarding on your Google Voice account—but once you've done that, it works pretty solidly. There's also some framework for sending images via GV Mobile—but only to other users of GV Mobile. (It's a workaround, as Google Voice itself doesn't support the MMS standard.)
About the only problem that I've run into with GV Mobile is that I can't quite get it to sync pictures for all of my contacts. While some of them seem to have the same image as appears in my Gmail contacts (and the iCloud contacts with which they're synced), others end up with blank, generic icons.
Other than that minor annoyance, which is certainly more aesthetic than anything, GV Mobile works a treat for all my Google Voice needs, modest as they might be.