When I have nothing but time, I love to cook. I love trying new recipes, experimenting with classic dishes by tweaking the ingredients, and making a total mess in the kitchen (leaving my boyfriend to clean it up, of course).
But most week nights, when I come home from work, I just want to slump down on the couch, tear through a few episodes of whatever I'm currently binge-watching on Netflix, and wait for food to magically appear in front of me. Planning a meal is not on my radar, so something I usually enjoy becomes a chore. What should I make? What's in my fridge? Can I make a meal out of catsup and kale? Is butter a carb? Ugh. Cereal it is.
Yummly has changed all of that for me: It learns my tastes based on past recipes that I've liked, and recommends new meals to try, often solving the problem of not knowing what to cook for dinner that night. It's like a cookbook perfectly curated to your palate, but a smart one that constantly adds new things. While Yummly's website has been around since 2010, it only went mobile with an iPhone app in 2013; on Thursday, Yummly expanded again with a version for the iPad.
"Yummly learns your tastes and eliminates things you don't like," said Yummly's head of mobile and platform Brian Witlin in an interview with TechHive, "and the new iPad app really lets the recipe content come to the surface."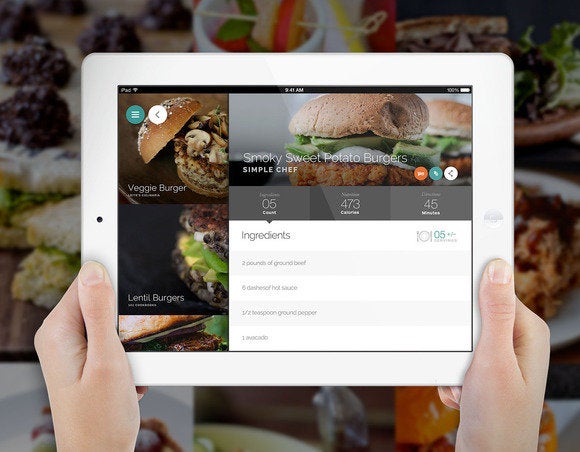 Witlin and Yummly's design team expect that people will use their iPhones and iPads differently when it comes to cooking, with the iPad being the ideal device for the kitchen and the iPhone more suited for browsing and for the grocery store. The apps have slight feature differentiation based on these uses—namely, the iPhone version has an integrated grocery-shopping list—but your Yummly account will sync across devices. Add a recipe to your recipe box on the iPad, and those ingredients will show up in your shopping list on the iPhone version.
When you launch Yummly, you'll see recipes that are popular with other Yummly users right on the home page. Start searching based on ingredients, type of cuisine, or dish name. The app understands natural language, so if you type "vegetarian appetizers with no peanuts," for example, it knows to find appetizers instead of meals and to eliminate meat, peanuts, and peanut oil from the list of ingredients. Seriously, this is a dream for people with food allergies or dietary restrictions. Yummly immediately starts to pull things for you, and the recipes cards spin and shuffle as they update with your results.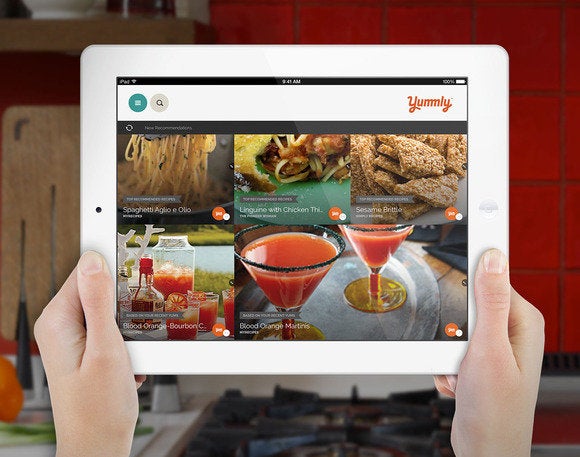 Recipes are displayed in a gorgeous tile layout, with crisp, colorful images that really showcase the dish (and make you a little hungry). This design serves two purposes, according to Witlin: It helps users in "lean-forward" mode find a practical recipe to make that same day, and is image-heavy for users in "lean-back" mode who just want to browse through "food porn" and find inspiring recipes for a later use. Witlin estimates that about 85 percent of a recipe entry is the image, with the remaining 15 percent being data.
A quick swipe over an image reveals that data: How many ingredients it has, its basic nutritional info, and how long it will take to make. Tapping on the recipe yields more info, like the recipe's flavor profile. The flavor profile can help you determine if you'll like how the recipe tastes before you make it—if you think it will be too bitter, for example, or not spicy enough.
Once you find a recipe you like, tap the Yum button to add it to your recipe box. You can sort your saved recipes into collections; Yummly suggests the basics of dinners, desserts, drinks, breakfasts, and sides, but you can add as many other collections as you'd like.
Yummly has partnered with hundreds of noteworthy food bloggers and recipe websites—including giants like Rachael Ray and newcomers like Cinnamon Girl—which is where it pulls all of its recipes. When its time to start cooking, you'll be directed to the original website, "to make sure we give credit to the original source," according to Witlin. Still, you can refer back to Yummly for the need-to-know info, like nutritional value.
Another super handy feature is that you can change the serving size of the recipe to accommodate the actual number of people you'll be feeding. Yes, leftovers are awesome, but sometimes having eight servings of something for a two-person household leads to wasted food. So, if you tell Yummly you only want four servings of something, it will scale down the ingredients accordingly.
Yummly has quickly become my favorite recipe app. Within a few short days of using it, Yummly knows that I'm a pescatarian, that I'll eat any vegetable, that I won't cook with any ingredient containing palm oil, and anything with gorgonzola cheese can be nowhere near my final meal. Having recipes appear that are tailored to my preferences turns down the noise: It's like having someone show me what I can make instead of me having to search through a bazillion options elsewhere. Plus, the recipes are downright delicious. Yummly, indeed.
Yummly for iPad is available right now in the App Store, where you can also find the iPhone version. An Android app will be added in time, according to the team.