At a Glance
Expert's Rating
Pros
USB 3.0 port
Good overall performance
Cons
Biometric feature adds considerably to the price tag
Our Verdict
The Aegis Bio 3.0 is a hard drive meant for users who want to make sure that their files remain secure, and are willing to pay for it.
When considering a portable drive, there are a few things to keep in mind. Portable drives rarely ever have data redundancy, so don't use them to store sensitive or irreplacable information, or at least make sure the data on the portable drive is backed up. Consider your use: if you're backing up your Mac on the go, you don't need super speed, but if you're going to be working directly off the drive, you might want to sacrafice speed for capacity. And, of course, there's also price to consider.
What to look for
An easy way to compare drive prices across different storage capacities is to calculate the price per gigabyte. Drives that are bus-powered use power from its data connection, which is nice because you don't need to carry around a bulky power brick. A reliable manufacturer is a big bonus, and don't forget about a warranty—drives do fail, and sometimes you get shipped a bad drive. If your drive came with a warranty, you can generally get a replacement without much of a hassle.
Macworld Lab runs a series of benchmarks to gauge the performance of each drive. Bear in mind that we only consider drives we've tested.
Top choice: Seagate Backup Plus Fast (4TB)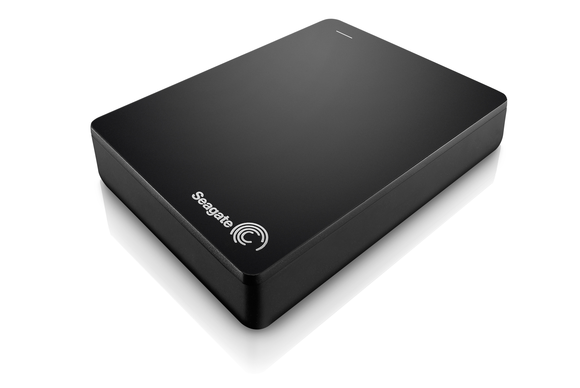 The Backup Plus Fast drive from Seagate has a lot of great features. The price per gigabyte ($0.07) is good. The storage capacity is phenomenal for a portable, bus-powered device. Speed is also great, thanks to a RAID 0 setup, pairing two slower drives to make a fast one. The downside to RAID 0 is if one drive fails, all the data is lost on both drives. The drive weighs 10.9 ounces, which isn't terrible, but it isn't feather light, either—it makes sense, considering there are two physical drives inside the enclosure. The size of the enclosure isn't much bigger than the two drives inside, and it feels comfortable to hold.
No drive is perfect for everybody. You may be turned off by the fact that a RAID 0 doubles the chances of the drive failing. That doesn't mean both drives are rendered useless, you would simply have to replace the bad drive, or remove the good drive for future use. Just don't keep any highly sensitive information on the drive alone; stick to backups and media you can replace.
Average Write
Backup Plus Fast

228.4

G-DRIVE mobile

130.24

HV620

108.08

Aegis Portable 3.0

352.68

Envoy Pro EX

290.34

Canvio Slim II

109.92

Aegis Bio 3.0

104.04

Thunderbolt Drive+

330.76
Average Read
Backup Plus Fast

218.18

G-DRIVE mobile

130.98

HV620

108.9

Aegis Portable 3.0

330.38

Envoy Pro EX

331.98

Canvio Slim II

110.32

Aegis Bio 3.0

104.36

Thunderbolt Drive+

339.58
Top contenders
G-Technology G-Drive mobile USB (1TB)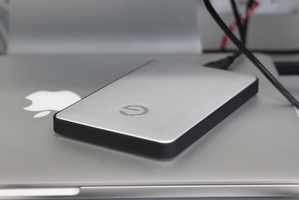 The G-Drive mobile USB is great if you aren't looking for a whopping 4TB of storage space. It has a 7200-rpm laptop drive in an aluminium enclosure. The price per gigabyte ($0.14) is good and so are the speeds, about 20 MBps faster than other drives spinning at 5400-rpm. If you're looking for a mobile backup drive, or something to move files from place to place, the G-Drive mobile USB is a great choice.
Adata DashDrive HV620 (2TB)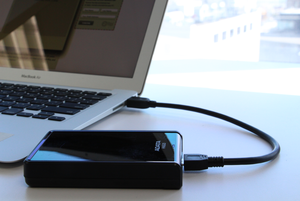 The DashDrive HV620 from Adata is a good drive, with a big chunk of storage capacity and a great price per gigabyte ($0.07). It's a good choice for anybody looking to maximize their storage on the go, affordably. You could shell out twice the cost of this drive for the faster and larger Backup Plus Fast, but if you're on a budget and don't mind a drive with average speeds, go for the HV620. The drive is plain and simple.
Apricorn Aegis Portable 3.0 (SSD)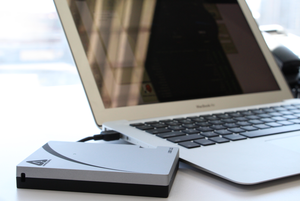 Our favorite portable solid-state drive (SSD) is the Aegis Portable 3.0. The cost of the drive has decreased enough since it was introduced to make the price per gigabyte more reasonable ($1.09), especially for how fast the drive is. We tested some less expensive drives, like the Adata DashDrive Elite SE720, but the faster speeds with the Aegis Portable 3.0 were worth the extra bucks (about 100 MBps faster than our next favorite SSD, the Envoy Pro EX). This is a great drive if you need the speed and don't need massive capacity—moving or storing big files rather than backing up a computer.
The rest of the pack
OWC Envoy Pro EX (240GB SSD)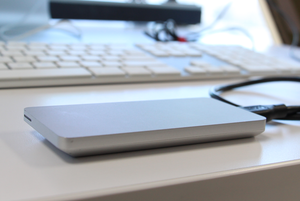 The Envoy Pro EX from OWC is a solid and fast drive, using OWC's super fast Aurora SSD encased in a slim aluminum enclosure. Its USB 3.0 connector means it can be used just about anywhere, but will have a affect on performance. The write speeds aren't as fast as the Aegis Portable 3.0 but they're fast, nonetheless. It's a great drive when speed is a concern, and it's not ridiculously expensive while still managing to be durable and sleek.
Toshiba Canvio Slim II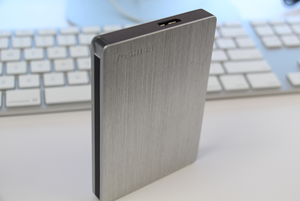 The Canvio Slim II is a remarkably bland drive, but that's what's best about it. It's super affordable ($75) and speeds are pretty average for a 5400-rpm laptop drive. It makes a great drive for storing media like movies, or if you need to loan it out.
Apricorn Aegis Bio 3.0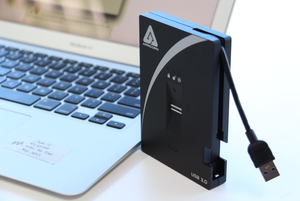 If you need some security on a personal drive, the Aegis Bio 3.0 is a great option. It includes a built-in fingerprint reader and a hardware-encrypted drive. It's more expensive than your average portable drive, and the speeds are fairly typical, but it's a convenient way to add some security to your portable storage. Five unique fingerprints can be stored, so if you want others to have access they'll have to setup their finger print to unlock the drive.
The Apricorn Aegis Padlock SSD is another option if you want some protection for your data. It's more rugged, smaller, and sports an SSD, making it a lot faster but more expensive. Italso has a number pad instead of a fingerprint reader, if that floats your boat.
Elgato Thunderbolt Drive+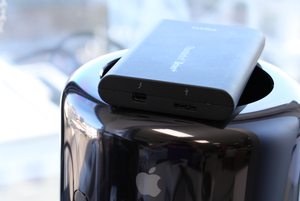 If you absolutely need a Thunderbolt drive, Elgato's Thunderbolt Drive+ is the fastest (and most expensive) portable Thunderbolt drive we've tested, but on average the speeds didn't top the Aegis Portable 3.0. According to Elgato, a combination of custom firmware on the Plextor M5 Pro SSD mechanism, along with a server-grade controller, gives the drives a very low failure rate. However, it ships with a Plextor drive that can be purchased online for just $380 at the time of this writing. The Thunderbolt Drive+ has a nice enclosure, with both USB 3.0 and Thunderbolt options.
The drives keep coming
We tested a lot of drives, and many of them weren't mentioned here. You can see ratings for each drive in the product listing below, and if you click on each product, you'll go to a product page with performance data from Macworld Lab.
There are still many more drives that we haven't tested, and new drives are released on a regular basis. Also, the drives we test may also be available in a number of different capacities, which can affect performance. This roundup is a constant work in progress, and we'll update this list as we get more drives in our lab to test.