In case you've been avoiding the Internet—or if you just aren't a sports fan—I have a news flash for you: March Madness is upon us. Yes, the NCAA Division I men's basketball tournament officially kicks off this week, with first round games starting on Tuesday and running all the way through the championship game in April. Whether you're a casual fan or a hardcore hoops aficionado, some mobile helps can help you enjoy the mania. Use them to build your bracket, compete with your friends, and follow all of the action all the way to the Final Four and championships.
NCAA March Madness Live
The best place to start is with the official March Madness app: NCAA March Madness Live (Free; iOS, Android, and Windows Phone). You can stream every game—all 67 of them—live through this app, or watch game highlights and recaps if you happen to miss one. Much like NBC's official app for the Sochi Olympics earlier this year, you have to login with your cable subscription to access live footage, so unfortunately cord cutters need not apply. Besides live game streaming, you can set up live game alerts to help you stay on top of the action even if you can't watch the game.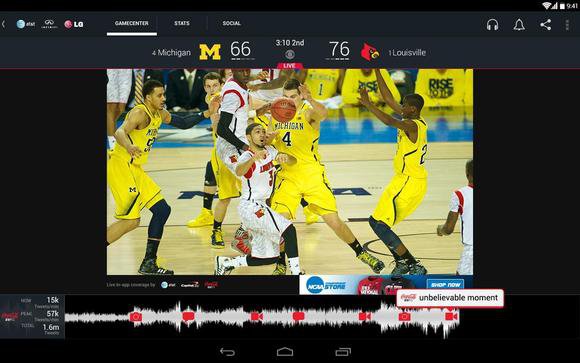 Of course, one of the biggest draws to March Madness Live is its bracket management feature. It connects to the official March Madness Bracket Challenge, so you can pick your teams and track how well you're doing straight from the app. But you better hurry: Brackets must be in by Thursday morning to play.
ESPN Tournament Challenge
For strict bracket building, turn to ESPN Tournament Challenge (Free; iOS and Android). This no-frills app shows the entire live bracket and lets you make your own picks, which you can then share with your friends.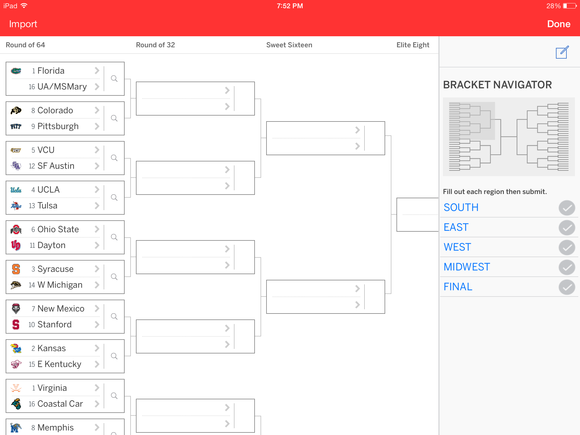 If a bunch of your friends are using the app, you can create your own bracket group and compete against each other. If you absolutely nail your picks and make it all the way to the Final Four, you'll be entered to win $10,000. Sweet.
Fanatic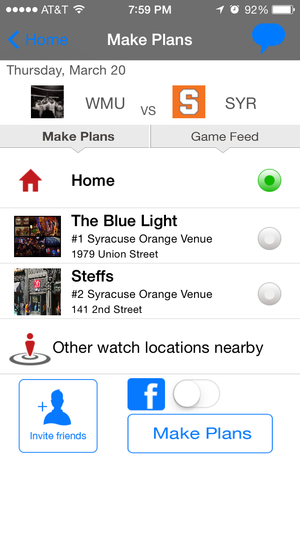 Sports are best enjoyed with buddies (or maybe not, if you prefer to get in a heated argument with your TV alone), and Fanatic (Free; iOS and Android) helps to connect you to fans of the same team in your area. Just create an account and pick your favorite NCAA teams; Fanatic will tell you which sports bars nearby also typically root for those teams. It doesn't matter if you live in San Francisco but want to root for Syracuse (my alma mater is a Division III school with a Fighting Violet for a mascot, so my loyalties are thin here), Fanatic will find a bar that fits the bill. It also lets you invite friends to watch the game with you, and can help you plan a party if you'd rather watch at home.
FanCake
If you're planning on watching events anyways, then you might as well get rewarded for it. FanCake (Free; iOS and Android) awards you points for every game you watch, which you can then cash in for prizes like tickets and team swag. Just launch the app while you're watching a game, select the program from a list, and keep one eye on your phone.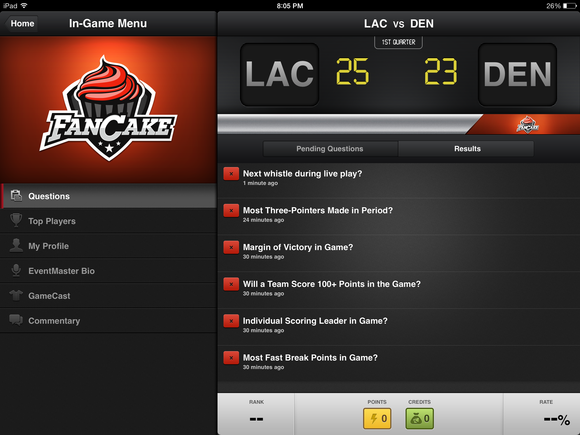 FanCake will then ask real time questions based on what's going on, and you'll get points for correct answers. When something big happens in a game—like if your team pulls an impressive alley-oop—a medal, trophy, or other object will fly across your phone's screen; tap it to earn extra points. You can also predict the game's outcome, and if it turns out to be true, you'll earn even more points as well.
TheScore
Popular sports news site theScore (Free; iOS and Android) has a special section for March Madness coverage, and its content is gorgeous—especially if viewed on a tablet. With frequently updated articles written by theScore's own staff, photo slideshows, videos, and integrated social media feeds, this app will provide you with tons of basketball bites.
Its designated pages for brackets—both the full bracket and broken down by round and region—scores, news, and leaders help you easily keep track of how your teams are doing. You can even curate your own feed by picking your favorite teams to follow, which then gets saved in a special tab.