Eating food is wonderful. What sucks is deciding what to cook, shopping for ingredients, and then having to order pizza anyway after you realize you forgot to buy a key ingredient. Cooking for my family is a priority, but so is avoiding extra servings of agita over the required planning and shopping. Food on the Table's excellent and free Meal Planing and Grocery List app for iOS and Android turns those chores into a piece of carrot cake.
Food on the Table simplifies the entire process. The Recipes tab helps you figure out what to cook, letting you search for recipes that use ingredients you already have on hand, or what's on sale at your local market. You can also browse through categories such as Vegetarian, Crock Pot, and Shellfish.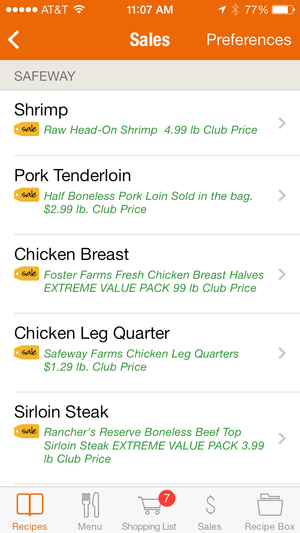 Tapping "Add recipe from Web" opens a list of cooking sites, like Food Network, Chow, Epicurious, Real Simple, and a couple dozen more. Select a site to view it in the in-app browser, and when you get to a page with a recipe, the browser auto-detects it, and a handy "Add to Recipe Box" button pops up for you to tap.
Your collection is kept in the Recipe Box tab, and this is where you'll find a + button if you want to type in your own favorites manually. Optional folders let you organize further, which is great when your collection starts getting big. Tap a recipe to view it, rate it, or share it, and if it's something you want to cook this week, tap "Add to Shopping List" to add it to your meal plan and shopping list.
Your chosen meals are kept in the Menu tab, and you can set a date for each one to note when you plan to make it. That sounds fiddly, but with good planning you can save a little time by, say, chopping onions for a few dinners all at once, or using the leftovers from Monday's roast chicken in Tuesday's quesadillas.
But the killer feature is, of course, the shopping list. As you plan your meals, the shopping list is built automatically. Then you just check off any ingredients already in your pantry, and add random items like toilet paper and Diet Coke. You'll even see a notification if an item is on sale at your local grocer—dozens are supported, from A&P to Winn-Dixie, including mega chains like Walmart, SuperTarget, and Whole Foods. I still use the official Safeway app to add more coupons and discounts to my club card, but Food on the Table's sale info (also easily browsed in the app's Sales tab) is a decent start.
This is one of my most-used apps, no question. I've picked up some new recipes that have become family favorites, and even though the process sounds rigid, it's incredibly freeing to know the answer to "What's for dinner?" Most importantly, having everything so neatly planned and organized vastly improves my chances of being able to make one grocery trip and get everything I need to make at least four home-cooked dinners. Just remember to leave some nights free for leftovers…or pizza.