Generic calendar apps are mostly useful for two things: Meetings—including appointments and conference calls—and birthday or holiday reminders. But have you ever tried to use a basic calendar app to create a workout plan or organize your travel itinerary?
Trust me: It's basically impossible. When it comes to scheduling specialized events, or specific aspects of your life, generic calendar apps just can't cut it. Luckily, scheduling apps don't stop at calendars, and there are actually several apps dedicated to helping you organize different parts of your life—they help you plan meals, schedule workouts, and stay on top of bills and car maintenance. If you want to organize every minute detail of your life, here are seven apps that can help get you started.
Meals: Food on the Table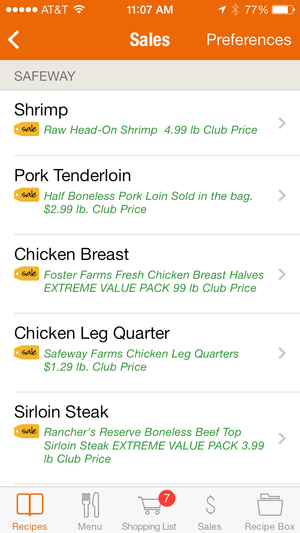 If you don't already plan out your meals ahead of time, maybe you should. Meal planning can help you save money, lose weight, and lead to a (slightly) less stressful life. There are plenty of apps out there to help you plan meals and organize your grocery list, but Food on the Table (Free; Android and iOS) goes one step further by recommending items on sale at your local stores.
Food on the Table started out as a web app for the lazy meal planner. The website lets you plug in your food preferences (including dietary restrictions) and local grocery stores, and it then spits out a five-meal-per-week meal plan for a small subscription fee.
The mobile app offers the same features, but you don't have to subscribe. Instead, you can simply plan your own meals using Food on the Table's recipe bank. The app features tabs for your meal plan, grocery list, and sale items at your local stores, which is an excellent feature for people looking to save money. Tapping on a sale item lets you add it to your grocery list, or you can search the recipe bank for recipes containing that ingredient.
Exercise tracking: JEFIT Workout
Most workout apps let you log and track your workouts, which is great… if you're already working out. But for people who need an extra push to get going, workout planners can be useful and motivating. JEFIT Workout (Free; Android and iOS) lets you plan workouts using either a pre-made or custom routine.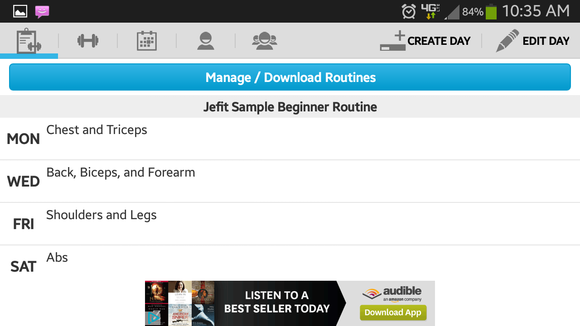 JEFIT Workout plans your workout in a couple of different ways: You can plan it right before you get started (for example, you can download a routine or create your own, and then follow it), or you can create recurring routines for certain days of the week. JEFIT has a database of pre-made routines grouped by category (such as "powerlifting" and "beginner yoga poses"), all of which you can customize to suit your needs. You can also create your own routine from scratch, using JEFIT's exercise database as necessary.
JEFIT also offers other useful workout features, such as logging and tracking, lifting stats, and cardio tracking (in its $5 Pro version).
Travel: TripIt and TripCase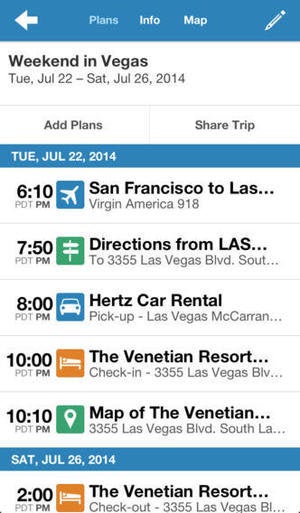 Good news: Planning travel today is cheaper than ever, thanks to the Internet. Bad news: Planning travel two decades ago was a lot easier, thanks to travel agents, who narrowed down your options and booked everything for you. Coordinating flights, hotels, and car rentals from separate booking sites is difficult enough—keeping track of all your reservations while you're in another country can be downright frustrating. Luckily, apps like TripIt and TripCase make planning Internet-booked travel a breeze.
TripIt (Free; Android, iOS, Windows Phone, BlackBerry) and TripCase (Free; Android and iOS) are similar apps. Although TripIt is more popular, TripCase offers more functionality (such as free flight alerts) in its free version. Both apps work the same way: They take your various travel confirmation emails, process them, and translate them into one cohesive itinerary. When you book a flight, hotel, car, or even restaurant reservation, simply forward your confirmation email to a special email address, and TripIt and TripCase will take care of the rest. Both apps offer streamlined itineraries, so you have all your travel information in one place.
Taxes: TaxCaster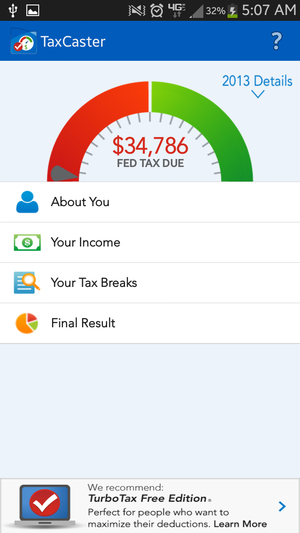 Tax season is upon us, and if you're not self-employed (like me), you're probably looking forward to a sweet tax refund. In fact, you may even be making plans to spend it. But before you start searching for all-inclusive vacation prices, you have to know how much you'll get back. To do this, you can always, well, file your taxes, but if you're looking for a quick, easy way to figure out your refund, TurboTax has you covered with its TaxCaster app (Free; Android and iOS).
TaxCaster is basically what it sounds like: An income tax refund forecaster. (Again, I must stress that it's not the same as doing your taxes, but it will help you figure out roughly how much you'll get back from the government, in case you're trying to plan bills, rent, or vacations around your refund.) The app asks a series of simple questions about you, your income, and your tax breaks, before spitting out an estimate of your refund.
Questions are relatively simple, and don't require digging into any real numbers (though you will want to know your income, taxes withheld, and any numbers related to tax breaks before you get started). Of course, if your taxes are complicated—for example, if you're self-employed or you own several businesses—TaxCaster won't be of much use, as there's nowhere to indicate self-employment.
Finances: Manilla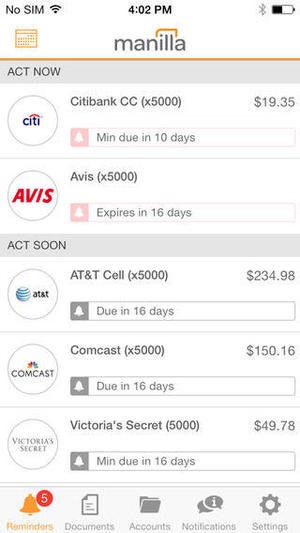 Keep your finances in order with Manilla (Free; Android and iOS), an app that organizes your financial information and various accounts in one place. Manilla tracks everything from household bills—such as cable, Internet, and cell phone service—to rewards accounts, such as airline miles and hotel points.
Because it's a financial planning app, Manilla requires some initial setup. To get started with the app, you'll have to create an account and then link your credit cards, household bills, travel and rewards accounts, subscriptions (such as Netflix), and health and wellness accounts (including your insurance provider, like Cigna, for example). Linking your various accounts can be a chore, because you must sign into each secure account before they can be linked.
Once you've finished linking accounts, Manilla is an excellent planning app. It keeps you on top of bills, expiring rewards miles, and lapsing subscriptions with its reminders; pulls documents, like your credit card statements; and lets you share accounts with friends and family.
Car maintenance: aCar and Auto Care Free
Quick, when's the last time you got your oil changed? If you're not sure, I can't say I blame you—it's hard to keep track of car maintenance, especially if you have multiple cars. But staying on top of vehicle maintenance has definite benefits: It keeps your car running smoothly and reliably, and can prevent costly repairs.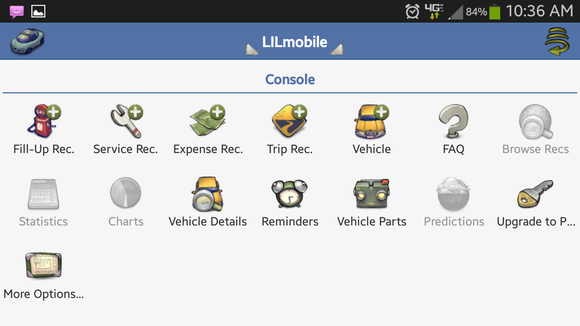 Instead of relying on your memory, or the transparent sticker that shops put on your windshield after each oil change, use an app such as aCar (Free; Android) or Auto Care Free (Free; iOS). aCar and Auto Care Free are car management apps that help you track your vehicles' mileage, fuel economy, and maintenance, so you always know when your car needs to go back in the shop. Both apps let you add multiple vehicles and manually log mileage, maintenance, fill-ups, and trips, and both apps also lets you set service reminders (monthly or mileage-based).
Although neither app is automatic—both require manual input of most data, which can be a hassle—the inconvenience is worth it to find out just how much your car is actually costing you year over year.
Family calendars: Cozi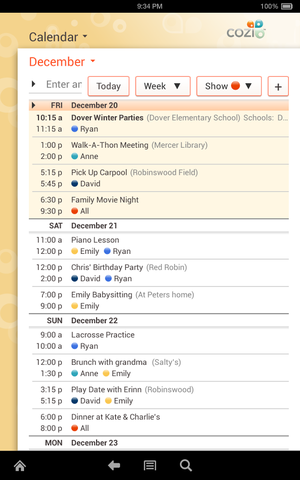 Keeping track of multiple family members' schedules is no longer a headache thanks to Cozi (Free; Android and iOS). Originally just a website, Cozi is an organizing tool with several neat features, including a color-coded calendar that lets you view individual's schedules (or the entire family's schedules at once).
Each family member has his or her own Cozi account, which is connected to each person's individual email address. (Young kids don't need their own account or email address—parents can log calendar events for their children.) Each person has access to a shared family password, which controls the family account. A family's Cozi account features individual and family calendars, shared shopping lists and to do lists, meal planning and recipe storage, and a family journal. From the app, family members can update schedules, shopping and to do lists, and capture moments for the journal, as well as receive reminders and notifications about upcoming events.
Cozi's calendar feature is similar to Google Calendar, which can also be color-coded and updated by multiple people. However, Cozi's interface is simpler and easier to use than Google Calendar, and its other organizing features are practically necessary for today's modern family.