The expo hall at Macworld/iWorld is filled with companies showing their products, and at Macworld, we do our best to find the ones that stand out.
Macworld's editors survey a list of products submitted ahead of time by vendors for consideration, but most of the work involves scouring the show floor to find worthy candidates. The editors then gather back at Macworld headquarters, and after a long, pizza-fueled debate, the winners are determined. Here are the recipients of the 2014 Best of Show awards.
Akitio Palm RAID A portable storage device the size of—you guessed it—your palm, Akitio's drive houses a pair of mSATA SSDs and has a tethered Thunderbolt cable. The bus-powered Palm RAID is available in 256GB and 512GB capacities.

Arcsoft simplicam powered by Closeli This home monitoring system combines a nicely-designed camera and an easy-to-use iOS app. Its facial detection allows you to set up alerts based on specific people so it records only when necessary. You can schedule recordings or watch live footage all in 720p HD video. All your footage is saved to the Closeli cloud service so you can access the videos anywhere.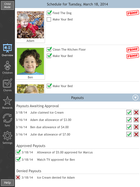 Binary Formations Chore-inator Having trouble getting your kids motivated to do their chores? With Chore-inator, you can use your iOS device to organize the chores that need to get done. Set up a list of chores, and the kids can check them off when they are done—and can take pictures to provide proof. The app also lets you track the rewards you give your kids upon successful completion of their to-do list.
BusyContacts BusyCal is one of our favorite replacements for Apple's own Calendar app on the Mac. We're all very hopeful that BusyContacts will be the same for Contacts. The new app has customizable views, tagging, and smart filters finding and grouping entries. It syncs with Exchange, Google Contacts, iCloud, and generic CardDAV-based services, as well as major social networks (Facebook, Twitter, et al.). And it integrates with BusyCal, the two combining to form a kind of personal CRM system. In other words, it could be the Mac contact manager we've all been waiting for.
Cloak Securing network connections might seem like a hassle, but that's where Cloak comes in handy. The latest version of this simple iOS app lets you define trusted Wi-Fi networks; when you join an untrusted network, Cloak will automatically secure that connection over a Virtual Private Network (VPN). Service plans lets you pick up a week of access for $4, a monthly plan for $10, or a yearly plan for $100, all with unlimited data. (A mini plan lets you use up to 5GB of data for just $3 a month.) If you have the Mac version of Cloak, settings will even sync between the two.
Creaceed Emulsio If you take sports footage or have shaky hands, Emulsio might well be your new best friend: The app (free to test clips up to 30 seconds, with a $2 in-app purchase to unlock full functionality) sports an incredibly powerful stabilization engine that works largely under-the-hood to bring you beautifully smooth high-definition video.Bonus of visiting the Emulsio booth this weekend: See adorable children skiing in a video that looks like it belongs in an Apple commercial.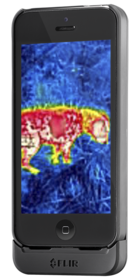 Flir One Admit it; you've always wanted heat vision on your iPhone, for those times when you're…looking for cats in the darkest night? Whatever the case may be, Flir One outfits your iPhone 5 or 5s with a thermal camera, and when you use it with the app, you can spot infrared energy. In effect, Flir One gives an iPhone user night vision.
Goal Zero Sherpa 100 Power Pack There are batteries, and then there are batteries. Goal Zero's Sherpa 100 Power Pack is the battery you want if you need lots of power and the flexibility to use it—and replenish it—anywhere. The surprisingly lightweight battery's 26,400-mAh, lithium-ion battery can extend your MacBook Air's battery by roughly 6 hours, or recharge your iPad several times. You can access that power via dual 2.1-Amp USB-power ports; a 12-volt port for gear that uses car accessory adapters; a dedicated laptop-charging port for non-Apple laptops; or an optional AC inverter that cleverly and seamlessly attaches to the side of the Sherpa and provides a standard 120V AC outlet. You can charge the Sherpa 100's battery via an AC outlet (in 3 hours); a car accessory-power port (in 4 hours); or one of Goal Zero's portable solar panels (in 5 to 10 hours from the company's largest panels) for true off-the-grid power.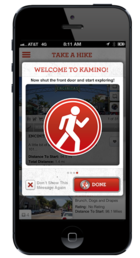 Kamino San Francisco's Segway tours may be plentiful, but you can better spend that cash on local food and beverages with Kamino's walking tours. A cross between a treasure hunt and Yelp recommendations, the free iOS app lets you view and build local hikes, augmenting them with geolocated Instagram pictures and recommended food and beverage choices. Kamino even has a Macworld-tailored hike replete with free beer and coupons for crepes.
Kanex Thunderbolt Adapters Apple is relying on Thunderbolt for connectivity, and chances are you need an adapter or two to connect your devices to your MacBook Air. Kanex offers two Thunderbolt adapters, one with eSATA and USB 3, and another with gigabit ethernet and USB 3.
Sonoma Wire Works Guitar Jack Stage The folks at Sonoma Wire Works are bringing their great sounding Guitar Jack audio interfaces to the stage. Built for live performances or recording, this 24-bit audio interface and pedal controller comes with four assignable foot switches, volume, tone and gain knobs. It works great with the company's own GuitarTone app for iOS, but supports many other iOS music apps as well as Macs and PCs. The Guitar Jack Stage features quarter-inch input for instruments and microphones and can even charge your iPad while you jam.
Editor's note: Updated March 29 to include a video on the Best of Show winners. Updated March 31 to correct the simplicam's name and its support for facial detection.