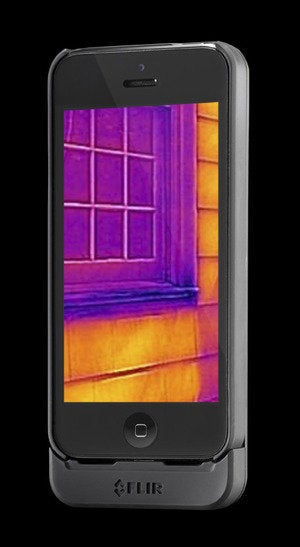 Every tech tradeshow usually has a whole bunch of smartphone and tablet cases on display, and the 2014 edition of Macworld/iWorld is certainly no exception. But an iPhone case that's also a thermal imaging sensor? I can safely say that's a first.
The Flir One is an accessory that fits around your iPhone 5 or 5s just like a case, but packs its own camera on the back—right where the much loved Apple logo is located. The camera is actually a two-in-one—a visible camera and a thermal camera—so when the Flir One is in use, it temporarily turns off your iPhone's built-in camera. It connects to your iPhone's Lightning connector port and has an on/off switch for controlling when you'd like to activate the thermal sensor.
When you use the Flir One with its free companion app, you can spot infrared energy and heat sources. The app has several different filters, which can be used to see different thermal or moisture patterns. Filters include an arctic effect, rainbow patterns, black and white, and more.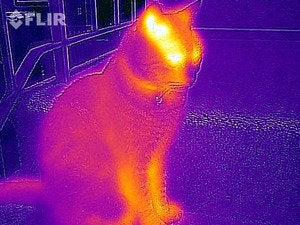 But why would you need such a device, you might ask? I was pretty surprised by all of the household tasks the Flir One can handle. If you're trying to make your home more energy efficient, you can locate heat loss around windows and doors, and missing insulation as well. It can also locate studs in a wall when you're trying to mount furniture. In case there's a fire, the Flir One can see through smoke and help you navigate to safety; it can also give you a temperature reading if you're trying to find a dangerous hot spot. And of course, you can use it to locate animals in the dark (for, you know, hunting, or more realistically trying to find your dog or cat in the yard at night.)
From my hands-on time with the Flir, this tool seems to work just as promised. I located some missing insulation in a model house, spotted some nasty wet spots on the carpet of the Moscone Center, and pointed it at random passerby to check out their color patterns. (Sorry, strangers). It's intuitive enough that anyone can use it, yet seems to be powerful enough for the pros, too.
The Flir One is scheduled to ship this May for $349, but you can sign up today to reserve one when they become available.