We had a lot of fun testing Reallusion's CrazyTalk7 for Mac at the last year's Macworld-iWorld—so much fun, in fact, that we named it one of the 2013 Best of Show winners. And what's not to like about CrazyTalk? The demo we saw of this facial animation software featured a sarcastic talking cat, complete with eye-rolling, so you know I'm sold based on that.
CrazyTalk7 is back at Macworld/iWorld again this year, showing off a new companion app for the iPhone and iPad. Once you complete your animation on the Mac, you can share your character with the app, animating it some more on your mobile device. Shake your iPhone to make your character bounce around, or drag your finger across the screen to move him in a specific direction. You can also record something for your character to say—up to 30 seconds long—which he'll then speak back like a talking puppet. When you're finished, you can share it to your social media accounts or save it to your Camera Roll.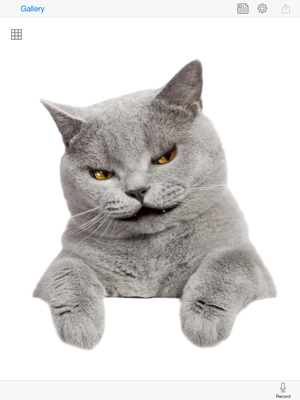 The Mac software hasn't really changed much since last year's show, save for a new way to share completed animations. You can now export videos to CrazyTalk's web portal and share the direct link with your friends; previously, the only sharing option was to attach the video file in an email or to manually upload it to a hosting site like YouTube.
CrazyTalk7 stands out because of its ease of use. Just upload a photo of a person or animal, and follow the on screen directions. You'll create a digital "mask" to pinpoint where exactly you want to add animation, like the mouth and eyes, and pick a cartoonish mouth to give your new character. A facial puppeteering tool lets you add movement to the photo, which you can then sync with a voice recording. The beauty of this software is that it automatically syncs the motion to the recording, which you can then tweak, so you can make this photo do and say whatever you want. The pranking possibilities are endless.
Of course, there are more advanced features for the pro animators out there, but most users will enjoy playing with CrazyTalk7 and making photos of friends, family, and Fido come to life.
CrazyTalk7 for Mac is available now at the sale price of $30, down from $50. The iOS app is available for the iPhone, iPad, and iPod touch for $1, and although it has a few animated characters to play with, it's really meant as a companion for the desktop version.