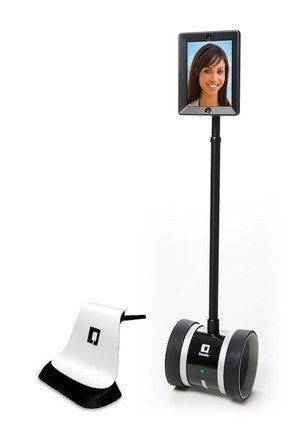 The Double Robotics Double telepresence robot made its debut at last year's Macworld/iWorld, with a small generic booth, one robot, and a couple of company representatives. Things seem to have changed for the better for the firm: they have a much bigger booth with more of a brand presence, several robots on display, and a staff to meet and greet show visitors.
The company's new product is a $299 Charging Dock. Without the dock, you have to bend over and plug in the adapter to charge Double's battery.
The $2499 robot itself hasn't changed. It requires an iPad (not included) to drive the device, and you use your iPhone, iPad, or Mac to remotely control it over Wi-Fi or your cell connection. A company representative told me that they are working on software enhancements that they hope to release in the near future.
A side note (of shameless self-promotion): I reviewed the Double Robotics Double iPad robot in October of last year, complete with a video of the device at work. That video was used in a segment on the Colbert Report last December. My "appearance" on the show probably used up the remaining time I had left in my 15 minutes of fame. You can watch the segment below.