Once you've captured the audio, it's time to splice it all together and trim it down. Depending on the kind of podcast, you may also need to incorporate other audio—music, ambient sound, and other effects. Once again, here's how four podcasting vets—Christopher Breen (the Macworld Podcast); Editorial Director Jason Snell ( The Incomparable); Erika Ensign ( Verity!); and Chip Sudderth ( The Two-Minute Time Lord)—get that done. (Warning: Ensign is a Windows user. But we still thought her overall workflow would be instructive for all podcasters, regardless of their preferred platform.)
Christopher Breen
Chris originally did his editing in GarageBand, because he wanted to make enhanced podcasts—AAC files with embedded chapters, links, and images—which GarageBand supports. But he found editing in that app tedious. Among other things, it lacks a ripple-delete function, which automatically moves the audio following a section you're cutting to the point where you made the cut. Also, he found GarageBand's audio effects and noise-removal tool too limited, and there's no built-in way to remove plosives.
So now he uses Adobe Audition. He likes it because "it feels like a real audio editor, something designed for radio and film use." If he has a problem with something, he has faith that Audition has a solution. The only thing he doesn't like about Audition: Adobe's subscription model. Once his current trial sub expires, he's going to look for another tool, because "it's not worth paying Adobe's Creative Cloud price for this single application."
Once he's gathered together the various tracks, he pulls them into Audition and lines them up so they're in sync. He checks the waveform for each track to get an idea of its general loudness. He prefers to adjust the overall volume of a track before applying any effects. He uses Audition's multiband compressor to give speakers more of an "FM Radio sound" and to punch up their volume. If someone's too loud, he uses a limiter. He occasionally fiddles around with a downward expander effect to hide little noises that fall below a certain threshold ("if someone is a lip smacker or heavy breather"). For plosives, he uses Audition's Kill the Mic Rumble preset (in the FFT Filter); "it's a miracle worker."
After making repairs and cuts where necessary, he exports the results as a mono AIFF track, which he then imports into GarageBand 6. There, he inserts opening and closing remarks and any ads he might have. He moves the elements into place, adds opening and closing theme music, and draws in fades (fading the music out as a voice comes in, for example). Then he adds the enhancements: adding chapters and graphics, applying URLs to chapters, adding a description, and mucking with the metadata that will appear in iTunes. Finally, he exports it as a mono spoken podcast to iTunes.
Erika Ensign
Erika is a PC person and a one-time student of radio, TV, and film production, so she uses a program called Sony Movie Studio Platinum to do her podcast editing. ("I like the layout and the easy shortcuts and controls.") She simply removes the video tracks and works with the audio. She tried Audacity, but didn't like it. "It gets the job done, but I think it's ugly and unintuitive."
The show does have a theme song (a version of the Doctor Who theme as performed by the English band Traffic Experiment. She asked their permission to use it, which they kindly granted. "It's perfect for us, as it features female vocals."
She adds sound effects occasionally. (For example, when someone accidentally swears, she replaces it with the sound of the Doctor Who's sonic screwdriver). When transitioning from one segment to another, she use a the sound of a Vardan gun from the show.
She has a template saved in Movie Studio Platinum with tracks for music, sound effects, and separate audio files. The music track has the opening theme in roughly the spot it should be. The tracks for the separate audio files already have compression applied and the EQ tweaked for that particular participant's voice. She opens the template, saves it as the new episode, and deletes the tracks for the contributors who don't appear on that episode.
When she receives the MP3 files from that week's guests, she inserts them in the appropriate tracks, lines them up, trims off the extra chatter at the beginning and end, and adds the closing theme music. She also uses noise gates for any files that have distracting ambient noise. If there was a problem with Skype during the call, she'll edit out any downtime in the middle. She'll also check her notes to see if there were any offending background sounds that need attention.
She then renders the project as an MP3 at 96kbps.
Jason Snell
Like Chris Breen, Jason used to use GarageBand. But over time, he realized that it made it harder to edit podcasts quickly. (Since he does his podcast in his spare time, speed is of the essence.)
So he switched to Logic Pro X. It's a sophisticated audio editing app for music pros; in some ways, it's overkill for podcast editing. But "I'm two to three-times faster with the podcast than I was with GarageBand, so it was worth it."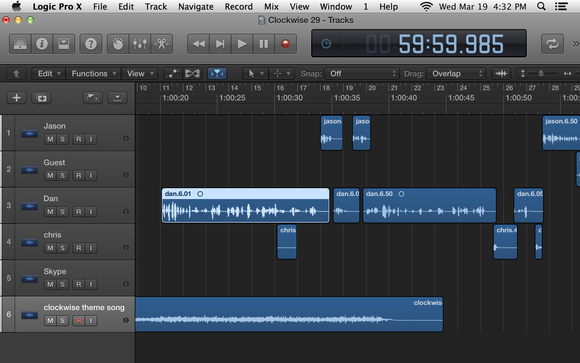 His workflow goes like this: First, everybody sends him their files. (Most people just use Dropbox: He has a shared folder there that panelists can join.) He uses the conversion tools that come with Call Recorder to convert all files to an uncompressed audio file (AIFF). He then brings each individual file into Logic as its own track. He also imports the Call Recorder recording, which contains everyone else's voices as he heard them on Skype; he uses that track to sync up the conversation, so everybody's separately recorded tracks line up in the proper time. Once that's done, he deletes the Skype track from Logic.
Once everything is in Logic, he uses the Strip Silence command to delete all portions of everyone's audio track where there's nothing making noise. This has the effect of leaving behind only the parts of their track when people are speaking, making it easy to edit the podcast visually.
His goal is not to take out every "Um" or "Uh," but to look for places where people are talking over each other—"deadly when you're doing a panel-based podcast." Just by looking at Logic, he can see when more than one person is speaking, then jump to those spots and either delete the interruptions and false starts or slide them apart from one another, "so it sounds as if we are all very polite people who never speak until somebody else has stopped speaking."
He works through the podcast from start to finish, often not even listening to long monologues unless he sees a pause or something else that needs to be edited. He also remembers things that happened during recording that need to be fixed (such as somebody swearing or digressing). If the podcast has advertising, he records them separately and drops them in. The only sound-effect he uses is something he calls the "Spoiler Horn", to warn people when there's discussions of something spoiler-y; it's actually a stock Apple sound-effect called Ferry Fog Horn.
Once he's done with all that, he export the results to AIFF format, converts that to MP3 using iTunes, and uploads it to the website that hosts his podcast.
Chip Sudderth
Chip spent money on microphones, but not on editing software. He records and edits voice tracks with Audacity. ("It gives me a level of quality control I never felt I had when I started out in GarageBand.") Once the voice tracks are done, he imports them into GarageBand for music, transitions and other effects. ("GarageBand remains far more intuitive for big-picture work.")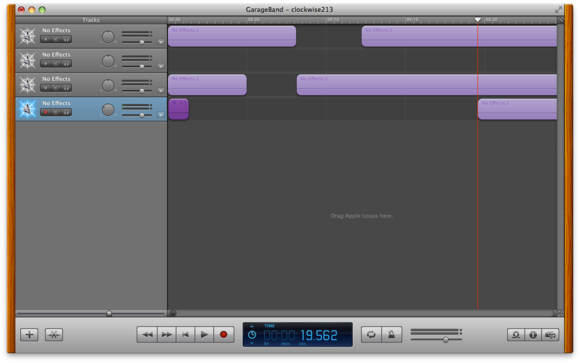 In the interest of saving some time, he usually runs all of the audio tracks through The Conversation Network's Levelator (which is no longer being actively supported) rather than manually compressing them. "I consider Levelator essential for interviews and roundtables. On the other hand, if you begin with poor-quality audio, Levelator exacts a terrible price."